Website is probably one of the most critical requirements for a business to succeed, especially for small-time entrepreneurs or startups. A great website can act as a gateway for companies to appear online, attract customers, and retain clientele. After all, a website can give customers the first and last impression of your business.
And while you can easily make a website with all available templates online, creating the perfect startup website is not easy. You must choose the ideal design, domain, tools, and features to impress customers.
This article will give you a few key factors to consider when creating the perfect startup website.
Why do you need a startup website?
Let's be honest. Today, everything revolves around the internet. Everything is done on the internet, from buying necessities, getting an education, and communicating with friends. In fact, according to Statista, as of April 2022, five billion people worldwide use the internet, which is about 63% of the world population.
And as a business, you need to keep up and leverage this opportunity. And one means to do it is by building your website. Your website can act as the storefront of your company on the internet. It is where you can present yourself, your company, and your product worldwide.
Simply put, it allows your business to connect with people online and convince them to buy your product. More than that, a website can help a startup through the following means:
Build an online presence

Introduce your brand to people globally

Enhance your credibility

Improve customer retention through live customer service

Enhance SEO ranking and invite more traffic and sales
10 Factors to Consider When Creating a Startup Website in 2022
For startups, the perfect website doesn't have to be a masterpiece. To be perfect, it doesn't need unique features, animations, or aesthetics. The best startup websites are often simples, straightforward, and easy to use.
Here are 10 elements you need to consider when building a website.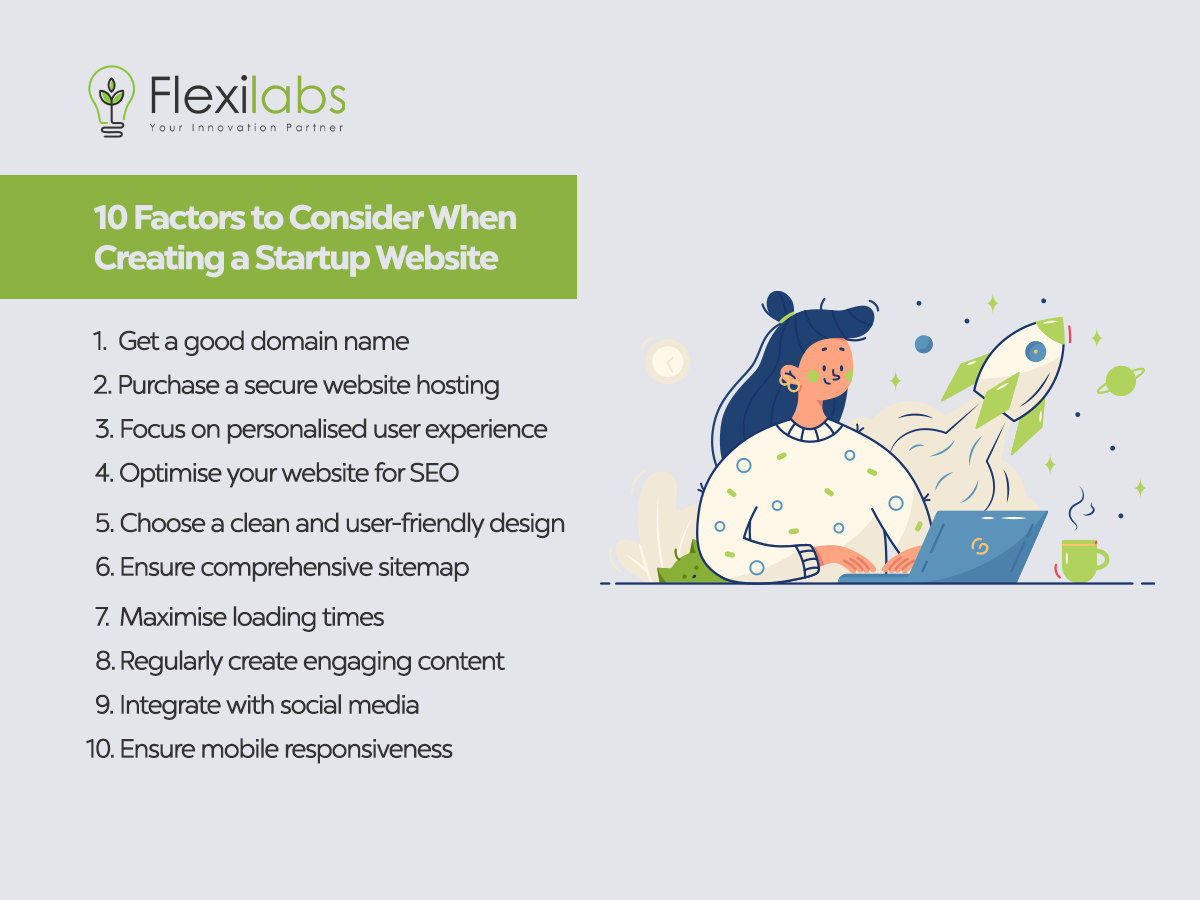 1. Get a good domain name
A domain name can make or break a startup. It is the first thing potential customers see and is often the only thing they remember. As such, a good domain should be easy to remember and not be too long.
Likewise, for startups, your domain name should be:
Relevant to your business, products, and services

Short, simple, and remarkable

Unique and stands your business out from the competition

Descriptive of your target market and industry
2. Purchase a secure website hosting
Web hosting is a service that provides a platform for storing and displaying web content. It is an essential service that enables the internet to function. A web hosting company offers you all the necessary tools to build and manage your website, like domain name registration, bandwidth, storage space, email accounts, etc.
A startup website should have reliable web hosting. This is because the website is the company's first impression and needs to be good. A website that loads slowly or crashes often will be unable to keep up with customer demands and lose out on potential customers.
3. Focus on personalized user experience
A startup website should be able to provide a personalized user experience. It should be able to understand the needs of the visitor and provide them with information that is relevant to them.
Likewise, a startup website should show its visitors the most critical information in a way that is easy for them to digest. This will simplify the visitor and increase their chances of converting into customers.
4. Optimise your website for SEO
A startup website must have SEO-optimized content to be successful. This means the company must have a good internet marketing strategy and attract traffic to their website.
The first step to SEO for startup websites is to find out what keywords are most relevant and famous in the industry. Then, these keywords should be added to the website's meta tags. Next, a site map must be created and submitted with all of the website's pages so that Google can index them. Finally, a startup website needs social media profiles for people to find it online.
Some other important aspects of SEO for startup websites are:
Creating content that will attract customers

Implementing analytics tools

Engaging with customers on social media
5. Choose a clean and user-friendly design
A startup website should have a clean and user-friendly design. The website's design should be simple but, at the same time, attractive and engaging. The website should have a responsive design that allows it to adapt to different devices quickly.
The startup websites must also have an interactive interface allowing customers to easily navigate the site, look for information, and contact the company if needed.
6. Ensure a comprehensive sitemap
A sitemap is a list of all the web pages on a website, typically in hierarchical order, used by web crawlers to index content and aid navigation.
Likewise, it is a great way to create a roadmap for your website. With a sitemap, visitors will navigate your website quickly and find any information they need.
7. Maximise loading times
Loading speed is one of the utmost critical factors that can make or break a website. There are many reasons why loading speed matters for startup websites, and they all stem from the user experience.
User experience is crucial in today's world and separates successful brands from unsuccessful ones. A good user experience means that your website loads quickly can easily be navigated, and provide relevant content to users.
This guarantees that users are pleased with their visit to your site and will then share it with their friends, which will result in more traffic for you in the future!
8. Regularly create engaging content
A startup website is a company's digital face. They are the first thing customer see when they go to a website, and it's what they remember about it. Websites help people learn about products or services, find information, and decide whether to purchase them.
A startup company blog is an integral part of a website because it helps generate interest in the company. It also serves as another way for visitors to get information on the company's products or services.
9. Integrate with social media
A startup website should have its social media integrated into its website to help promote the site. Suppose a customer sees that a company is active on social media. In that case, they are more likely to check out the company's website.
Some startups use social media to promote their products and services. They can use Facebook and Twitter to share updates, post pictures, or even tweet about discounts.
10. Ensure mobile responsiveness
Let's face it, everyone uses smartphones today. It has become a necessity and one of their life's most critical aspects. Everyone has their phones anywhere they go.
And as a startup, you need to jump into this trend and get any opportunity it provides to help your business. Likewise, a startup website should have a mobile responsive version.
However, mobile responsiveness is not just about having a site version that can be viewed on a small screen. Here are some basic ways to optimize your website for mobile devices:
Test your website's mobile responsiveness via Google's Mobile-friendly test tool

Use custom CSS codes to make your website responsive.

Choose responsive themes on your CMS.

Redesign your website perfect for thumbs.

Improve your website's loading times for mobile.
Ready to Create Your Website?
As mentioned above, a website is integral to the startup and its business journey. As such, having the perfect and functional website to showcase your products and services is extremely important. So, when you create your website, ensure it's optimized, scalable, and secured.
And if you need a website, talk to us today, and let's create your website.