Congratulations on your startup business! It is an exciting time for anyone, especially for neophyte entrepreneurs.  
But along with that exhilarating feeling is the daunting reality: Starting a business needs a lot of things. So much so that it can feel overwhelming, and you might overlook a couple of things in the process.
No worries, we have you covered! In this article, we are sharing a checklist to help your startup business stay on track.
Why Do You Need A Checklist For Your Startup Business?
The list of requirements and processes to start a business is staggering. Keeping a checklist of everything you need close at hand gives you peace of mind. Plus, having a physical copy just lessens your mental load. 
More importantly, having a checklist for entrepreneurs can serve as a helpful guide. It allows you to identify what to prioritise first and take things one step at a time.  The methodological approach can save you from the stress and mistakes most novice business owners commit. 
Your Startup Business Checklist
The checklist we are sharing in this article can be trimmed down or personalised in any way you want. It all depends on the needs of your startup business, industry, and other details that you consider important.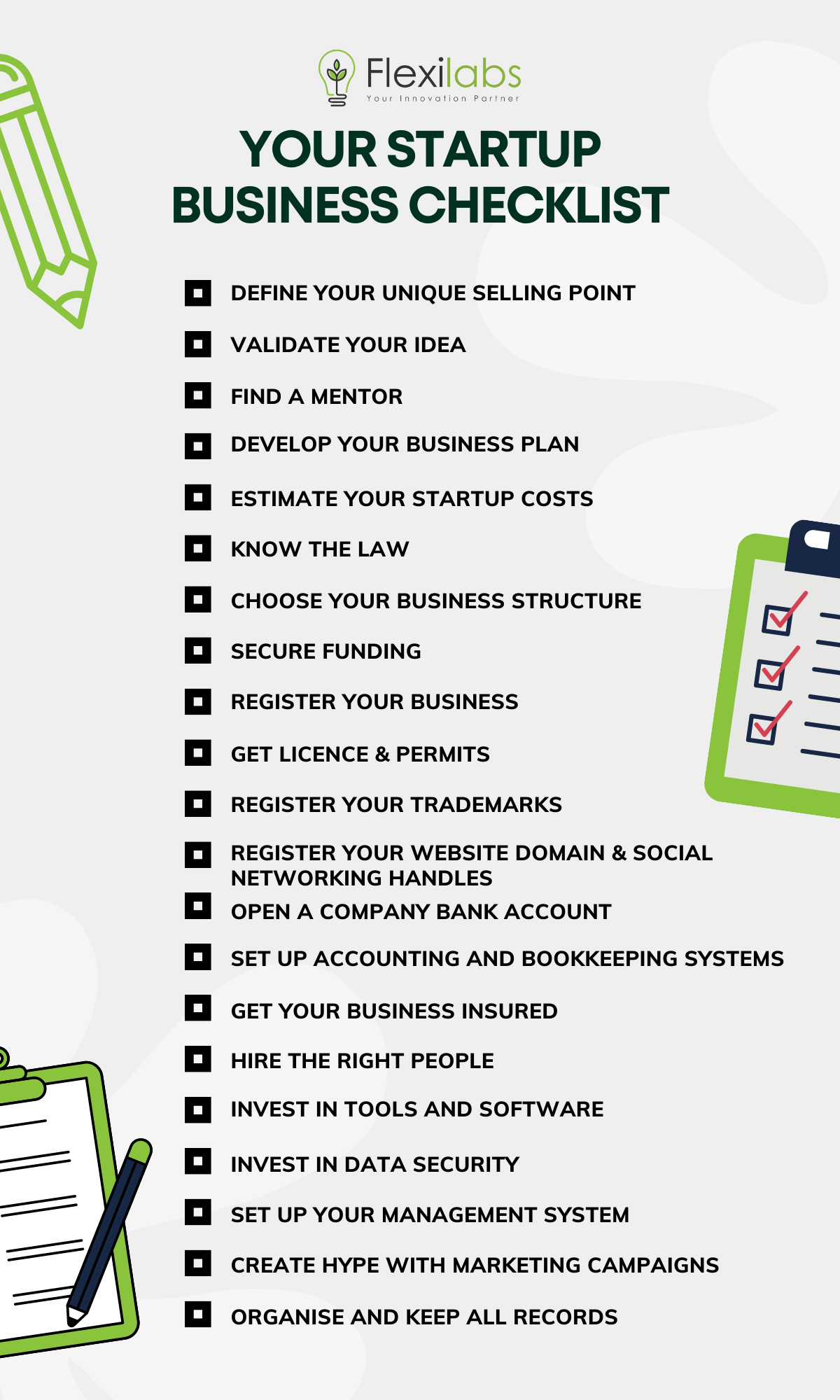 Define your unique selling point
What will set your startup business apart from the competition? Regardless of the industry, you and other companies are selling almost the same products and services. Your business needs to stand out and be memorable with your unique selling point (USP).
You can flesh it out first. Do not worry about the length. Once you are happy with the details, you can summarise them into a short elevator pitch to future investors and customers. 
Validate your idea
Before you jump head first, make sure your idea will sell. This is an important step that will save you time, effort, and resources. To check if your startup business idea is viable, you can conduct market research, surveys, focus groups, and product or service tests
Find a mentor

A mentor has an objective view of your startup business and the wisdom to help guide you and give honest feedback. Most neophyte entrepreneurs will have a mentor later on, but it is encouraged to have one early on. You can reach out and connect with business associations and business development centres to find a mentor.
Develop your business plan
A business plan is the road map that your startup business will follow from start to finish. It will define your objectives and goals. Plus, it serves as an overview to help banks and investors decide whether to invest in your business.
Here are the key parts that your business plan should have: 
Executive Summary

Business Description

Market Analysis

Product or Service Description

Financial Projections

Sales Strategy

Operational Overview
Estimate your startup costs
How much money do you need to establish and maintain your startup business before it starts generating money? Make sure to take into consideration the following things: 
Registration fees

Permit & licensing fees 

Labour costs

Taxes

Production costs
Remember to estimate your monthly and one-time expenses and organise them in a spreadsheet.
Know the law
There are many laws you need to comply with when you are doing business: from selling products and services down to the operations of your company.  It is necessary to learn every law concerning your business and meet the standards and codes. This is to ensure you do not break the law unintentionally.  
You should consider consulting with a legal expert to get a better understanding of the law.
Choose your business structure
There are advantages and risks depending on the legal structure you choose for your startup business. Carefully choose from the following types of business structures:
Sole Proprietorship

Partnership

Limited Liability Company (Llc) 

Corporation

Close Corporation

Nonprofit Corporation

Cooperative 
Secure funding
There are plenty of loans available that you can get right now. But the best options are loans tailor-made for businesses,  trusted financial institutions, legitimate investors, and financing programs provided by the government.
You can also consider crowdfunding platforms. It is Where you can directly appeal to your potential customers and market your product even before it officially launches in the market. 
Register your business
Regardless of the size of your startup business, you need to do your own research and consult with a legal adviser. Make sure you meet all the legal requirements and have completed the paperwork.
Get licence & permits
That includes licences and permits to operate your startup business legally. It does not matter if you are still based at home or operate completely online. It is important to have your licences and permits sooner rather than later.
Register your trademarks
Once you have registered your business, make sure to register your trademark as well: business name and logo—the works. It should be at least registered in the country of your base operations. But it is encouraged to have it registered in other countries for future-proofing.
Remember to double-check the intellectual property rights organisations and do a Google search if other businesses are operating under the same name.
Register your website domain & social networking handles
Your website and social media are the online storefronts for your startup business. It only makes sense to cover these parts as well. 
Here are a few tips to remember when you register your website domain:
Only go to a reputable registrar that offers two-factor authentication

Keep your domain and hosting account separate (in case of hacking)

Lock your domain to avoid unauthorised changes

Set your domain to "autorenew" to minimise risks

Register related domains to your business for future-proofing
Open a company bank account
Separating your personal and business bank account just makes sense, even if you are still starting out. This just makes sure whatever you put in your business account is solely for the company only. Plus, it makes it easier for tracking and accounting. 
Set up accounting and bookkeeping systems
Before you start making sales (and everything else gets complicated) set up your accounting and bookkeeping system. This is to make sure everything is documented and you can avoid any financial irregularities and potential migraines later on.
Get your business insured
There will always be risks involved when you start a business and even after you establish it. Some are through internal negligence while some are caused by outside forces that you did not foresee nor anticipate—like the pandemic. Having your business insured is one way to minimise these risks, here are some of them:
Public Liability Insurance

Professional Indemnity Insurance

Cyber Insurance
Hire the right people
As your startup business grows, you will need more hands to stay on top of the demands and the fast-paced operations. However, with limited resources right now, it is important you hire the right competent people who can keep up and even further enrich your company. 
Invest in tools and software 
There are plenty of free tools and software online that you can use. But this is only good if you are at the very early stages of establishing your startup business. As your company continues to grow, it is encouraged that you start to invest in tools and software that you use heavily and often. 
Invest in data security
Keep your data secure with cloud-based software. Give yourself peace of mind and protect your business from potential financial loss, reputational harm, and other possible impacts on your brand image and customer trust.
Set up your management system
A management system helps you stay organised. It can be with automation or even a simple to-do list or project spreadsheet to keep track of schedules, operations, and budgets. 
Create hype with marketing campaigns
You need marketing to generate demand and sales. Even before your product or service is available, you can start marketing to generate hype and let your potential customers know early on who you are and what your startup business is all about. Just make sure to consider which digital marketing campaigns fit your current budget, goals, and the profile of your target audience. 
Organise and keep all records
Lastly, make sure you keep all business transactions and files organised and properly stored. This is an added step to future-proof your business from any potential problems later on. Plus, it will be easier when you are auditing. 
Ready To Launch!
There will be a lot of things you will need to do and paperwork to file before your startup business gains its wings. Starting a business checklist helps you stay on track with what you need to do and take it one step at a time. 
Flexilabs can help you take your first steps. Contact us today and learn more about starting your own business!