Accidents are inevitable in a business that caters to the general public and people. It could happen anywhere, anytime, within your business property. And you will be responsible for paying compensation for this person. As such, you must be well prepared against these accidents or mishaps.
And one way to protect your business is by having Liability Insurance. Business Liability insurance is a crucial part of a business continuity plan. It can help prepare for accidents and cover your employee, a customer, or damaged property.
So if you want to know what liability insurance is, you came to the right place. This article will discuss the definition of this insurance, its types, and its benefits.
What is Liability Insurance?
Liability insurance covers legal liability or any financial liability they might incur from negligence or accidents. This coverage will guard you if you are charged or held liable for injury, property damage, or other harm you cause to another person.
Likewise, it can also protect your business if it's sued for something one of your employees did while on the job. Liability insurance is archetypally a distinct policy from other types of business insurance, such as commercial auto and general liability policies.
It protects against lawsuits and claims filed against the company by customers, contractors, vendors, and others who the company's actions or inactions may harm.
What are four types of Liability Insurance in Australia?
In Australia, liability Insurance may vary, depending on your business's industry. Below are four types of this insurance according to the Australian Government: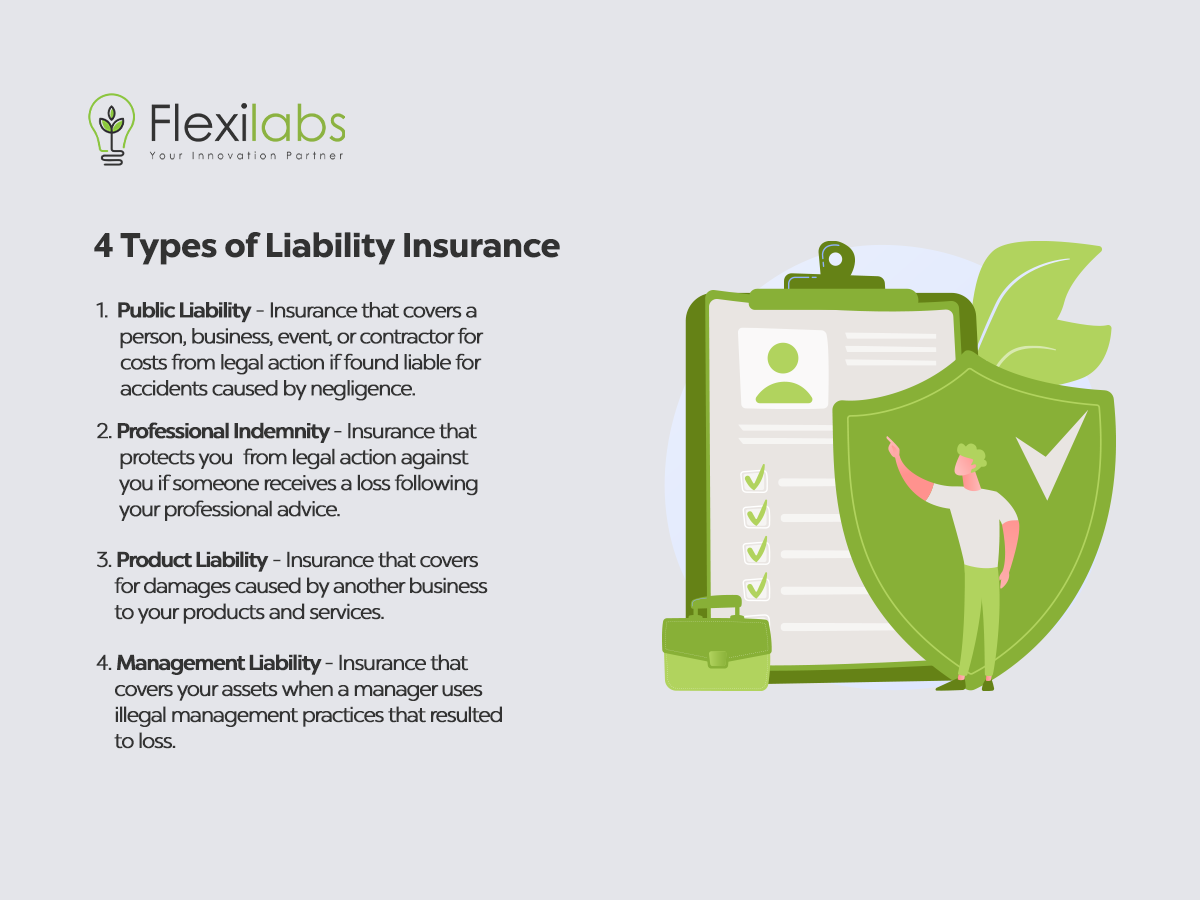 1. Public Liability
Public liability is a vital part of any business's risk management. This type of insurance covers a person, firm, event, or contractor for costs from legal action if found liable for accidents. It can also help you protect from negligence caused by a business's employees, contractors, customers, or public members.
2. Professional Indemnity
Professional indemnity is a type of insurance that shields professionals if they are sued for negligence or errors that lead to harm. This insurance protects you from legal action against you if someone receives a loss following your professional advice.
Professional indemnity insurance can also help you in times of issues such as:
Breaching results of a contract

Providing bad or careless advice

Performing medical malpractice

Offering negligent legal advice
The policy can cover legal costs, compensation for victims, and damages.
Some professions, such as accountants and architects, are required by law to have this type of insurance. It is also common among doctors, lawyers, and engineers.
3. Product Liability
Product liability insurance is a commercial insurance policy that covers the manufacturer, wholesaler, retailer, and any other person involved in distributing a product. This insurance covers damages caused by another business to your products and services. It can also cover injuries or property damage caused by the use of the product.
The policy will cover legal fees, settlements, and court proceedings resulting from a lawsuit against them. The coverage may also provide reimbursement for costs incurred to defend themselves against claims made by claimants.
4. Management Liability
Management liability insurance is a type of protection that covers company assets when a director or manager conducts an unethical management practice that causes legal action or loss.
Coverage of management liability varies depending on the insurance company or plan. Likewise, some of the most common ranges of management liability are the following.
Cyber liability

Audit costs and government fines

Employment practices liability including discrimination, harassment, etc.

Commercial crimes like forgery, computer fraud, etc.

Mismanagement of funds
Why Should Your Business Have a Liability Insurance?
Aside from general protection, liability insurance can help your company in various ways. It dramatically benefits your company's growth as it protects you, builds trust, and helps build confidence.
Likewise, here are the top benefits of having liability insurance.
1. Protection against the unexpected
You might think you control every part of your business as a business owner. Still, an accident happens. Having liability insurance assures you adequate coverage when these issues arise.
Likewise, liability insurance can protect your business from unexpected events. It can cover you for legal proceedings, property damage, and bodily injury. Again, it covers the company for liability claims arising from their operations or activities.
2. Shows business maturity
Customers and clients would only want to do business with responsible companies and someone they know they can trust. Likewise, liability insurance can show maturity and responsibility to a company.
It shows that you understand your company's potential risks and are prepared to face any of them – financially and legally.
3. Helps you get investments easier
If you are actively looking for investors, having a liability insurance policy may help you invite more investments. As mentioned earlier, liability insurance enables you to establish a trustworthy reputation that could build trust with potential investors.
In addition, this type of insurance can give them and their investment assurance and protection in case of any business accident or failure.
Conclusion
In summary, liability insurance will surely benefit your company – whether a small business or a large enterprise. Without it, you could be exposed to potential revenue loss in case of accidents or issues. This could further cause a step back in your business growth, or worse, it could cause its failure.
Although this type of insurance is optional in Australia, it is excellent for your business. Today, legal action is likely, especially for companies prone to accidents, such as the food industry, manufacturing, or professional services.
In addition, some industries in Australia have insurance mandatory. So, check if it is compulsory in our sector before opening your business.
And remember, you can always talk to a professional if unsure. Flexilabs can help you! We help startups, and the small company reaches their business goals. Contact us now!