While most accelerators and incubators have been around for years, not all their programs and recipients have scaled into one of the most famous entrepreneurs worldwide. Despite the exponentially considerable potential of these programs, these programs do not always guarantee success.
It is essential to be cautious when picking an accelerator program as a startup. You need to ensure that this program will help your startup build valuable partnership corporate ventures and access capital and investors. You also need to ensure that their mission and vision fit your startup's areas and objectives.
As such, this article will help you identify the characteristics that you should look for in a corporate accelerator. These characteristics are a common element that defines a successful corporate accelerator.
What is a corporate accelerator?
A corporate startup accelerator is a program provided by an organization to a startup that offers mentorship, idea validation, and an opportunity to network with business partners. It is designed by companies and leaders to help a startup rapidly grow.
Unlike the incubator program, most business accelerators choose startups that have already started their company and have demonstrated growth. They should have a minimum viable product (MVP) and are looking to put traction in their products.
The main reason for this is that accelerators are looking to help execute their MVP, identify birth pains, and help them network for financial resources and more. Some accelerators offer a small seed investment in their program that a startup can expand their business.
While most corporate accelerators provide many advantages, it also comes with several disadvantages. But this does not mean that joining a corporate accelerator is not worth it. You just need to balance both and see that it will not affect your company.
Below are common advantages and disadvantages of a corporate accelerator program:
Benefits of corporate startup accelerators:
Helps establish a long-term plan
Most mentors in corporate accelerators are well experienced and established business owners. They can detect any issue before it comes and looks at your company's future beyond the first six months to a year. Likewise, corporate accelerator programs can help you strategize for a long-term plan. Mentors will steer you in the right direction and a better future.
While not all accelerators provide seed funding, it is still a great avenue to connect with companies and entrepreneurs who will fund your startups. This program connects you with an interested investor who wants to find the next big thing. So, always watch out for investors during demo days. They are likely to be watching your presentation.
Develop a risk management plan
Failure cannot be avoided by most startups. And any step you take, there is a risk of loss. This sometimes limits your ability to scale and expand your business. An accelerator can identify risks within your concept and help you minimize them. Furthermore, they can help you develop a business continuity plan that you can use in case everything fails.
Drawbacks of corporate accelerators:
The program can be demanding and time-consuming
Most startup accelerator needs you to commit a certain length of time to join the program. They require you to attend training, workshops, consultation, and other events. This can take away a lot of time that could be spent on your business or other matters.
As such, you need to be sure that you are fully committed before joining a corporate accelerator program.
Unlike startup incubator programs, most accelerators are picky when choosing a candidate for the program. As such, the application process can be competitive and rigorous.
Needs months to years commitment
When joining an accelerator program, you can just join and decide to pull out anytime. You are expected to finish the program and update your mentors with your progress. They are investing in you and your company, after all. So, if you are unsure, think it out first.
10 Characteristics of a Successful Corporate Accelerator
When choosing your corporate accelerator programs, you need to ensure that they will lead your startup to success. Here are some 10 characteristics to look out for from a successful corporate accelerator: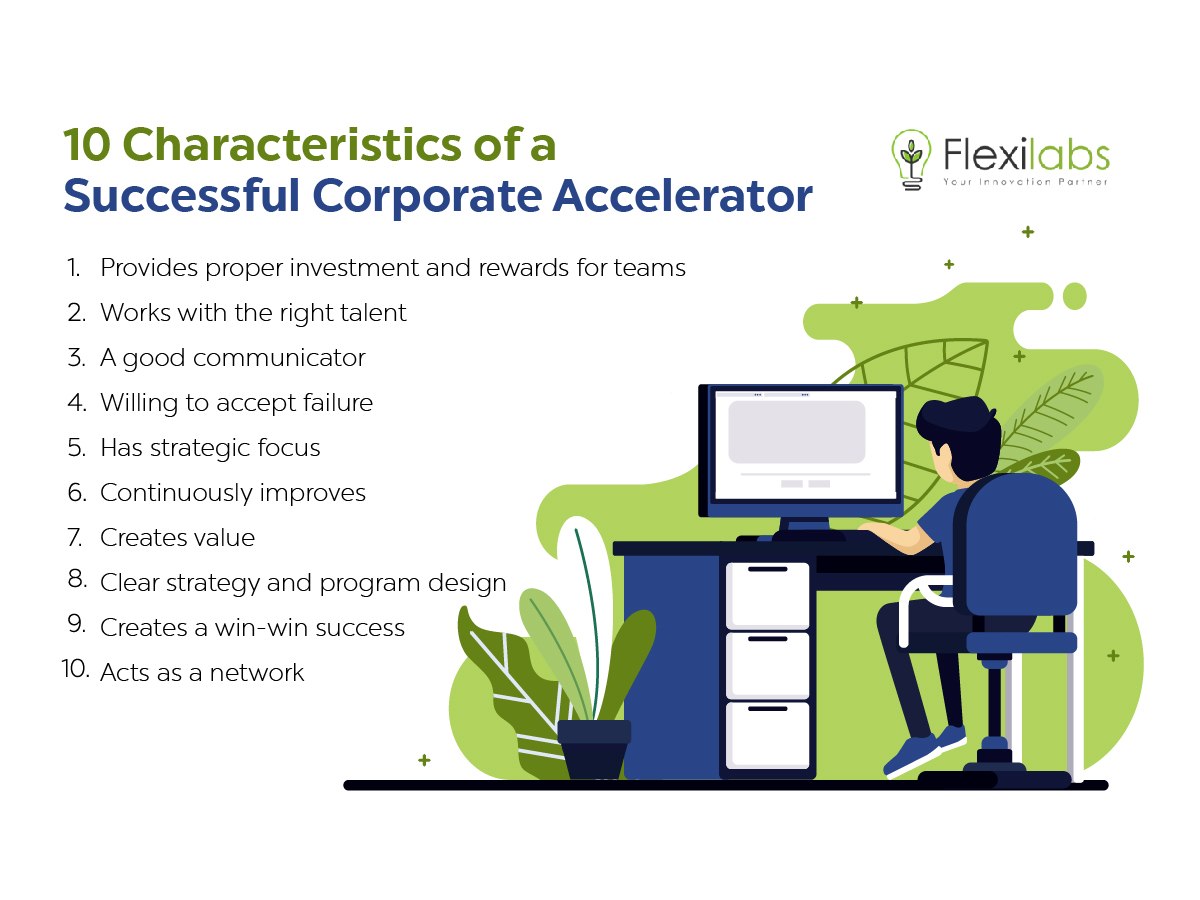 1. Provides proper investment and opportunities
One indication for a successful corporate accelerator is its ability to provide proper investment and opportunities. The accelerator should not limit a startup's choices or ability to raise capital. The terms set in the program should be uniform and fair to all startups.
Likewise, they should also provide the best possible environment for entrepreneurs to grow their startups. It should have the necessary resources needed to ensure success. Moreover, the program should have the right mentorship and services from experienced entrepreneurs, investors, business executives, lawyers, and more.
2. Works with the right talent
The right talent is the key to victory for any startup accelerator. A good accelerator should have an extensive network and a close relationship with the companies that it accelerates. The startups should also be able to get expert mentorship from mentors, who are experts in their field and have experience in launching and scaling a company.
An accelerator should provide the necessary resources for startups, such as office space, legal advice, and administrative help. It can also provide access to investors, customers, and partners relevant to the startups' business model.
3. A good communicator
The best startup accelerators are those that communicate well with their communities. They should be able to provide updates on their startups' progress and share insights about how they were able to help them grow.
A good communicator will keep the community updated on what's happening with their startups. They will also be able to provide tips on how they can help others in the same position as them.
4. Willing to accept failure
Startups are known to be risky and unpredictable, but this doesn't mean that they should be avoided. In fact, the willingness to accept failure is a good trait for any successful corporate accelerator to have.
The nature of startups means that there will always be a high chance of failure. Therefore, startups need to have an environment where they can fail and learn from their mistakes without feeling judged or ashamed.
5. Has a strategic focus
A startup accelerator should have a strategic focus. This will help them stand out from the competition and attract more startups to apply for their programs.
Likewise, the focus of an accelerator should be clear for everyone who considers applying for their programs to make an informed decision about what they want to do with their business in the future.
6. Continuously improves
One of the most imperative features of a successful corporate accelerator is knowing how to continuously improve. The accelerator must be flexible and adaptive to keep up with changes.
The startup world is constantly changing, and so should the accelerator. And to stay relevant, an accelerator needs to evolve and adapt to the changing times.
7. Creates value
A successful corporate accelerator should know how to create value for the startups they are accelerating. They should provide mentorship, networking opportunities, and access to potential investors.
This is not only beneficial for the startups but also for the accelerator itself. By providing these services, they can attract more startups to join their program and improve their chances of success.
8. Clear strategy and program design
A startup accelerator should have a clear strategy and program design. They should clearly understand what they want to achieve with the accelerator.
The program design of the accelerator should be related to the company's needs and goals. There is no one-size-fits-all approach for startups, so each company will need to be evaluated individually.
In addition, a successful corporate accelerator should provide adequate mentorship, investment, and networking opportunities for its participants. The mentors are usually entrepreneurs who have been through the process themselves and can offer advice to other entrepreneurs.
9. Creates a win-win success
A successful corporate accelerator is a company that provides funding for startups in exchange for equity. They need to create a win-win situation for both the company and the startups. The company can get some innovative ideas, while the startups can get funds and guidance to grow their business.
Moreover, a startup accelerator should be able to provide guidance on how to develop their business and find investors and partners.
10. Acts as a network
A startup accelerator should act as a network. They should have a global presence and help startups expand their business and reach other markets. The program should serve as a network to provide the entrepreneurs with access to resources, mentors, and co-working spaces.
In addition, a successful corporate accelerator should be able to allow startups to increase their growth rate by leveraging the experience of successful entrepreneurs, investors, and executives.
Conclusion
To summarize, a corporate startup accelerator has an immense influence on the program and the startup participants. As such, they need to have the right characteristics and ideals that will surely lead their mentees and business to success.
These ten characteristics are just a few among the vastly needed rectitude of successful corporate accelerators. Make sure you research their company well enough before joining the program. Check for their background and previous student review.
If you are looking to join a program, check our Flexilab's corporate accelerator program!