One of the challenges for any company is finding new customers to make a profit. This is especially true for startups because you are new and only a few people know your brand. Luckily, there is pay-per-click (PPC) for startups to find new customers, reach targets, and, ultimately, grow the business. 
With that said, we put together this PPC guide to help you set up your digital marketing game and start seeing the results you want.
Does PPC work for startups?
Absolutely! As a marketing tool, PPC for small business owners helps achieve short-term target goals. More specifically, it is an effective way to gain visibility and attract potential customers. 
Advertising for startups usually involves getting the word out about your startup business with relevant messaging. In turn, this helps increase brand awareness and generate leads. 
It is important to note that it can be expensive if it is not consistently monitored. Aside from that, PPC for startups can actually be a cost-effective solution to target the right audience while maximising return on investment (ROI).
What are the benefits of PPC to startups?
There is no denying how important digital marketing, and PPC in particular, is for a startup. So much so, we even listed down the actual benefits that your startup can reap if you properly execute your PPC campaign.
PPC for Startups Contributes to Business Goals
It is a great way to achieve a wide range of business and marketing goals. PPC campaigns can help increase brand exposure, generate leads, or generate ecommerce sales. 
PPC advertising for startups can also support different parts of the marketing funnel. It can help guide prospects from the awareness phase to becoming paying customers. 
PPC for Startups is Measurable & Trackable
One of the great things about PPC for small business digital marketing is that it is easy to measure and track. 
This is a big boon for startups that are easing into marketing. Or, they are very conservative with their budget and want to track the ROI of their campaigns.
Tools like Google Ads and Google Analytics are very helpful for startups. These can provide high-level performance details like impressions, clicks, and conversions based on your business goals. 
PPC for Startups Enables Quick Entry
It is never too late to enter a market. With PPC marketing, you can get started quickly. 
For one, PPC enables you to reach people beyond those who already know about your brand, unlike other marketing channels like email and organic traffic on social media channels. 
PPC for Startups Gives Control
PPC tools let you choose which keywords or placements you want to target and how strict you want to be with your marketing budget. 
In fact, you can control your ad budget and bids, so you can decide how much you are willing to spend. You can opt to start small, adjust accordingly, and even pause or stop your PPC campaigns anytime you want. 
PPC for Startups Works With Other Marketing Channels
PPC can work with other digital marketing tools that your startup business uses. 
For example, PPC and SEO are a perfect pair because they both target the same audience. Both can be used to increase traffic to your website. While PPC can be used for short-term gain, you can use SEO to generate organic traffic long term. 
PPC for Startups Provides Targeting Options
PPC tools, like Google Ads and Meta Ads, enable you the power to target specific keywords. It is especially beneficial in the long run for your startup to target branded keywords associated with your business.
In addition, these can also help you remarket to reach people who have interacted with your brand before and even focus on specific demographics through the display network.
PPC for Startups Provides Marketing Data
The marketing data you gather provides you with an insight into the performance of your PPC campaigns. Beyond that, you can also use the data for other aspects of your digital marketing efforts, such as SEO, social media, and content marketing. 
In addition, third-party tools, like SpyFu, KeywordSpy, and iSpionage, can also help you gain insights into how your competitors are performing. You can use this to pinpoint what aspects of your campaigns you can tweak for them to perform better. 
9 Easy Tips For PPC For Startups
Advertising for startups is a bit more challenging because people do not know your brand yet. The good news though, launching a successful PPC campaign can remedy that. However, it requires a solid strategy on your end.
We listed below a couple of tips to help you do just that. 
Learn PPC Marketing
The primary reason why companies fail with PPC is that they do not take the time to learn how to properly create, manage, and optimise paid search campaigns. This further underscores the need to take the time to learn PPC to avoid simple mistakes that can waste your limited budget.
A great way to start is by studying the fundamentals of Google AdWords. It includes the following: 
How the ad auction works

How to structure an account

Different keyword match types

Negative keywords

Determining your budget and first-time bids

Setting up conversion tracking

Optimising your account on an ongoing basis
Identify The Problem Your Business is Solving
It is tough to get the word out about your brand out there and make it known. However, you should not push your brand and your products and services then hope for the best
Instead, think about what problems your potential customers are trying to solve. You can conduct keyword research to find the relevant words and phrases to do this and help get traction for your ads. Then, create ads that speak directly to them and explain how you can solve their problem. 
Remember, your goal is to attract attention before presenting your product.
Start Small
PPC for startups does not need to create a huge list of keywords and spread them across multiple campaigns and ad groups. You are stretching your limited budget way too thin. As a result, this will potentially waste both your time and money. 
Instead, you should focus on high-priority keywords to generate relevant traffic. A way to do that is by following the Pareto Principle, or the 80/20 rule, wherein you focus on the 20% that generate 80% of the results. 
Here are a few tips on how to do it:
Identify the top keywords relevant to your business

Identify the top search queries that generate the most impressions

Focus on optimising the best-performing campaign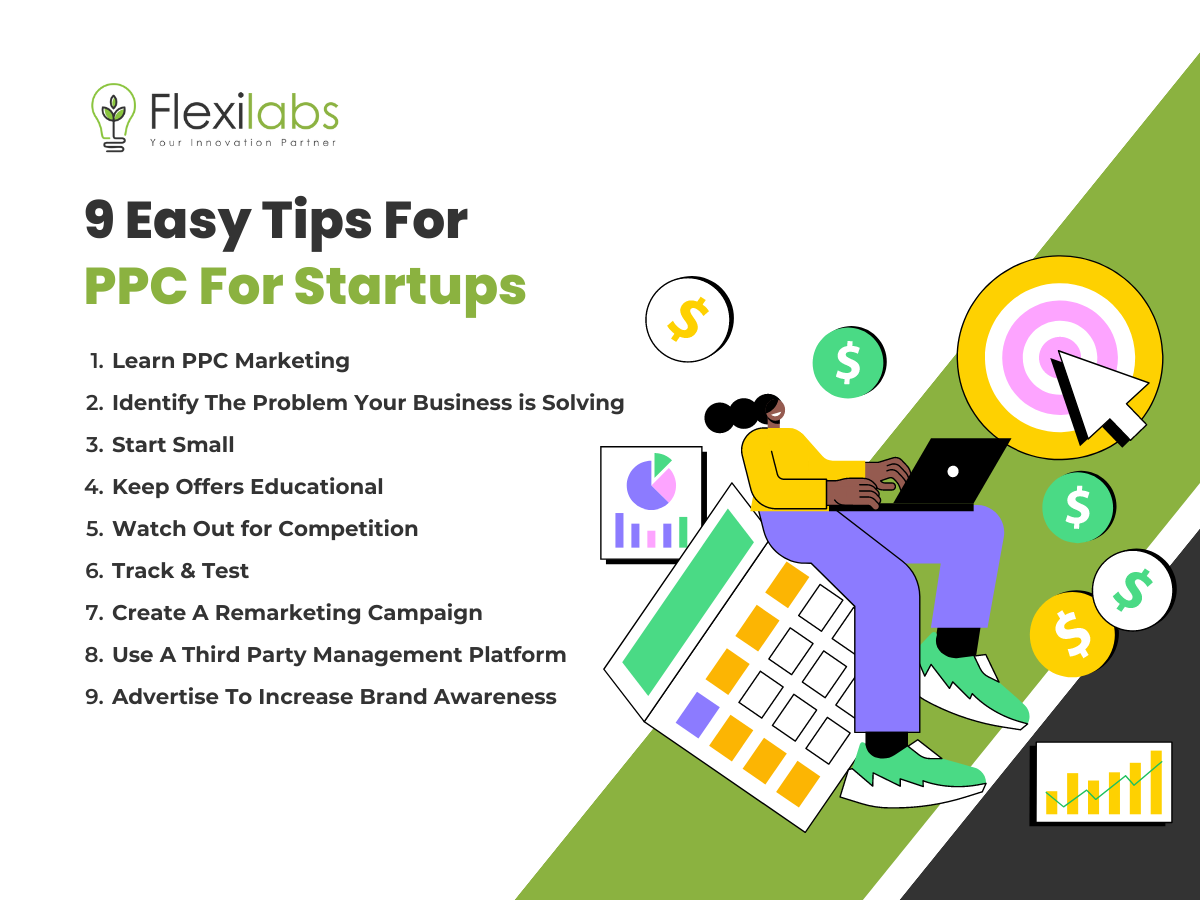 Keep Offers Educational
You need to remember that your brand is not that well-known yet. So, you need to adjust your offers and messaging accordingly, especially for the top-of-the-funnel phase, where trust is low. 
With that said, you should focus on educating your potential customers with valuable content that speaks to their needs or solves some of their problems. 
Watch Out for Competition
You do not have to necessarily stalk your competition. But you should definitely keep a close eye on them to stay ahead of the game. 
To start, you need to identify your competition. Try to find local or new-to-the-industry companies to compare your brand against. In addition, they can also be your source of inspiration on how to market to your target audience.  
Google's Ad Preview & Diagnostic Tool and other PPC tools can help you see both your own and your competitor's ads without racking up impressions. It can give you an idea of how your ads are performing alongside your competition and give insight into how you can further improve them.
Track & Test
One important thing to always remember is to track and test your PPC ads. More importantly, track your ROI. It is only natural because, as a startup, every penny counts. 
Metrics like impressions and click-through rates are important. But at the end of the day, they don't mean much if you are not making any profit.
Create A Remarketing Campaign
Remarketing is a great, risk-free way to reach out to people who have already shown an interest in your website. It is actually an effective and affordable marketing tactic that helps you generate sales while ensuring you have a better ROI with your PPC campaigns.
You can start out with an all-visitor remarketing campaign to get as much exposure as possible. Thereafter, when your brand is a bit more established, you can start targeting specific audiences.
Use A Third Party Management Platform
Third-party management platforms can be a wise investment for your startup since they will be a big help to you. It can help you save time and resources since it can automate certain tasks without sacrificing performance or ROI. 
In addition, these tools are designed by PPC experts. That means you can get a comprehensive analysis of your ads' performance and pinpoint aspects that need to be improved or opportunities for growth. 
Advertise To Increase Brand Awareness
 It is important not to limit your paid ads to just one platform, especially if you want to increase brand awareness. Social media platforms, like Facebook, Instagram, Twitter, and TikTok, are worth investing some of your PPC advertising budgets in.
You can combine Google AdWords with social media paid ads. In fact, social media can put your brand, products and services in front of an audience to increase brand recognition.
8 Steps To Launch A Successful PPC Campaign For Startups
With that said, we added a step-by-step guide on how to launch a PPC campaign for startups. 
Segment Audience
It is important to take the time and use the resources necessary to get a deeper understanding of your audience. A way to do that is by segmenting them. 
Here is how: 
Define your audience based on demographics, interests, behaviour, location, and other relevant factors.

Create buyer personas, a detailed profile of your potential customers including their needs, challenges, goals, and pain points.

Use audience targeting features such as age, gender, location, interests, and behaviours.

Create remarketing campaigns for each segment. 
Select a Bidding Strategy
There are a couple of strategies you can choose from when bidding on PPC ads. However, the strategy you select should factor in your budget, experience, and goals.
Manual bidding is a good option if you are just starting out with PPC or have a tight marketing budget. You can set a limit on every cost per click. Keep in mind that the downside is that you will not be able to optimise your bids. 
On the other hand, automated bidding can save you time managing your PPC campaign. However, it is important to note that this will cost you more.
Identify Key Performance Metrics
Measuring the performance of your PPC ads is vital. This ensures you can easily track your ROIs and get insights on how to improve your ads. 
Here are eight essential metrics you should always remember: 
Click-density Analysis

Visitor primary purpose

Task-completion rates

Multichannel-impact analysis

Web traffic data

Web transactional data

Weblogs

Web beacons
Set & Stick To A Budget
You do not need to break the bank to start your PPC campaign. You can start small. Instead of loosely estimating how much you should budget for your PPC ads, here is a simple formula to always remember: 
Budget = Maximum Cost Per Click x Number of Clicks x Number of Days
First, calculate how much profit you make per conversion. After that, figure out how much of that profit you're willing to invest in AdWords. Next, determine your conversion rate by looking at your startup's past marketing data or using the industry standard of 2.7 percent. When you have all that data, you can calculate it all to get the budget. 
Research Keywords & Choose Wisely
Keyword research is a crucial aspect of any successful PPC campaign. It is the foundation of the whole thing. As such, it is important to select the right keywords. 
When choosing keywords, here are a few things to keep in mind: 
Check out your competition's keywords

Think about what your potential customers would search for

Utilise Google's keyword search or other tools such as Moz and SEMrush

Be specific with your keywords

Choose local keywords when possible
Create An Ad With A Compelling Call to Action
The ads you create should be brief and to the point. This is because your ads have limited space and time to grab the attention of potential customers.
With that said, create an ad with a specific message and goal in mind. It does not necessarily have to be super creative and great, but it should be engaging and compelling for your audience.
A great way to make your ads stand out is by developing a unique value proposition that differentiates your offer from the competition. Or, present a common pain point your potential customers' experience and position your product or service as the solution. 
In addition, make sure to add a clear and simple call to action (CTA). It can be a two-word push like "Buy Now," "Order Now," or "Learn More."  The point is that it is one single action that customers can easily take.
Test Ads to Ensure Performance
Once you have launched your PPC ads, you need to monitor their performance, make adjustments as needed, and strive to improve results. 
A way to do this is by A/B testing. Basically, it involves running two almost identical versions, with one key difference, of the same ad simultaneously. The variations can be a change in copy, CTA, and keyword, to name a few. 
The point is to analyse the results of the A/B testing and determine which combination will get you the best results. This is a great way to save money and ensure you are getting your ROI by determining the most effective ad.
Conclusion
PPC for startups does not have to be difficult. In fact, it can be manageable. However, it will require you a good understanding of the process and a lot of effort in planning and researching to get the most out of your investment.
With that said, the important factors you should always keep in mind are prioritising your website, setting a budget, and selecting a bidding strategy. Afterwards, you can conduct research on your competitors and select the best keywords. Lastly, make sure to always monitor your ads and tweak them accordingly. 
Starting your online advertising? Let Flexilabs substantiate it for you! We help small businesses and startups achieve success. Contact us now!