If you are reading this article, you are probably thinking of joining a startup incubator program or just actively searching for funding. However, it's important to note that every entrepreneur should know how to pitch a business – whether they are seeking investment or not. This skill comes in handy in every industry and can help build up a lot of potential in expansion.
Your startup pitch is everything. It's the key to inviting potential investors. It doesn't matter how well thought, innovative, or sustainable your idea is. If you can't showcase it well, then it won't attract investors. So as an entrepreneur, you need to successfully demonstrate your product, its unique qualities, prospects, and potential return on investment (ROI).
However, putting a compelling pitch, along with the preparation, can be hard to do for beginners. The competition is tight, and there are a lot of experienced individuals who probably want to steal your idea.
To help you with that, we came up with 11 startup pitch tips to help you increase your chance of winning over investors on your startup pitch!
1.
Do your Homework: Prepare, Research, and Practice!
An excellent startup pitch example is well researched and prepared. While unique ideas can sell, what makes them sellable is if you could successfully pitch your idea. As such, you need to back up your point with numbers, statistics, scientific facts, and analysis. So before pitching, make sure you analyze your idea's:
Return on Investment

Revenue

Expected revenue

Profit

Cost per acquisition
After acquiring these data, make sure to present these facts and numbers as engagingly and positively as possible. After that, you need to practice delivering these facts. You need to practice providing these elements quicker and concise as much as possible.
Many startup founders think that knowing this data is enough for them to have a killer pitch. Tons of incubators and accelerators, however, only provide a maximum of 10 minutes for you to pitch your idea.
Thus, prepare for your pitch style and practice. Try watching some business pitch examples online. Simplify your messaging and keep to the key points. Keep this vital startup pitch tip in mind.
2.
Create a Presentation
Now that you are prepared for your pitch, it's time for you to make it creative. You need to be distinct and leave an impression on your investors. One particular creative pitch idea is by putting a deck that summarizes your business, story, and number.
The aim is to create a deck that gets your investors excited and impressed. Keep in mind that you need to have a short deck that you can present within 10 minutes. This includes everything that you'd like to give your investors.
Likewise, another startup pitch tip that you can add to your deck is incorporating your brand identity. Try to feature your logo and choose a color scheme related to your brand.
This might not seem necessary. However, being prepared with your pitch deck is a clear sign of dedication. It may not seem that important – but it's clear proof of your commitment to the pitch meeting. And it's also another element that can keep people engaged in your presentation.
3.
Read The Room
"The perfect pitch" just doesn't revolve around what you present. You also need to develop a good relationship with your audiences. Regardless of how well you explain, it's always essential to keep your audience in mind throughout the presentation.
Entrepreneurs need to watch out for parts where they respond well and engage with these leads when presenting. Understand what the audiences want and read the room while pitching. In addition, learning about the people you are pitching to and finding common points beforehand can help you spice up your pitch.
4.
Tell A Story
Getting technical is essential when talking about your startup. You need to present the basics of your idea, the ins, and the outs. However, the best business pitches begin with a compelling story.
Beginning your pitch with a story will likely engage your audience more, rather than a boring fact or statistics. It would help the audience envision your idea and understand the scenes behind your business, value, mission, and history. You can emphasize how you came up with your startup's idea and the obstacles you overcame to get where you are now.
You can also try recreating a story where it is related to the investors. Do some research and find a good sense of what they are passionate about and tailor your account to it. A good level would pick up the interest of any audience, especially those where they can relate to. Because no matter how successful they are, they are still human. And humans always get hooked to a compelling story.
You can also try stories that address problems in the marketplace or society. One great startup pitch tip is focusing on the problem you are trying to solve and framing how it can benefit the world.
5.
Provide a prototype or let investors experience your product firsthand
Another startup pitch tip that you can use is bringing a prototype of your product and showcasing it to your investor. You can demo to the investors the distinctive features of your product idea and let them experience it firsthand. You can present pictures or mockups of your product. If possible, let them handle the product and do a live demo to increase the impact.
6.
Early success, traction, and milestones
After the presentation, take some time to build up your credibility by sharing relevant tractions you made. Credibility is sometimes what makes a good pitch. Impress the audience by sharing some of what you have accomplished so far in terms of hires, product launches, sales, or contracts.
In addition, this is an excellent way for you to piece information about your business to create a complete snapshot of your business and products. If possible, show them a roadmap or timeline of your next steps. It's even a significant step to move the conversation towards funding and how they can help you.
7.
Showcase your target audience is and why
As much as the audience wishes to know facts about your product, they also need to know your prospective consumers and how much it will sell well. Target audiences are an essential factor if you want to make money. And for investors, this is their primary goal.
To showcase this information, first, paint a picture of your ideal customers to the investors. Start with their issues and how your product can help them. This method can help justify that there will be enough demand for your product.
The next part of this startup pitch tip is using the power of statistics. You can use demographical data, psychographic features, or consumer behaviors to pinpoint your target customers. Clarify why these individuals will likely buy your product. Use pertinent data to back up your claims.
8.
Your financial projections
After showcasing your target audience, express your projected revenue over the following years. Be sure to back your numbers with assumptions and explanations. At this point, you'll probably see the investors taking their time to calculate to check if your projections are correct. Thus, give them the information they need.
However, remember to discuss your projection briefly. Offer to answer questions after presenting or provide the full financial aspect report to your investors.
9.
Introduce your team
Even if you have a stellar idea, make sure to introduce your team to the investors. Investors finance people first and concepts second. Make them show the people behind to apparent success. Show them that you have the right people.
Share any remarkable skill sets that your team has. Next, tell them, other experts, that you are missing. This is a great chance to let them know how they can help you, whether marketing, program development, sales, or operations.
10.
Prepare for any questions
No matter how prodigious your idea is or how backed your claims are, investors will ask questions. Be prepared and have a well-thought business plan to share in case they would like to know more.
This is an excellent thing as it shows that they are interested in your business. The intention, after all, is to pitch your business or idea. So make sure you provide the investors with what they need.
11.
Take feedback and refine your pitch
No matter the outcome of your pitch, make sure that you receive any result – rejection or criticism. Feedbacks are the best ingredient to improve. So don't be afraid and ask for feedback. Make sure to take everything into account for your next pitch.
If you can, ask a team member to take notes, and you can review it later. Look for any potential holes, weak points, or adverse reactions from the audience. Use this to refine, practice, and execute your pitch. Practice makes perfect. Use this to maximize your potential.
If your investor is not willing to provide any feedback, do not push the issue.
Don't stress yourself and treat every pitch and opportunity to learn things for your business. You'll continuously get better and better, and these experiences and feedback can help you and your business.
Conclusion
And that's it! Take your time to prepare for your startup pitch and win your investors.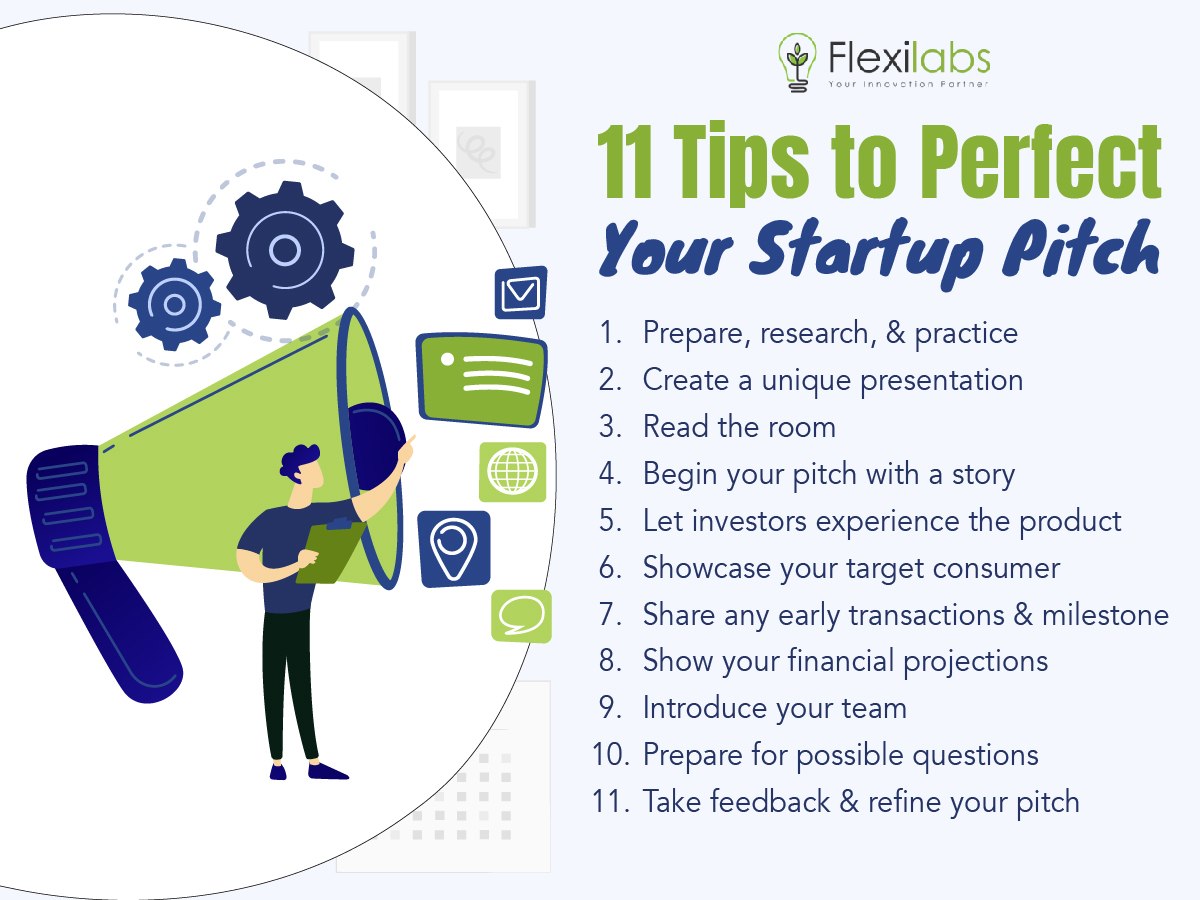 If you are wondering where to pitch startup ideas, Flexilabs is opening its doors for startups and corporate. Contact us and let us help validate your idea!