Building a startup is not risk-free. Any newly launched businesses are predominantly vulnerable to failure during the first few years. According to Failory, about 10% of startups fail in their first year. Furthermore, the Business Case Studies claims that one out of three startups fails in their first three years.
So, why is this the case? Why do startups fail? Let's look at five causes why startup fails and how you can avoid them in the future.
5 Reasons Why Startups Fail and How to Dodge Them
The startup ecosystem in Australia has been abundant over the past few years, thanks to its innovative environment and incubators and accelerators supporting these starting businesses. In less than a decade, its startup sector, with very little activity, has been a thriving hub with many people and businesses investing in companies.
In fact, Australia is considered one of the fastest-growing startup ecosystems, having the most famous startups built in this country, such as Canva, Prospa, Uno, etc. According to Failory, about 90% of startups fail in Australia. Furthermore, in a study conducted by CBInsights, it is said that startup companies failed due to multiple reasons. Mainly startups fail due to no market need for their product, running us of cash, and not having enough people to run the business.
So why is this happening? Here are the 5 most common reasons why startups fail.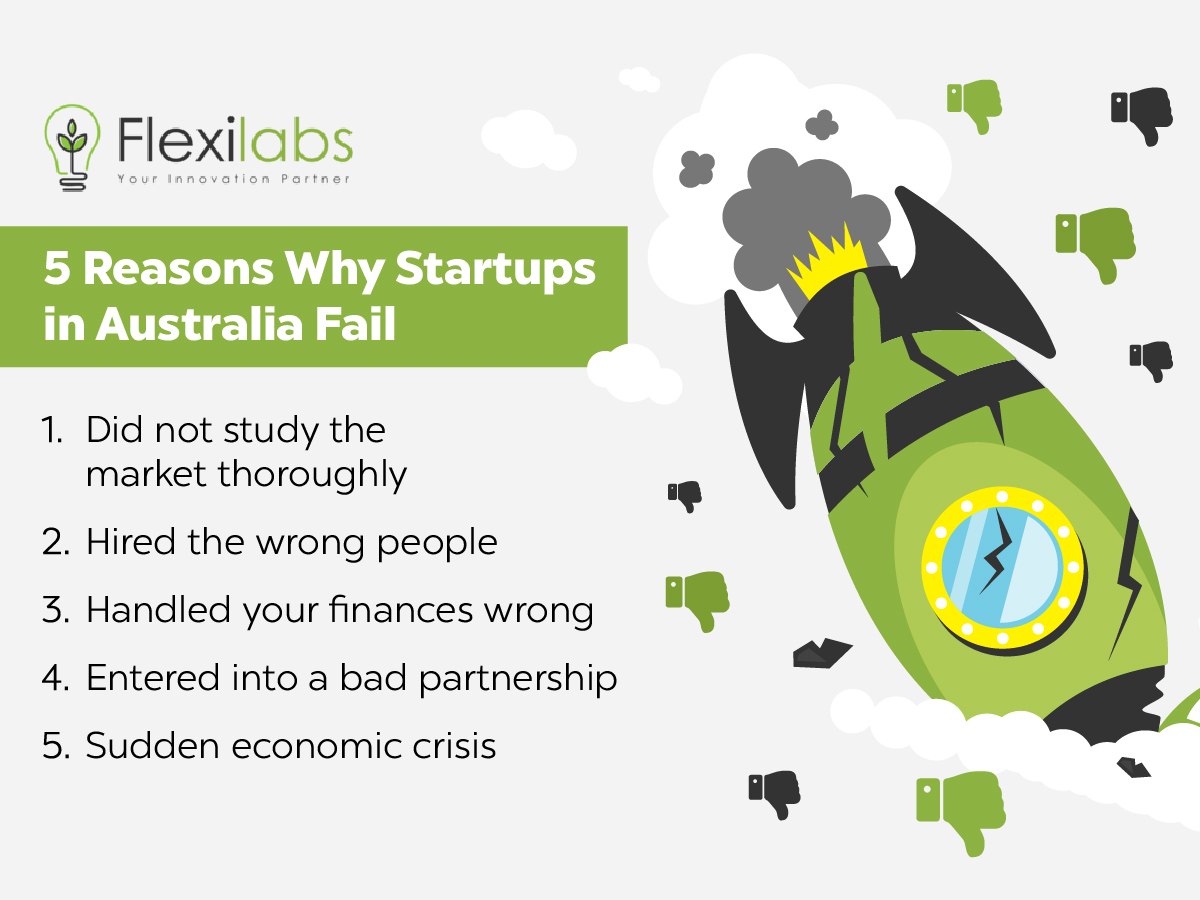 1. You did not study the market thoroughly
Many startup entrepreneurs launch their new idea with grand visions of selling without an accurate understanding of the market demand. It is important to remember that research and planning are two crucial aspects of a new startup. Without them, it is difficult to make the right decisions at the right time. It is also impossible to drive meaningful marketing without a complete concept of what's out there.
Furthermore, the market is complex and ever-changing. There are a lot of tools and models that can provide insights into your product's success. Here are some of the research questions that may help you study your market:
How many people will use this product?
What features should I include in my product?
Who will be my target audience?
The answers to these questions can help you choose your target market, develop your marketing strategy, create a business plan, and create a successful startup!
You can also try joining a startup accelerator program if you think having a mentor or an experienced person will help you more.
2. You hired the wrong people
Another most common reason why startups fail is their people. A startup's success is entirely dependent on the people they hire. The wrong person can destroy a company from the inside out. Some startups usually hire employees who are not qualified for the job or have a bad attitude.
This is a mistake that many companies make, and it can be avoided by hiring with caution. And the best way to avoid hiring the wrong person is to make sure that you know what you are looking for in a candidate. Ensure that you are not just hiring anyone who has applied for the position.
When hiring someone, the first thing to check is their resume and previous work experience. It might be a red flag the candidate doesn't have any experience in the field. One should also pay attention to how well they communicate with others, their past work experience, and most importantly, if they feel like a good fit for the company culture.
3. You handled your finances wrong
One of the most common causes of startup failures is not handling finances well. Sometimes, startups fail because they invest in the wrong thing. They spend their time and money on something not needed in the business.
Likewise, one of the best ways to avoid these pitfalls is to have a financial advisor who can help you manage your money. They can advise you on what steps to take in times of crisis.
Startups should also focus on their core value proposition. They should also invest in the right things to bring them a competitive advantage. They should not focus on the features that are already available in the market.
4. You entered into a lousy partnership
Another reason why startups fail is entering the wrong partnership. Partnership and investment are an essential part of a startup's development. It can help your product be exposed more in the market and provide the opportunity to create more products.
However, startups are often faced with finding the right partner or investor. Some startups fail because they entered a lousy partnership or deal, eventually leading to their downfall.
To avoid this, try to find someone willing to help you grow and not just take advantage of your talents. Be objective on everything and set the expectations up front. Make sure all benefits are mutual. Also, check your partner's background and ensure they don't have any bad records.
5. There is a sudden economic crisis
Lastly, one of the most common causes of startup failure is the economic crisis. Some startups fail because they cannot stand the financial crisis. The startup industry is often a volatile market, and startups often have to be aggressive to survive.
A sudden economic change can cause a startup to lose traction and not be able to recover. For example, in 2008, during the financial crisis, many startups closed their doors because they couldn't recover from the fall in demand for their product or service.
Another example is the COVID-19 pandemic. Not everyone expected the pandemic to last for more than 2 years. Most startups in their early days don't have a fall-back plan or an established customer base. And the shutdowns and restrictions have caused many startups to close down.
Likewise, startups need to create a concise business plan with a business continuity strategy. You can also try to cut down on expenses and find cheaper alternatives.
Join Our Startup Incubator Program!
It is often hard to identify why startups fail. Usually, it's one of the cases mentioned above. But by learning from these, you can prevent your startup from falling. Use these tips when starting your business.
Or you can consult experts by joining a startup incubator in Australia. Check our Incubator Program! Join us now!