Starting a business is not easy. It would help if you spent a lot of capital, time, and patience to ensure that your company becomes successful. Not only that, but you also should implement various strategies and activities to safeguard customers that will keep patronizing your product.
And with the rise of the need for digitalization, most companies are forced to adapt to building an internet presence. One approach to do this is by creating a website. Websites are a vital element of ensuring a startup's success. It helps make the company's reputation, acting as a modern-day storefront and platform to interact with your clients.
However, making a website is not that easy. You need to make sure that it all has the necessary information and the perfect design to make that it can accommodate visitors. As such, this article will help you identify the Top 10 elements a startup needs on its websites.
Why does a startup need to build a website?
A website is an essential tool for any startup. It is the first thing prospective clients see when searching for your company or product. Moreover, a website helps you reach out to your target audience and reach out to new buyers who may not have learned of you before.
Similarly, any company needs a website because it is the most efficient way to reach potential clients. It is also the cheapest way to promote products and services. More importantly, a website can help startups: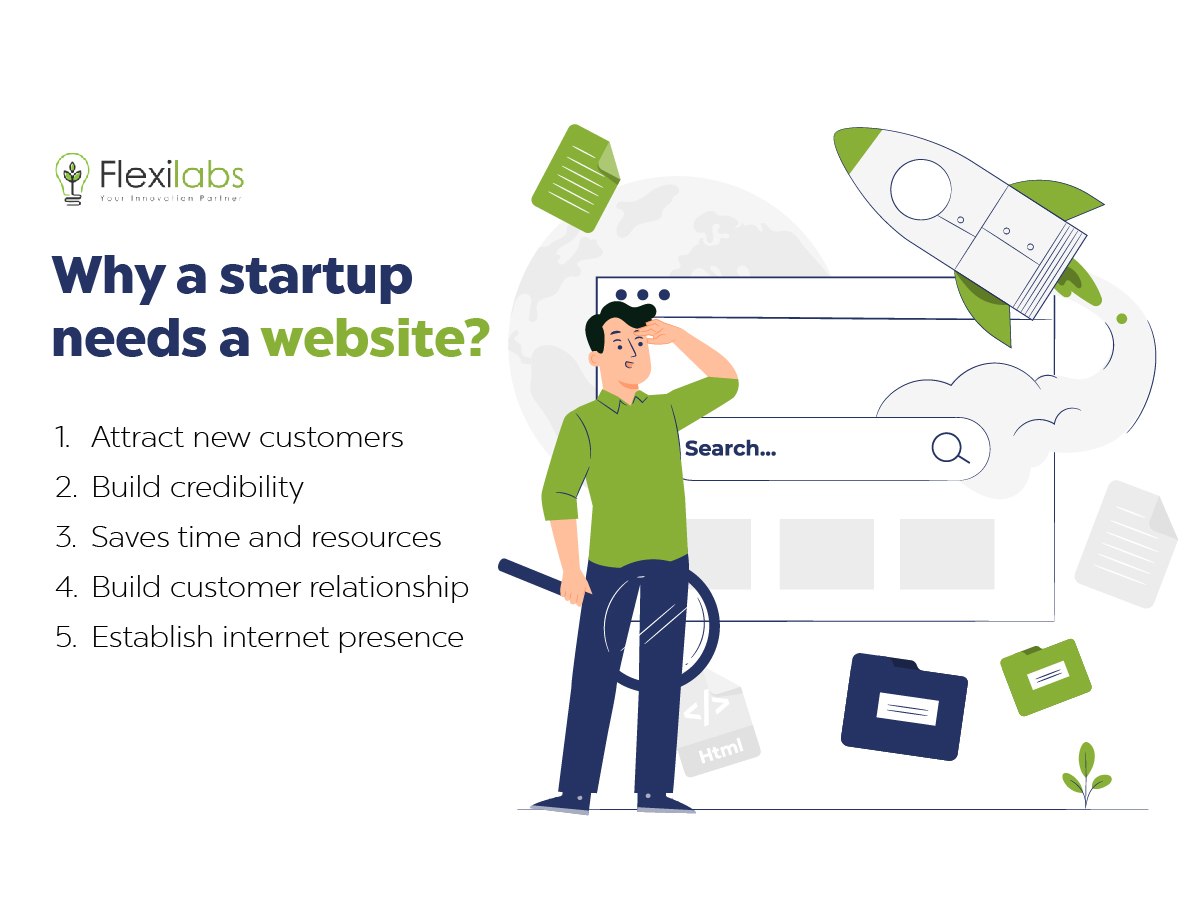 1. Attract new customers
A startup needs a website to attract customers. It is an excellent digital marketing strategy that can help startups find their target audience and connect with them, generate leads, and increase revenue.
In addition, a website is where the company can display its products and services and sell them online. It is also where the customers can get information about the company and its policies or contact a sales agent.
2. Build credibility
A startup needs a website to establish its identity. It can help build the startup credibility, especially as credibility is vital for startups to build trust with their customers. Trust is crucial for any business. And it is significant for startups because of their limited budget and lack of brand recognition.
Thus, when building a website, it should be designed with care. It should provide all the necessary information about the company and its products.
 There are several reasons why a startup needs a website to build credibility:
 Show their product or service in action
 Provide information about the company and its founders
 Highlight the experience of clients who have used the product or service
 Provide contact information and an easy way to contact them
3. Saves time and resources
A website is a cost-effective way to reach all your potential customers. It saves time and resources because it eliminates the need for other, more expensive traditional marketing channels.
Creating a website is more affordable than you thought in this digital era. Many free tools, platforms, and resources are available online that do not cost money. For example, you can set up your website on WordPress.com or Wix.com for free.
In addition, you can build your traffic without using Google Ads. Although ads can expedite traffic to your website, there are other ways to help you get a potential customer. Using Search Engine Optimization (SEO) can help get a broader target audience without spending too many resources. Just keep the content steady and optimized and generate an audience in the long run.
4. Build customer relationships
A website is a powerful tool for a startup to build customer relationships. It is the first impression for a company, and businesses can communicate with customers. For startups, a website is not just an online store. It is the face of the company, and it should reflect the values, mission, and vision of the company.
5. Establish an internet presence
To establish an internet presence, it needs to have a website. The website plays two roles in establishing the startup's presence on the internet:
As a digital storefront where potential customers can buy products or services offered by the startup
Acts as a marketing tool for generating awareness
What are elements a startup needs in their website?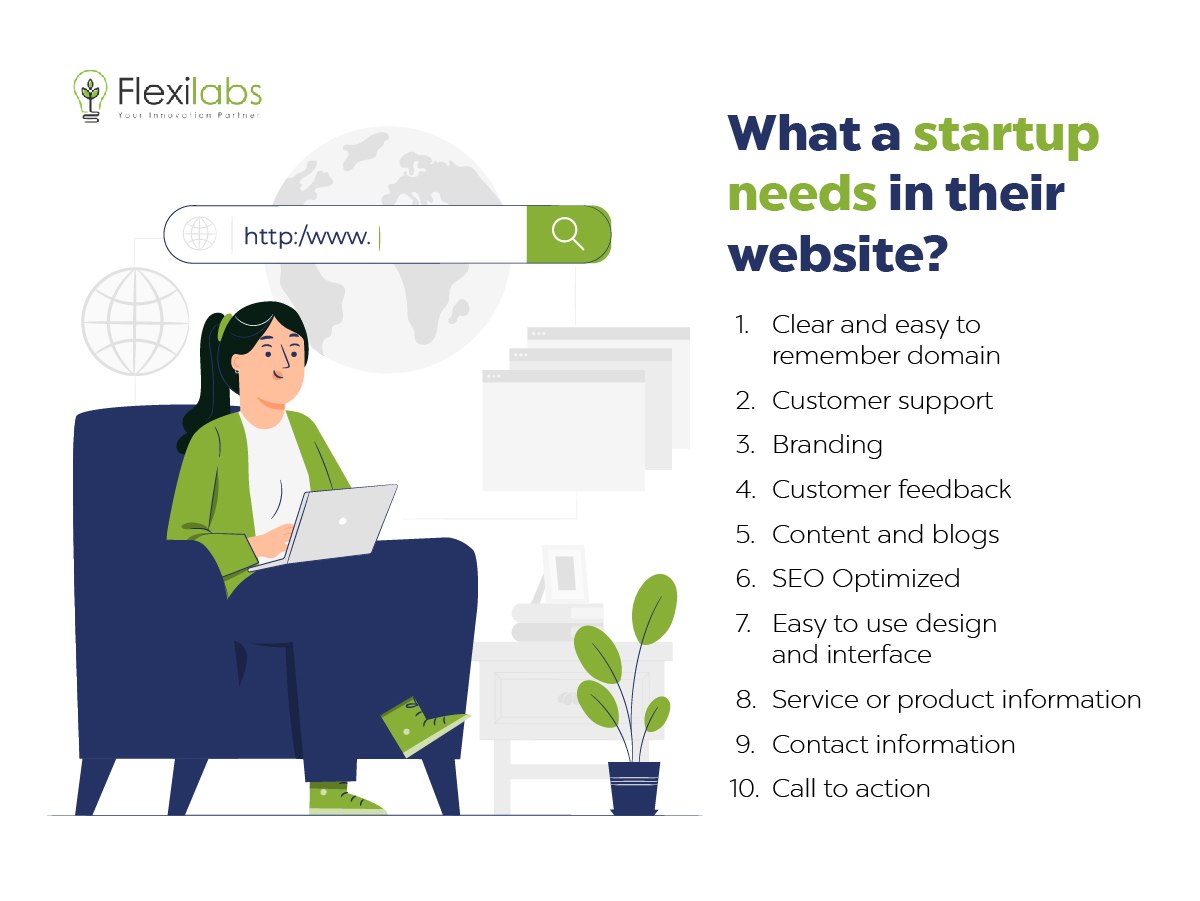 1. Straightforward and easy to remember domain
The domain is one of the most critical startup website needs. It is the storefront window that represents your company to customers. As a startup, you are still building your reputation and popularity.
As such, a startup needs a clear domain on its website. They need to make sure that their website domain is not too general or not too specific. It should be easy for clients to remember and spell.
Your domain should be short, simple, and impressive. Likewise, it needs to represent what your company does and what they offer.
Here are some tips on how you can choose the perfect domain name for your website:
Use brandable and not generic
Make it short but represents your company
Use the right domain name extensions (.org, .net, .io, or .com)
Avoid hyphens and numbers
Ensure it is easy to pronounce
2. Customer support
Customer support is also one of the startup websites needs as it correlates with your service and revenue. According to GrooveHQ, 84% of organizations that improved their customer service reported increasing revenue. As such, a startup needs Customer support on their website.
There are many ways to provide customer support on a website, but there are three main ways to go about it:
Phone Support
Email Support
Live Chat Support
3. Branding
As mentioned earlier, your website is your storefront. Your website presents your company, what it sells, and what youth business is like. Likewise, one startup website need is branding.
When setting up a website, think carefully about what you want to be perceived. Use the right tone, messaging, and images on your website. It should also use your company theme and colours easy on the eyes and not too overwhelming.
Lastly, your website must include your company logo representing your company's values and vision.
4. Customer feedback
Credibility is essential for small businesses and startups. Without credibility, your startup might struggle to attract or retain consumers. It helps you build trust and relationships with your customers.
One way to build credibility on your website is by adding customer feedback or review. One startup website needs a customer testament to create a sense of authenticity and trust.
The customer testament should have the following elements:
Statement from a previous client or customer
Photo of the testimonial giver
The date on which the testimonial was given
5. Content and blogs
A startup needs content for its website to attract visitors and keep them engaged. They need blogs that will help them establish their brand and educate the visitors about the company.
This is not an easy task if you are not a writer or have a team of writers to care for your content needs. Startups need to hire someone who can handle content writing, blogging, social media management, SEO, and other marketing efforts.
6. SEO Optimized
The startup needs an SEO-optimized website to compete in the digital world. Search Engine Optimization (SEO) can help startups develop their business, reach new customers, and build a reputation. Instead of devoting time and money to advertising and other marketing tactics, startups can use SEO to create branding.
The company needs to have a website with a good design and navigation. The site should also be fast and easy to use. In addition, your website should have a responsive design that customers can view on any device – including mobile.
7. Easy to use design and interface
The best startup website should not only be visually exciting but user-friendly. Since you are still introducing your product, you need to ensure that new users can quickly navigate your website and locate any information they need.
Likewise, the design should be simple, clean, and easy to navigate. The layout should be neat and organized, with a search bar at the top of the page to quickly locate anything they are looking for. The homepage should have a clear call to action to encourage visitors to sign up or subscribe to your email list.
8. Service or product information
A startup needs to present its service or product information on its website. They should provide details about the service or product, how it works, its benefits, and any other essential information that visitors need for decision making.
In addition, the startup website needs to have a dedicated page for FAQs. It will help them answer any questions visitors might have about the service or product.
9. Contact information
Contact information is a vital element in any company's website. It helps the customers to contact the company and make inquiries. The contact information should include the company's name, address, and phone number. It should also link to an email form to send their queries or feedback.
10. Call to action
A call to action (CTA) is a message that encourages people to act. As such, it needs to be relevant and precise. This aspect should also be creative and persuasive for people to take the desired action. Give the readers a reason to act.
Here are a few samples of great CTA:
Subscribe to our newsletter
Click here to buy now
Read more about the product
Sign up for our upcoming sale
Visit our service page
Conclusion
These Top 10 Elements are just a few startups website needs that you need to include in your website making. There are tons of other trends you might want to consider building your brand and reaching more audiences. However, this is where you need to start from.
If you are looking for a company to help you build your internet presence, Flexilabs can help you! We provide digital marketing and website development services to startups in Australia. Contact us now!