For startups, Outsourcing is a popular strategy that provides tons of benefits. It does not only help them fill certain positions for a lower price. Outsourcing also assists them in completing their business goals, creating solutions, and opening new opportunities.
This is why Outsourcing is common to businesses in Australia. In fact, according to Statista, the outsourcing penetration rate in Australia stood at 79% in 2019. So why is this the case?
In this article, we will enlighten some reasons why small businesses and startups in Australia choose to outsource and what are some most commonly outsourced services in the country.
What is Outsourcing?
Outsourcing is a business model in which a business pays for producing goods or services outside its own company. It helps companies to reduce costs, save time, and speed up their innovation process.
Likewise, Outsourcing allows them to focus on what they do best while other companies take care of the rest. It is not only beneficial for companies but also for employees who are looking for more flexibility and freedom in their work life.
Why Do Small Businesses Outsource?
Today, startup companies put up left and right in Australia. However, the supply of professionals and industry experts in Australia is lacking. As such, many small companies are now relying upon Outsourcing to meet their need.
Outsourcing for startups is a quick and acceptable method to recruit experts and scale business growth. In addition, it provides various benefits that otherwise could not be provided by an internal recruit, such as the following:
1. Lower Operating Costs
Outsourcing is great for small businesses as it offers substantial cost savings to their company. This is because the third-party agency covers most requirements for specific tasks.
When outsourcing a part of your operations, the third-party agency will provide office space, equipment, tools, training, and benefits to the new hire. In fact, according to to call experts, Outsourcing can lower operating costs by 90%.
Through Outsourcing, all these factors are heavy, and long-term investments are eliminated, giving you leeway for a higher capital
2. Better focus on core business
As a startup grow, the list of tasks and business needs piles up. However, the number of employees sometimes does not necessarily increase, making the ratio of employees vs. tasks uneven. This unpleasant effect can contribute to less optimal work performance to the point that they forget their core responsibilities.
Likewise, outsourcing some repetitive and time-consuming tasks will give your employees to keep up with their core tasks. And with your employee, focusing on their core tasks equates to improved efficiency. Likewise, Outsourcing helps your employees make faster and better decisions.
3. More scalable operations
Business growth is also associated with increased needs. And there will be a time when you will have difficulty recruiting more people to fill these needs. Not to mention the higher costs and constant need to take care of employees.
However, with Outsourcing, you can scale your operations anytime. Most third-party agencies can accommodate extra work. They can have or can hire professionals to help you with your business needs.
Top 5 Most Outsourced Services by Small Business
As mentioned earlier, small businesses worldwide use Outsourcing to upscale their business and needs. Likewise, here are some of the commonly outsourced services by small businesses.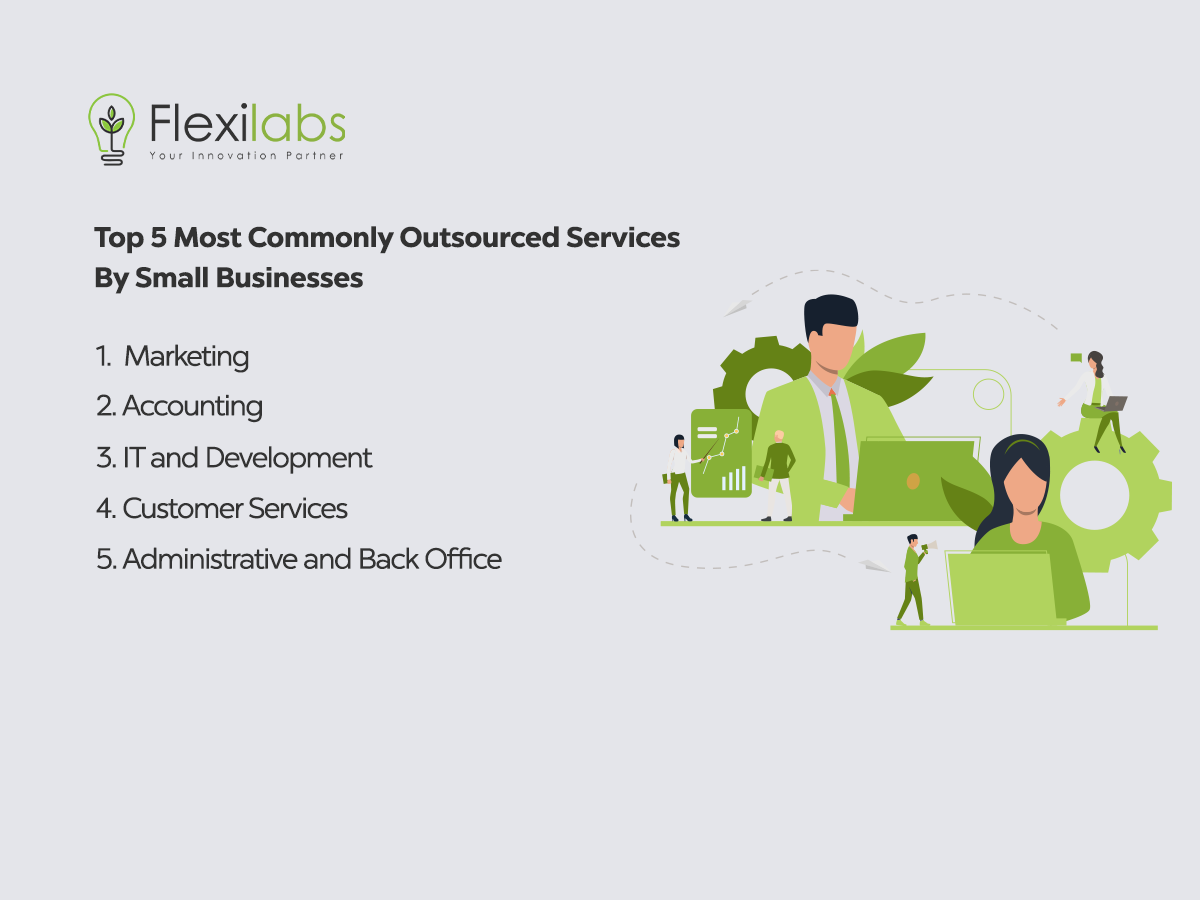 1. Marketing
Marketing is probably one of the most commonly outsourced services because it is a complex and time-consuming process. It is a broad term covering many diverse activities – from research and strategy to advertising and public relations.
Likewise, marketing can be costly, especially when hiring an agency or freelance marketers for each task. Marketing agencies are becoming more popular. It offers a series of services for a fraction of the cost it would take if you hired individual freelancers for each task. They also have experts who know what they are doing and how to do it efficiently.
Likewise, to reduce costs, some companies outsource their marketing tasks to agencies or freelancers specializing in marketing.
2. Accounting
Outsourcing accounting is a popular choice for small businesses. Sometimes, small businesses can't have an in-house accountant. And this could be due to the following reason:
Lack of qualified accountants in the market.
High costs associated with hiring an accountant.
Need to focus on core business functions rather than being bogged down by accounting tasks.
Absence of knowledge and expertise in accounting and other financial matters.
Likewise, outsourcing accounting and finance can be a good option for small and medium enterprises. The main benefit of outsourcing accounting and finance is that it helps businesses grow without risk or investment in infrastructure or human resources. Moreover, it can help lower costs, improve work-life balance, etc.
3. IT and Development
Outsourcing IT and development is among small businesses' top most commonly outsourced services. There is an enormous scarcity in the supply of developers and IT experts in Australia due to the higher demand for app development, with digitalization happening worldwide.
Hiring a developer could cost a dime, which most small businesses could not afford. However, through Outsourcing, most companies get work done without hiring someone on the payroll. When you outsource your IT and development, you have access to skilled professionals with a wide range of skill sets that can help your organization grow and prosper.
4. Customer Services
Likewise, customer service is another commonly outsourced service by startups. Customer service is an essential part of any business and one of the most expensive parts, especially for small businesses.
Many small businesses outsource their customer service because they simply don't have enough resources to provide quality customer service. This can be for many reasons, but it's usually because they're too busy with other tasks or not skilled enough in handling these types of interactions.
On the other hand, Outsourcing companies that offer customer service can do so at a fraction of the price. This is because they have already established a system and have all the resources to provide high-quality customer service. Likewise, Outsourcing can help you establish better customer relations and branding.
5. Administrative and Back Office
Lastly, administrative and back office. Outsourcing administrative and back-office activities have been around for a while now. Most companies outsource these tasks because they are repetitive, dull, and take so much time.
Today, virtual assistants are becoming more popular and are one of the most commonly outsourced services. Tons of VAs can handle everything from answering customer inquiries scheduling appointments, and social media postings.
Conclusion
In summary, some tasks are better outsourced. Outsourcing for small businesses is a method worth considering simply due to its benefits. It can help you grow your business without breaking the bank.
So, look at the top outsourcing companies in your area and let them help you!