In the fast-paced and dynamic landscape of modern business, startups are the engines of innovation and progress. These ambitious ventures, driven by passionate entrepreneurs, often possess groundbreaking ideas that can revolutionise industries and transform lives. However, the journey from concept to commercial success is riddled with challenges and uncertainties, and many startups struggle to navigate these uncharted waters alone.
Enter Flexilabs Startup Program – a beacon of hope and support for early-stage businesses. Flexilabs stands as a nurturing ecosystem, providing startups with the guidance, resources, and networks they need to not only survive but thrive in the competitive business world.
Likewise, in this article, we will delve into the core offerings of Flexilabs and explore how this innovative startup accelerator and incubator can play a pivotal role in shaping enterprises. From expert guidance and cutting-edge resources to networking opportunities, mentorship, and knowledge sharing, Flexilabs brings a comprehensive suite of advantages that can propel startups toward their ultimate goals.
So, whether you are a visionary entrepreneur or a passionate team seeking to scale your startup, Flexilabs has something exceptional to offer. Join us as we uncover the essence of the Flexilabs Startup Program and unveil the numerous ways it can breathe life into your business aspirations.
What is Flexilabs?
Flexilabs is a pioneering start-up accelerator and incubator that aims to nurture and support early-stage businesses through their critical stages of development. With a strong focus on innovation, technology, and collaboration, Flexilabs provides an ecosystem that enables start-ups to flourish and achieve their full potential.
The Flexilabs team consists of seasoned entrepreneurs, industry experts, and investors with a wealth of experience in various domains.
What is Flexilabs Startup Program?
The Flexilabs Startup Program is a pioneering accelerator and incubator designed to support and nurture early-stage businesses. It offers a comprehensive ecosystem that empowers startups with expert guidance, cutting-edge resources, networking opportunities, mentorship, and knowledge sharing. With a focus on innovation and collaboration, Flexilabs aims to help startups navigate challenges, grow their ventures, and realize their entrepreneurial dreams.
Who can join the Program?
The Flexilabs Startup Program is open to a diverse range of aspiring entrepreneurs and early-stage businesses.  Likewise, this program is designed to cater to startups at different stages of development. It seeks to create a vibrant and dynamic community of startups, fostering collaboration and knowledge exchange among its members.
So, whether you are in the ideation phase, have a minimal viable product (MVP) ready, or are already generating some traction, you can find value in the Flexilabs Startup Program. We are eager to collboate with everyone.  Therefore, if you are a passionate entrepreneur or a driven team with a vision to make a positive impact in the world through your business, the Flexilabs Startup Program could be the perfect fit for you. Join us on this exciting journey of innovation and growth.
What Flexilabs Brings to the Table?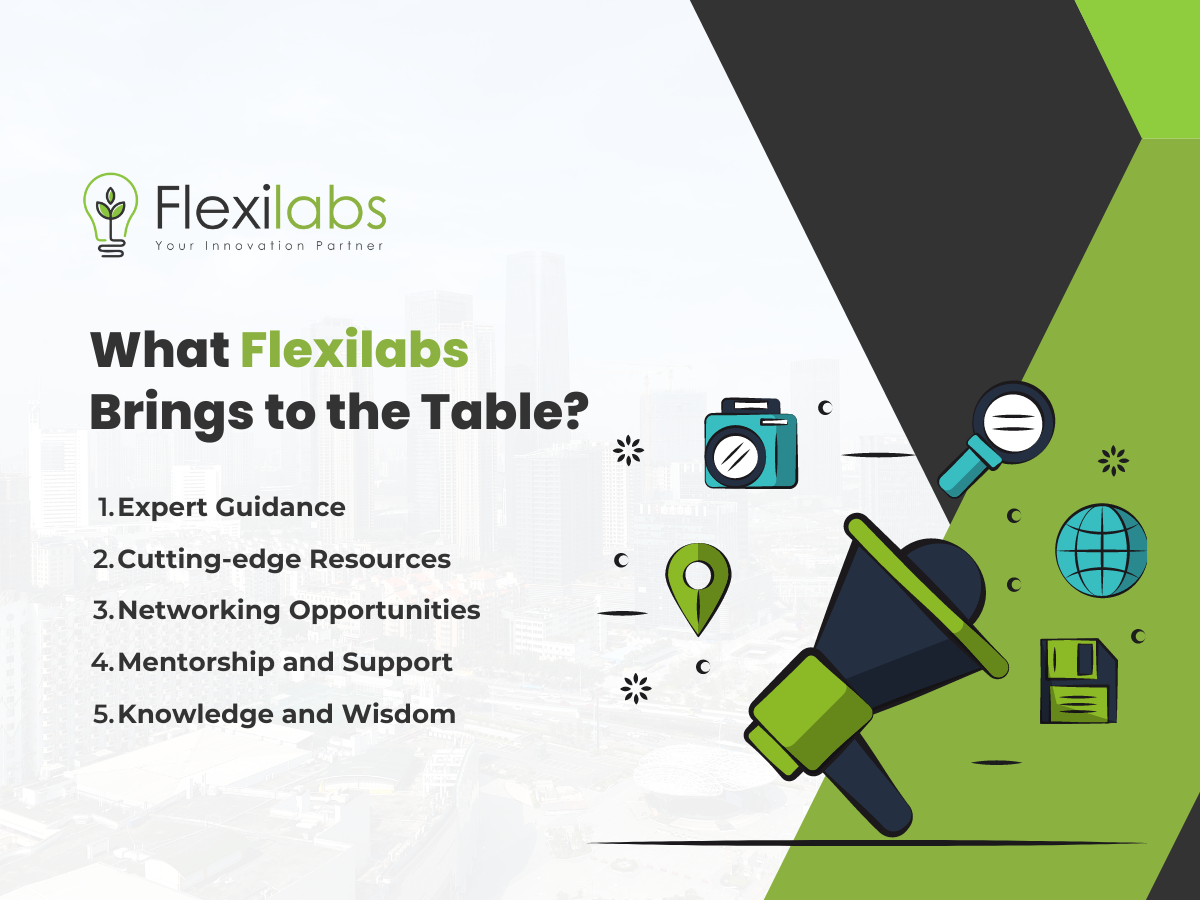 1. Expert Guidance
One of the most significant advantages of being a part of the Flexilabs Start-up Program is gaining access to expert guidance. Flexilabs brings together a diverse team of professionals, each with a unique skill set and experience. Start-ups are paired with suitable mentors who can provide personalized advice and strategic insights. These mentors deeply understand the challenges and opportunities in their respective industries, enabling them to guide start-ups effectively.
Likewise, the mentorship offered by Flexilabs is not limited to business strategies alone. It extends to personal development, leadership skills, and building a strong entrepreneurial mindset. This holistic approach ensures that start-ups develop their business and grow as individuals.
2. Cutting-edge Resources
In today's tech-driven world, access to cutting-edge resources is crucial for start-ups to stay ahead of the competition. That's why Flexilabs has developed a vast network of industry partners, investors, and service providers, offering start-ups access to various resources.
We equip start-ups with the tools they need to innovate and iterate rapidly, from state-of-the-art co-working spaces and research facilities to technology infrastructure and software licenses. Additionally, access to market research, industry reports, and data analytics tools enables start-ups to make informed decisions and optimise their business strategies.
3. Networking Opportunities
Networking is fundamental to growing a successful business, and Flexilabs recognises its significance. Our start-up program facilitates regular networking events, conferences, and workshops where start-ups can interact with industry experts, investors, potential clients, and other start-ups.
Likewise, in these networking opportunities provide valuable connections and foster a sense of community and collaboration. Start-ups can share ideas, learn from each other's experiences, and explore potential partnerships, creating a supportive ecosystem that benefits everyone involved.
4. Mentorship and Support
Beyond the initial mentorship, Flexilabs offers ongoing support to its start-up cohorts. The program is designed to be flexible and adaptive to the unique needs of each start-up. Regular check-ins, progress reviews, and access to a dedicated support team ensure that start-ups receive the assistance they require at every stage of their development.
Whether refining their business model, preparing for investor pitches, or scaling operations, Flexilabs provides hands-on support to help start-ups navigate the challenges they encounter.
5. Knowledge and Wisdom
Experience is the best teacher, but it can be something other than your own. Flexilabs leverages its team and network's collective knowledge and wisdom to provide start-ups with invaluable insights. From industry trends to successful case studies, start-ups can learn from the successes and failures of others. This allows them to make more informed decisions and avoid common pitfalls.
Additionally, Flexilabs organises workshops and seminars on various relevant topics, inviting experts from different domains to share their knowledge with the start-ups. This continuous learning environment is instrumental in shaping the mindset of entrepreneurs and fostering a culture of innovation and adaptability.
Conclusion
Flexilabs Start-up Program offers a unique and comprehensive approach to supporting early-stage businesses. Moreover, we empower start-ups to overcome challenges and seize opportunities for growth. For aspiring entrepreneurs and start-ups seeking to build a successful business, Flexilabs presents a compelling platform to kickstart their journey. With the right support, guidance, and access to resources, start-ups can unlock their true potential and significantly impact the market.
If you're a start-up looking to take your business to new heights, consider joining the Flexilabs Start-up Program. Experience first-hand how it can transform your entrepreneurial dreams into reality!