A pitch deck is probably one of the most critical aspects of your startup. It contains everything, from company profiles to business plans. And the future of your company depends heavily on this small presentation. You and your team poured everything into creating the perfect pitch deck.
However, as you present, you noticed that investors are not interested. And as you tried multiple times, you never get a callback and secure any investors. A lousy pitch deck can sometimes cause this, as daunting as this sounds.
In a world filled with uncertainty and competition, your pitch deck should not just wow investors but also be precise and correct. It needs to have the right elements, information, and look. You need to be mindful and avoid common pitch deck mistakes.
Don't fret, however, as we will discuss in this article the top 5 pitch deck mistakes and how to avoid them.
What is a Pitch Deck?
A pitch deck is a presentation that includes a company's past performance, its status, and future goals. It is also used to describe and present the company's product or service and how it will benefit the potential customer.
Likewise, a perfect startup pitch deck usually contains the following slides:.
Executive Summary
Company Overview and current status
Problem and Solution
Summary of the business idea
Market Size and Growth Rate
Financial projections
Competitive Landscape
Management Team and Advisors
Why Do You Need a Pitch Deck?
A pitch deck is one of the most critical startup business needs. A pitch deck is a presentation outlining a startup's business plan. It will typically include the company's mission statement, target market, competitive advantage, and financial projections.
You can use a pitch deck to show investors when you are trying to raise capital or sell your product or service to potential customers. In addition, you can use pitch decks when pitching their ideas to investors to get funding for their business idea or startup.
5 Common Pitch Deck Mistakes You Should Avoid
As mentioned earlier, many startup founders find themselves creating what they thought was the perfect pitch deck but ultimately would cause their downfall. It's important that when building a pitch deck, you follow the critical rules and format and avoid pitch deck mistakes.
So, if you are creating a pitch deck soon, the following are some of the mistakes you should avoid when making your startup pitch deck: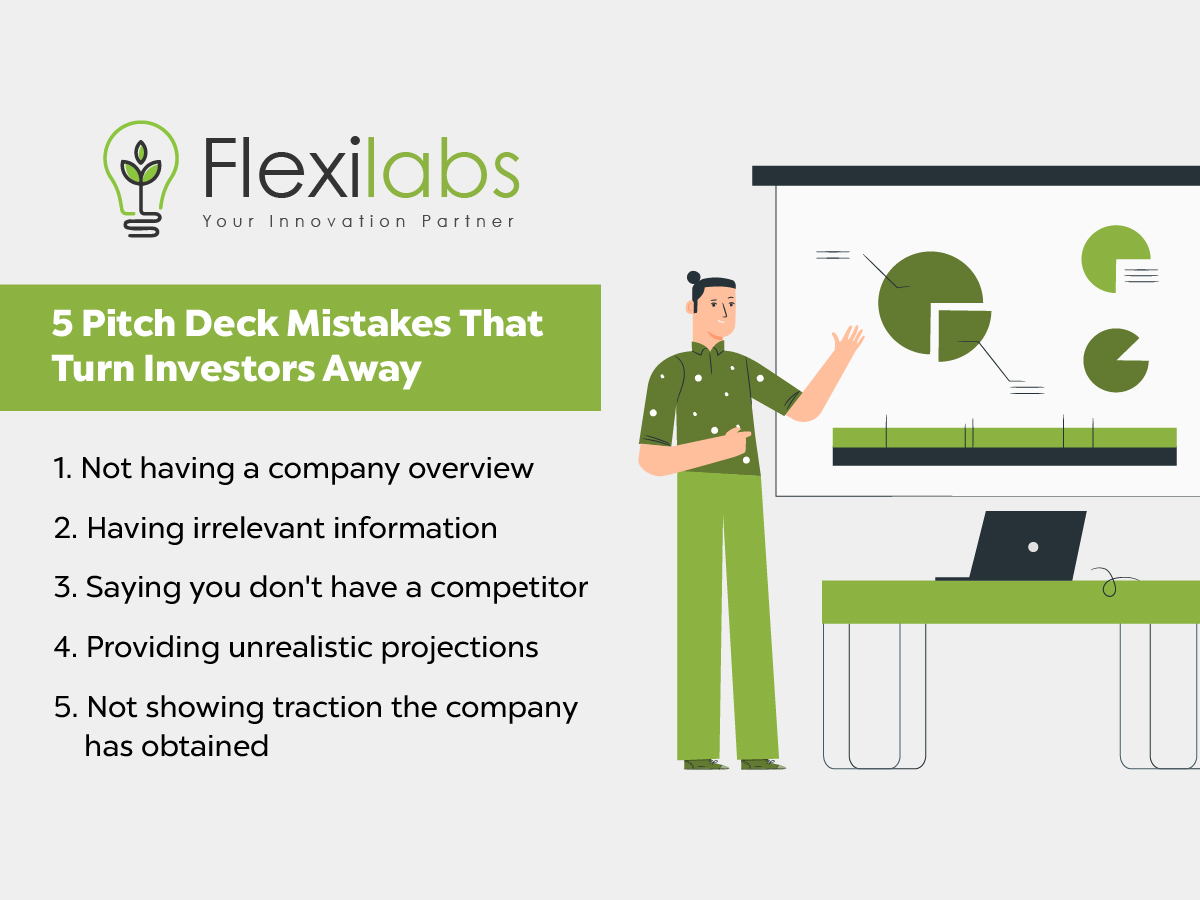 1. Not having a company overview
A startup pitch deck is a presentation to convince investors to invest in the company. The deck should contain all the information an investor needs to decide.
And company overview is one of them. The company overview is a presentation slide introducing the company and its mission. This slide should summarize your business, objectives, mission, and what you are trying to solve by creating this company.
Likewise, the company overview should be designed to answer the following questions:
What does the company do?
Where are you located?
Who are the key people?
What are your relevant experiences?
How did the idea start?
2. Having irrelevant information
A startup pitch deck should be concise, clear, and relevant. It should be easy to read and understand. However, it is a one of the standard pitch deck mistakes to add irrelevant information.
Sometimes, you want to impress investors. Thus, you add other information that you thought may impress your viewers. However, from others' perspectives, it is irrelevant and unnecessary.
So before pitching your startup, you should constantly review and re-read your pitch deck. You can also ask your colleagues, family members, or potential customers for comments about your pitch deck.
3. Saying you don't have a competitor
All businesses face competition. No company has not a single competitor out there. Telling an investor that you have no match is unrealistic. They can always go look at google to check credible competitors.
As such, a startup pitch deck should have a competitor. You can add a competitor or a company with the most similar idea to yours.
In addition, not having a competitor is not always a good thing. Businesses need competitors for various reasons, such as enhancing their current service and highlighting aspects of your service. It is vital to show your audience that you are not the only one with this idea. This way, you can show them how better your product or service is.
4. Providing unrealistic projections
Adding financial and company projections in a startup pitch deck is essential. Most investors want to see the future of your company. They want to ensure your company's future and growth before investing.
However, it's one of the most typical pitch deck mistakes of adding unrealistic projections. If you show an investor that your company will gain millions of revenues for the next two years, then that's unrealistic. Especially if your revenue today is close to nothing.
Investors are looking for companies with realistic projections. If they see that your company does not have this, it might not be as attractive for them.
Likewise, make sure not to make assumptions about your project and idea. Always research your market, competitors' revenue, and market costs.
5. Not showing traction the company has obtained
Indicating progress in your deck is essential. It shows that your company is slowly gaining traction, and your idea is well thought out and analyzed. It also shows that your company someone can build revenue. Moreover, it can demonstrate your company's journey. You can show your beginners how you made traction.
Conclusion
Avoiding these common pitch deck mistakes will enhance your likelihood of getting financing from any investors. We hope these five tips will help you create a more robust and better pitch deck for your startup.
And if you still need further help validating your idea, contact Flexilabs! We help startups build their brand.