In today's fast-paced digital landscape, startups face numerous challenges when acquiring and retaining customers. Amidst the ever-evolving marketing strategies and platforms, email marketing is a powerful digital marketing tool for nurturing leads and driving conversions.
In this article, we'll delve into the world of email marketing, exploring its significance for startups and uncovering key strategies to harness its potential effectively.
What is Email Marketing?
Email marketing is a powerful tool that allows businesses to connect with their audience, build relationships, and drive conversions. It involves sending targeted emails to individuals who have opted in to receive communication from your brand.
Here are some critical aspects of email marketing:
Email Campaigns. It typically involves sending out planned and targeted email campaigns to specific groups of recipients. These campaigns can vary in purpose, such as promoting new products, sharing valuable content, announcing special offers, or nurturing leads.
Subscriber Lists. Email marketers maintain lists of subscribers who have opted in to receive emails. These lists are often segmented based on demographics, behaviour, or previous interactions with the brand.
Personalisation. This is a crucial element of email marketing. Marketers customise emails with the recipient's name, relevant content, and tailored offers to make the message more engaging and relevant.
Automation. Email marketing platforms often include automation features. These allow businesses to send automated emails triggered by specific actions or events, such as welcome emails for new subscribers, abandoned cart reminders, or birthday greetings.
Analytics and Tracking. Email marketing tools provide data on open, click-through, and conversion rates. This data helps marketers assess the performance of their campaigns and make data-driven improvements.
Why is Email Marketing Important to Startups?
Startups often operate with limited resources and tight budgets, making it crucial to invest in marketing strategies that offer a high return on investment (ROI). Email marketing has consistently proven to be one of the most cost-effective and efficient ways to engage with leads, convert prospects into customers, and build long-lasting relationships.
Here are some key reasons why email marketing is vital for startups: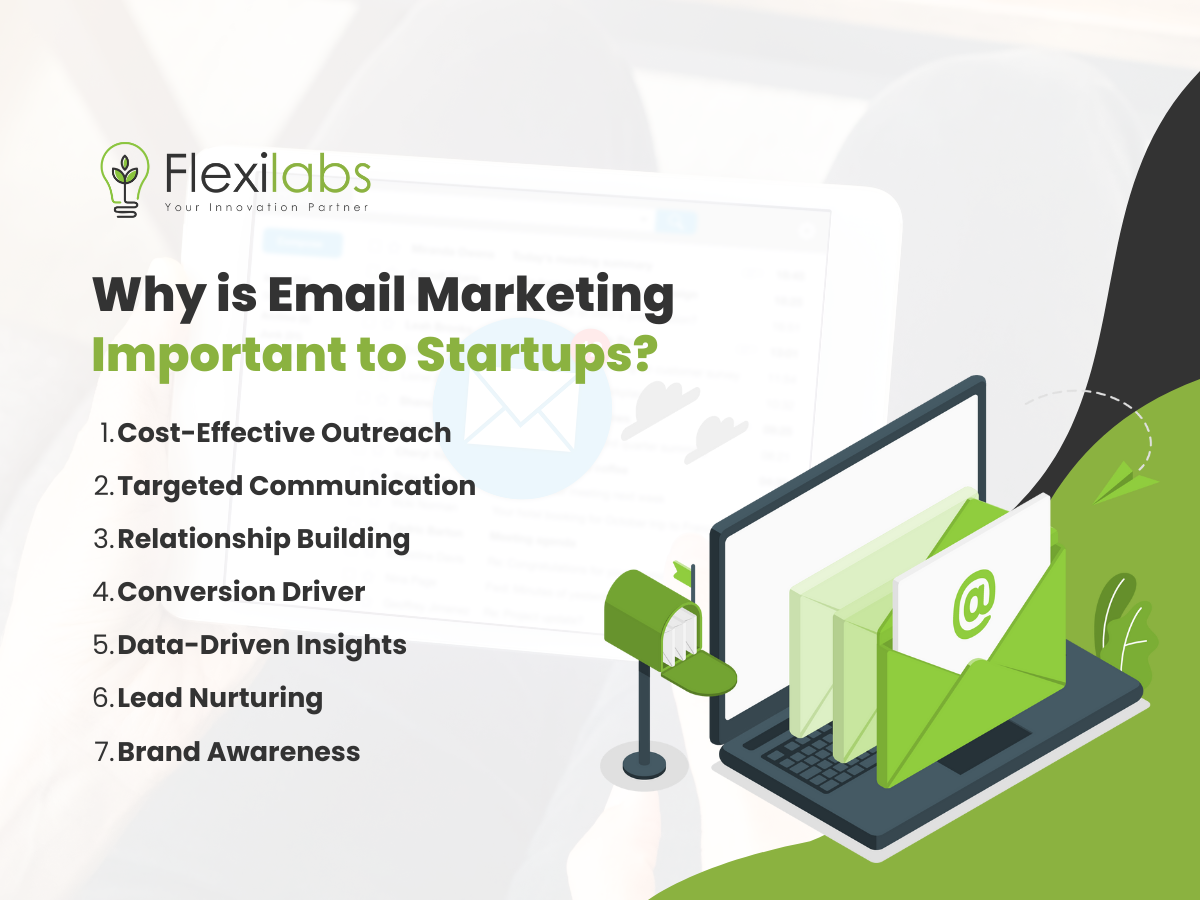 Cost-Effective Outreach
As mentioned, startups often have limited marketing budgets. Email marketing allows startups to reach a broad audience without the steep costs associated with traditional advertising methods. It eliminates expenses related to print materials, postage, and advertising space, making it an attractive option for cash-strapped businesses.
This makes startups maximise their resources by delivering high-impact campaigns without breaking the bank.
Targeted Communication
Email marketing for startups enables businesses to deliver personalised messages, promotions, updates, and valuable content directly to their subscribers' inboxes. Most email marketing platforms offer precise targeting capabilities, enabling startups to tailor their messages to specific audience segments. This personalization increases the relevance of emails, enhancing the chances of conversion.
Likewise, email marketing can also be used as a direct line of communication with your audience and for various purposes, such as promoting products or services, sharing company news, nurturing leads, or providing exclusive offers.
Relationship Building
Email marketing for startups isn't just about acquiring new customers; it's also a powerful tool for retaining existing ones. It provides a direct channel of communication with potential customers. Startups can use email campaigns to keep customers engaged, informed, and loyal over the long term. This allows start-ups to build trust, deliver value, and establish themselves as industry authorities.
Conversion Driver
When done right, email marketing can lead to a significant boost in conversions. Startups can use email marketing to deliver exclusive offers, discounts, or promotions to their subscribers. These incentives create a sense of urgency and encourage recipients to act, such as purchasing or signing up for a service.
Likewise, startups can set up automated email sequences or drip campaigns that guide leads through the conversion funnel. For example, emails might begin with introducing the startup's solutions, followed by highlighting features, benefits, and customer testimonials. These automated sequences gently nudge leads toward taking the desired action.
Data-Driven Insights
Email marketing platforms provide valuable data and analytics. They can track open rates, click-through rates, conversion rates, and more. Startups can use these insights to refine their strategies, optimise campaigns, and make data-driven decisions to improve their marketing efforts.
Lead Nurturing
Startups often rely on building a customer base from scratch. Email marketing for startups excels at lead nurturing, which involves guiding leads through the sales funnel with targeted content and messaging. Startups can use email sequences to provide value, answer questions, and address concerns, ultimately increasing the likelihood of conversion.
Brand Awareness
Establishing brand awareness is critical for startups looking to compete in crowded markets.  Consistent email communication helps startups develop and reinforce their brand identity. By showcasing their unique value propositions and sharing engaging content, startups can stay top-of-mind with their audience.
Critical Strategies for Email Marketing for Startups
To make the most of email marketing, startups must implement effective strategies aligning with their goals. Let's explore five key strategies that can help startups leverage email marketing successfully: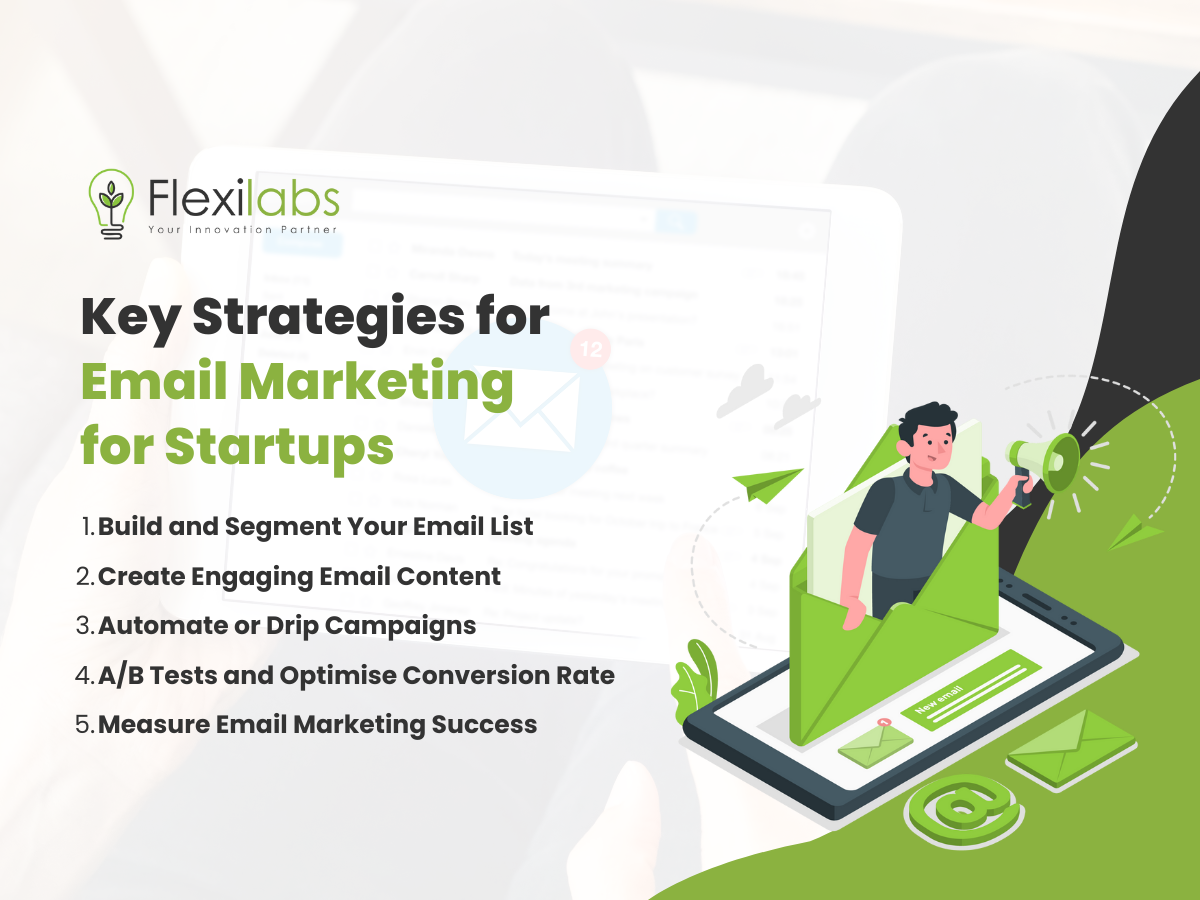 Build and Segment Your Email List
Segmentation is crucial in email marketing for startups. It allows them to send highly relevant and targeted emails to each group of recipients. When you send targeted emails, you can tailor your messaging and offers to resonate with specific audience segments, resulting in higher email engagement levels.
Start with Opt-In Campaigns
The foundation of any successful email marketing campaign is a high-quality email list. Startups should focus on building their list through opt-in campaigns. Encourage website visitors and social media followers to subscribe by offering valuable incentives such as eBooks, discounts, or exclusive access to content.
Segment Your Audience
Not all subscribers are the same, so segmenting your email list based on various criteria like demographics, purchase history, and engagement level is crucial. Segmentation enables startups to send targeted and relevant content to different groups, increasing the chances of conversion.
You can segment your audience list based on demographics, behavioural data, preferences, purchase history, engagement level, location, etc.
Maintain List Hygiene
Regularly clean and update your email list to remove inactive subscribers and invalid email addresses. A clean list improves deliverability and ensures your emails reach the right audience.
Create Engaging Email Content
In today's information-saturated world, grabbing your audience's attention is challenging. Engaging content in your email marketing for startup campaigns helps your emails stand out in crowded inboxes.
Craft Compelling Subject Lines
The subject line is the first thing recipients see, so it must grab their attention. When emailing customers, use concise, compelling subject lines that entice recipients to open your emails. Here are some examples of effective subject lines that can capture attention and encourage recipients to click:
Exclusive Offer Inside: 50% Off Your Favourite Products!
Don't Miss Out: Limited-Time Sale Ends Today!
Unlock the Secret to [Benefit] with Our New Guide
Last Chance: Your Cart Misses You!
You're Invited! Join Our Exclusive Webinar on [Topic]
Provide Valuable Content
Startup's email content should provide value to your subscribers. It should improve recipients ' lives through informative blog posts, exclusive offers, or helpful tips. Creating valuable content for email marketing as a startup should always involve understanding your target audience, providing solutions to their pain points, and engaging them effectively.
Use Persuasive Call-to-Actions (CTAs)
Every email should have a clear and persuasive call to action. Whether you click a link, download an eBook, or make a purchase, your CTA should guide subscribers toward the desired action.
Try Automation and Drip Campaigns
Automation and drip campaigns are two essential components of email marketing for startups that help businesses streamline their communication with subscribers and customers. The former refers to using technology and predefined workflows to send emails automatically based on specific triggers or conditions. The latter involves sending pre-planned, targeted emails to a specific audience over time.
Implement Automated Workflows
Automation can save startups time and ensure subscribers receive timely and relevant emails. Set up automated workflows triggered by subscriber actions, such as welcome emails for new sign-ups, abandoned cart reminders, or post-purchase follow-ups.
Drip Campaigns for Lead Nurturing
Drip campaigns are a series of automated emails designed to nurture leads over time. Startups can create drip campaigns that educate prospects about their products or services, address common objections, and gradually move leads toward purchasing.
A/B Test and Optimise Conversion Rate
A/B testing and conversion rate optimization (CRO) are crucial aspects of email marketing for startups because they provide data-driven insights and help improve the effectiveness of email campaigns.
Experiment with A/B Testing
A/B testing involves creating two versions of an email with slight variations and sending them to different segments of your audience to determine which performs better. Experiment with elements like subject lines, email copy, images, and CTAs to optimise your campaigns.
Optimise for Mobile
Likewise, ensure that your emails are mobile-responsive, as many recipients access their emails on mobile devices. A seamless mobile experience can significantly impact conversion rates.
Measure Email Marketing Success
Email marketing for startups doesn't end in sending. You need to evaluate and measure its success constantly. Here's how you can do it.
Track Key Metrics
Startups should closely monitor key email marketing metrics, including open rates, click-through rates, conversion rates, and unsubscribe rates. These metrics provide insights into the performance of your campaigns.
Analyse Conversion Paths
Use analytics tools to track the conversion path from email opens to website visits and conversions. Understanding how email fits into the customer journey can help startups refine their strategies.
Continual Improvement
Based on data and insights, startups should continuously refine and improve their email marketing strategies. Experiment with new approaches, test different messaging and stay updated with industry best practices.
Start Your Startup's Email Marketing Campaign Today!
In conclusion, email marketing remains a powerful and cost-effective tool for nurturing leads and driving conversions, especially for startups. Through a well-crafted email marketing strategy, startups can establish a direct and personalised connection with their audience, ultimately fostering trust and loyalty.
So, what are you waiting for? Supercharge your startup's growth with email marketing. Contact us today for expert advice and assistance!