Let's face it. An idea does not solely make a startup succeed. Even when it's a validated million-dollar idea, it needs to be executed appropriately for it to be successful. And one great way to achieve that is by having the right startup roles and team to take on the tasks and responsibilities.
And while it's easy to hire people to do it for you, hiring the wrong people could lead in the wrong direction. Hiring these people could waste time and resources without the right skills, experience, job description, or organizational structure. And for someone with limited resources, you need to avoid mistakes as much as possible.
Likewise, this article will explain the most crucial startup roles and titles and a few tips for hiring the perfect talent.
What are the most important roles in a startup?
For a startup to be successful, its founders must be able to raise capital to invest in a company and manage multiple aspects of it, including building its organizational structure, marketing strategy, technology building, and recruitment plans. These tasks cannot be done by one person. Thus to fully maximize a startup to its potential, the following are must-have roles in a startup company:
1. Chief Executive Officer (CEO)
The Chief Executive Officer (CEO) is typically the big picture and represents the company in any business. They are the ones who provide the company's direction, vision, mission, and culture. They are responsible for delegating objectives, directing agendas, driving the company's profitability, and creating new ideas.
Startups companies can hire external professionals for these positions. Still, the CEO is commonly assumed by the founder, co-founder, or COO after the founder retires. It's essential to select a CEO who already knows its way and is dedicated to its vision.
2. Chief Operations Officer (COO)
On the other hand, the Chief Operations Officer (COO) primarily focuses on the employees' day-to-day tasks to keep the business running. They are the executor of the strategy and help the CEO achieve his vision. They are the ones who manage the organization so that the CEO can focus on more critical aspects of the business.
In addition, they act as a consigliere for the CEO and advise on business decisions or corporate initiatives.  A COO should know how to separate profitable opportunities from those that are just a distraction.
3. Chief Technology Officers (CTO)
Chief Technology Officer (CTO) is probably one of the most critical startup roles. CTOs are the ones who specialize in technology and development. They help the CEO fine-tune strategy, tactics, and any business goals related to the IT or development side of the business. Their main goal is to invent products of the company in its early stage.
Although this task can quickly be done by freelancers, having a CTO can be more helpful to a startup. They will be the ones to set the technical path to product development, form and implement strategies, and oversee the entire development process from start to finish. And as the startup grows, you can hire additional developers to help your CTO.
4. Chief Marketing Officers (CMO)
The Chief Marketing Officer (CMO) is a startup role focused on promoting the product and services of the company. They should be excellent in traditional and digital marketing to ensure that your brand reaches a broad audience.
For a startup, a marketing manager needs to know their around in the whole marketing scheme. They should be able to design, research ideas, write blogs, code landing pages, handle social media marketing, and run ads. In addition, they should have the communication skills to interact with potential customers and build a positive relationship with them. They are the one who is the frontline of your brand and should know how to incorporate customer feedback into the campaign.
5. Chief Financial Officer
A lot of startup companies just outsource their finance and accounting tasks. However, hiring a Chief Financial Officer (CFO) can be extremely helpful for your startup business. They are responsible for the company's growth, creating financial processes, and reposting requirements needed by the company.
A CFO will be responsible for paying taxes, dealing with client payments, salaries, benefits, and others. They also will deal with a range of issues such as securing bank lending, leasing premises contracts, paying suppliers, and managing the petty case. CFOs also are the ones who will prepare all necessary documents when receiving a round of funding from investors and reports for any spending.
In addition, a great CFO will dive into the company's financial capabilities, optimize their case, and build a plan for the company to scale.
6. Product Managers
The product startup management team is yours to go to when you need information related to your products. They are the ones who manage product vision, development, strategy, and campaign. They usually work closely with developers, marketing teams, and others to develop and market a product.
Since most startups are all about the product, product managers are necessary to make sure that the product is ready for the customers and acts as a bridge between the consumer and the company to accommodate their needs and opinions. 
7. Developer Team
Developers is probably one of the needed top positions in a tech company. In the super early stage, the role of the developer is all being covered by the CTO. However, as the startup grows, bringing in the developer is necessary.
Most of the developer's tasks will be designing, coding, testing, debugging and resolving any other issues related to the product. In addition, the perfect developer for startups is not the one with all the tech skills. They also need to have strong communication and collaboration skills. They need to be attentive and have an eye for detail and pick up any issues that may arise.
8. Sales Manager
Having a sales manager is not necessary for a startup. However, this startup role can bring a lot of potential customers to the company. They are responsible for prospecting clients and focused on closing as many deals as possible so the company can survive.
As such, the perfect sales manager for a startup has a lot of soft skills in prospecting. They are required to have the self-confidence and the perseverance to convince customers to avail of your product. They also need to have a profound understanding of the company and deliver it to the customers/
9. Office/Admin Manager
Office or Admin manager is one of the substantial startup roles. They are responsible for tasks such as HR, equipment management, mail organization, phone messaging, visitor tracking, and more. In short, they are the ones organizing and managing the office. In addition, they are also the ones coordinating with the startup team members for all the administrative needs.
Top Startup Recruitment Strategies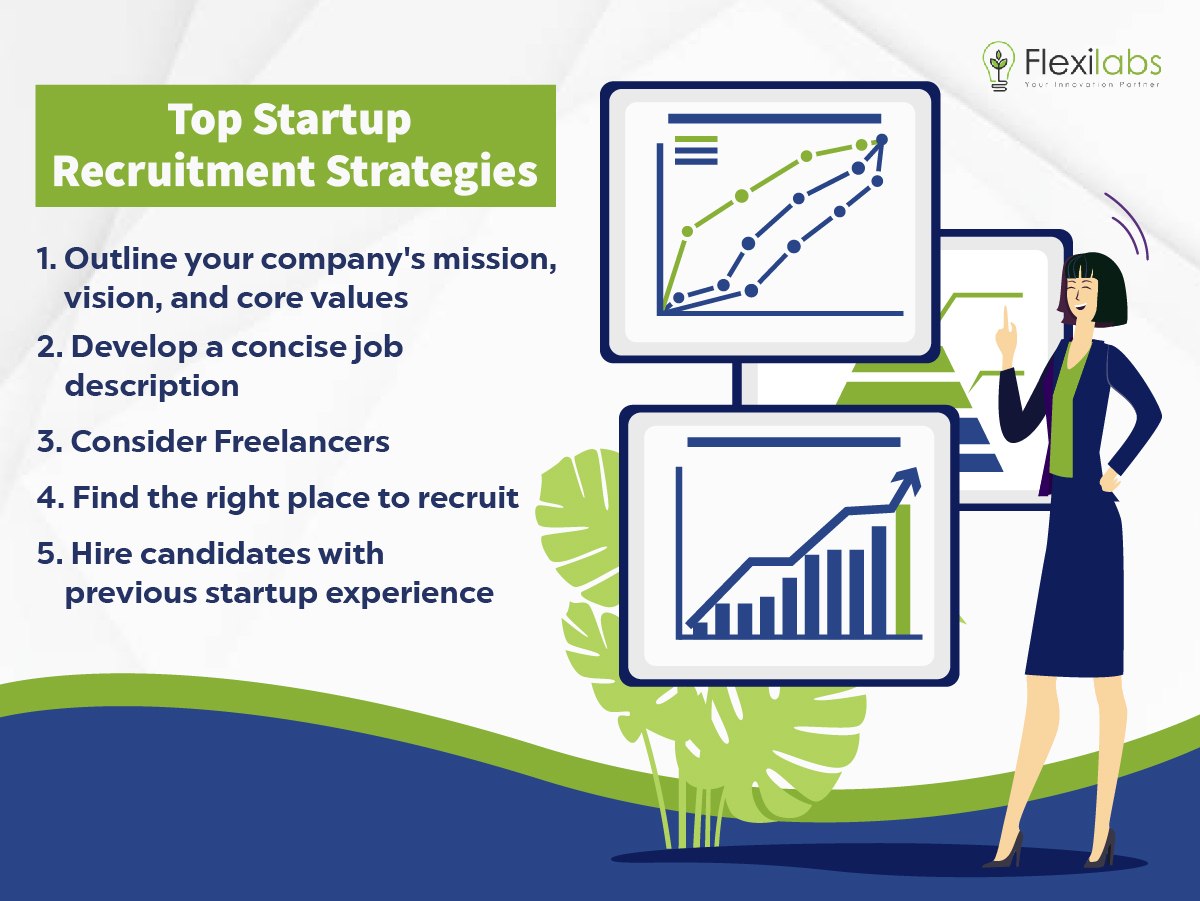 As a starting company, you are probably not sure the perfect way to hire employees for a startup. And when you have a limited budget, the hiring process can be bothersome and limited. You need to be creative with your recruitment strategy to find the perfect candidate for your startup. Here are some recruiting strategies you can implement in your startup.
Establish a company brand and outline your company's vision, mission, and core values. It will help attract the right candidate who has the same vision as your startup.
Develop a startup team structure with a concise job description. Before hiring, you need to create a list of positions that your company needs. Then, you can narrow it down and focus on the core tasks required for the role. This will help you create a job description that most professionals and job seekers are looking for.  
Try to consider hiring freelancers. Not all businesses can afford to hire a full-time employee for a company with limited resources. Likewise, startups might want to consider hiring freelancers. And when the freelancers perform well, you can approach them for a full-time role.
Find the right place to recruit. Popular career websites are not always the best place to hire new employees for startups. Usually, these platforms are too competitive and are too rigid to find the right candidate. Instead, you can use websites like LinkedIn to search for specific skills to narrow down the candidates. In addition, you can also join or host a bunch of hackathons and build a network with the attendees. You might not find someone to hire right away, but this is a great chance to make a connection in times of need in the future.
Hire candidates with previous startup experiences. Another essential practice for startups recruitment is hiring candidates with prior startup experiences. The startup industry has a fast-paced environment with little to no supervision. Most employees need to have the initiative to do things without guidance from superiors. In addition, startup employees need to juggle and take on several responsibilities due to the limited number of employees
Ready to Start Your Company?
Hiring for startups is not always about looking for people who can hustle. It's about hiring people with the right skills and finding those who are in tune with your company's goals. Likewise, you can start with these nine startup roles and titles.
Build your company with these people and watch them help you distribute tasks and manage people as your company becomes bigger.
If you are looking for people to help build your startup's brand, Flexilabs offers the best digital marketing services for startups. Join us now!