Everyone needs a little boost when building a business, financially or ideally. This is why accelerators vs incubators has been popular with solo entrepreneurs and start-ups these days. They provide new business owners opportunities that they cannot attain on their own. They help them grow their business and give them an idea on how to further improve it.
However, the term "incubator" and "accelerator" is often presumed to have the same concept. While both help start-ups enhance their businesses, these two have a few differences in terms of image, key focus area, and process.
This article will help you learn the difference between accelerators and incubators and their frameworks for start-up success.
START-UP ACCELERATORS
Accelerators vs incubators are concepts often confused by many. As such, this section will help you understand what an accelerator is. It will also help you identify its vital component, program duration, investment capital, and the main benefits of an accelerator compared to an incubator.
What is a start-up accelerator?
Suppose you are wondering what an accelerator is. In that case, basically, a business accelerator is a company that supports early-stage, growth-driven companies through mentorship, coaching, education, and finances. Typically, the businesses chosen by the accelerator are companies that already have demonstrated growth and a minimum viable product (MVP).
The main aim of a start-up accelerator is to provide primarily to help the start-up allocate financial resources through networking and mentorship to skyrocket the success of proven business ideas. In addition, start-ups are often given a small seed investment and paired with mentors from the accelerator's vast network
At the end of the accelerator program, start-up typically presents the growth and development they have achieved in the duration of the program
Is an accelerator program right for your start-up?
A start-up accelerator is perfect for companies that already have a validated idea or an MVP like a product with already existing users or early signs of solid market-fit.
The acceptance rate for the accelerator program is relatively low since accelerators have a limited amount of capital, space, and mentorship time available. Most accelerators only accept start-ups prepared to scale and develop, not those that need the usual product designing process or finding target market.  
In addition, most accelerators accept a start-up in exchange for a cut of equity for program placement. As such, solo founders with unvalidated ideas are a better fit for incubators rather than an accelerator.
Duration of Startup Accelerators
Typically the duration of accelerators versus incubators is shorter. Unlike incubators that could take years, accelerator programs are usually fast-paced and concentrated, taking about three to six months to get your start-up ready for the market.
Start-ups joining an accelerator program should have already done a lot of research before entering the program. With this, they will attract more investors to finance them in the duration of networking and mentorship.
Things to Consider When Joining an Accelerators:
Before choosing between accelerators vs incubators, you need to consider and evaluate a few things such as time, preparedness, and benefits. Suppose you think you are perfect for joining an accelerator program. In that case, you might want to evaluate your start-up with the following questions.
       

Is it the right time?

Before joining, make sure that your start-up is prepared for this. Joining an accelerator program is not easy. You need to already have some resources like an employee and a working idea or product. If you are still searching for people to work on your product, you may opt to join an incubator instead.

       

How fast or slow are you growing?

If you're a company that is developing fast, then an accelerator is right for you.

       

Will you relocate?

Most accelerators require their candidate to move to their location and use their coworking space. So if you are eager to relocate for a few months, then accelerator is a perfect fit.
Benefits of an Accelerator for Start-ups
Joining an accelerator program comes with certain benefits. Start-up accelerators offer new entrepreneurs vast opportunities for success. Accelerators can lead to new ventures such as expertise, new techniques, connections, and access to resources and networks. Likewise, here are some advantages of joining an accelerator program:
       

Unrivaled vast networking prospects.

When joining an accelerator program, the mentors usually help you invite investors or potential customers. Accelerator program usually includes an opportunity to meet well-established companies and influencers that might be interested in your product or services.

       

Mentorship and coaching from successful founders and owners.

Tons of accelerators work with seasoned founders, CEO, academes, and more that will help you develop and enhance your product.

       

Collaboration opportunities with other intelligent start-ups.

Since you will be working with them in the accelerator's coworking space, the start-up will be an excellent chance to team up and partner together. It also allows you to learn how they overcome early challenges and exchange best practices.

       

Capital or Financial Opportunities

. Most accelerators provide their candidates' monetary seed or capital investment to start their business.
Who are accelerators looking for?
As mentioned earlier, most accelerator programs usually look for a start-up with an already validated MVP. They want a company with a strong founding team but do not have enough capital or knowledge to scale in the industry. Typically, these start-ups are looking to get significant traction to start.
An accelerator most likely would not take an application seriously if the candidate does not have a proof-of-concept or is being run by solo entrepreneurs without a business model.
Are start-up accelerators worth it?
A lot of start-up founders learn the difference between accelerator and incubator to see what is worth more. Joining a start-up accelerator comes with many benefits, depending on the stage of your business or situation.
If you are a company prepared to scale, joining an accelerator program could be an absolute game-changer. It can provide your needed resources to boost the company. On the other hand, it also comes with many sacrifices like time, relocation, and sometimes an equity cut.
But if you think these sacrifices are okay, then maybe you should try joining an accelerator program.
START-UP INCUBATORS
Now that you have an idea of an accelerator let's now discuss what an incubator is.
What is a business incubator?
The meaning of incubator from accelerator typically differs along their application process, focus, and benefits. A start-up incubator is an organization run by a public or private organization that offers programs to help starting entrepreneurs or early-stage companies develop their ideas.
The main goal is to help entrepreneurs validate their concept through fleshing out their idea, creating a proof of concept, helping them determine the market target, and more. Many vital aspects, like intellectual property issues, are also dealt with in the incubator program.
A start-up incubator program usually lasts a few months to a year. It is generally open-ended and concludes with a demo day where the entrepreneur presents their business idea to the incubator or investors.
Is an incubator program right for your start-up?
If your company was rejected by an accelerator program, then a start-up incubator might be the one for you. Incubators help start-ups with no capability or experience in operating a start-up or an issue related to company structure.
The incubators help start-ups solve design and tech issues when building the product and teach them how to run and develop a successful team. Unlike accelerators, a start-up incubator does not require equity. However, they also don't offer capital or seed money.
To sum it up, the incubator is perfect for the company early and needs a boost to get past the idea stage.
Duration of Start-up Incubators
Unlike an accelerator, where the program is jammed in a short period, an incubator program can run anywhere from a few months to a year. The time differs, depending on the state of the start-up. Incubators give the start-up a lot of time to grapple with the problem and get used to running their business.
Things to Consider When Joining an Incubator:
When picking between accelerators vs incubators, you might want to consider the following aspects:
       

Do they have the right mentors and expertise?

Before joining a program, ensure that the incubator has the right experience and skills for your crucial focus. At this stage, your start-up needs experienced guidance to enhance your idea.

       

Do you need capital?

As mentioned earlier, most incubators do not offer capital after mentoring your start-up. So if you are already looking for means to grow your business, then an accelerator could be a better fit for you. Just make sure that you are ready with your business model and proof of concept.
Benefits of an Incubators for Start-ups
Like an accelerator, a start-up incubator offers a lot of advantages. It provides excellent coaching and mentoring for starting entrepreneurs. Moreover, the following are some benefits of an incubator program.
       

Unique mentorship and coaching.

Entrepreneurs join incubator programs due to the diverse and skilled entrepreneurs they are paired with. Incubator mentors have extensive capabilities and experiences in the start-up scene and venture capital space. The training provided by incubators can guide start-ups on the right path and often avoid common mistakes that most start-ups face during the developmental stage.

       

Available shared workspace.

An incubator program typically offers a workspace for start-ups within the program. Most early-stage start-ups usually do not have an office or a capital to rent one.

       

Networking Opportunities.

Building a network of influential and knowledgeable persons is necessary for a start-up. Incubator programs can help you meet people from all walks of life through meetings, events, and mentor swarms. Through this, you might be able to meet someone who could help or invest in your business.

       

Innovative environment.

Being in the same space with other tycoons can help you think outside the box and innovate more. Moreover, other start-ups can substantially impact your idea and bring the best out of you.
Who are incubators looking for?
Incubators typically select their candidates through an application process while others through network or advisor recommendation. Unlike Accelerators, Incubators tend to focus on start-ups from a specific location. However, they also accept other participants from other areas if they relocate near their coworking space or local community.
Moreover, incubators classically prefer solo founders with an unvalidated idea to those with a solid concept. Incubators help start-ups to formulate a business model and a team on a more extended period. Most incubators are looking for ideas that can grow over the years.
Is a start-up incubator worth it?
Joining an incubator start-up program can be scary to most entrepreneurs. You always need to ensure if it is worth it before investing. For the most part, business incubator programs are worth the effort.
It provides mentorship, a credibility boost, and sometimes a small stipend for your expenses. You will learn a lot about acquiring capital, fundraising, recruiting, and managing a company. And having a network of possible investors and a cohort of entrepreneurs will likely help you in the future.
With that said, joining an incubator program won't hurt the success of your business. It helps you more.
What will it be: Accelerator or Incubator?
Now that you know the difference between accelerator and incubator, you can choose what is perfect for your start-up.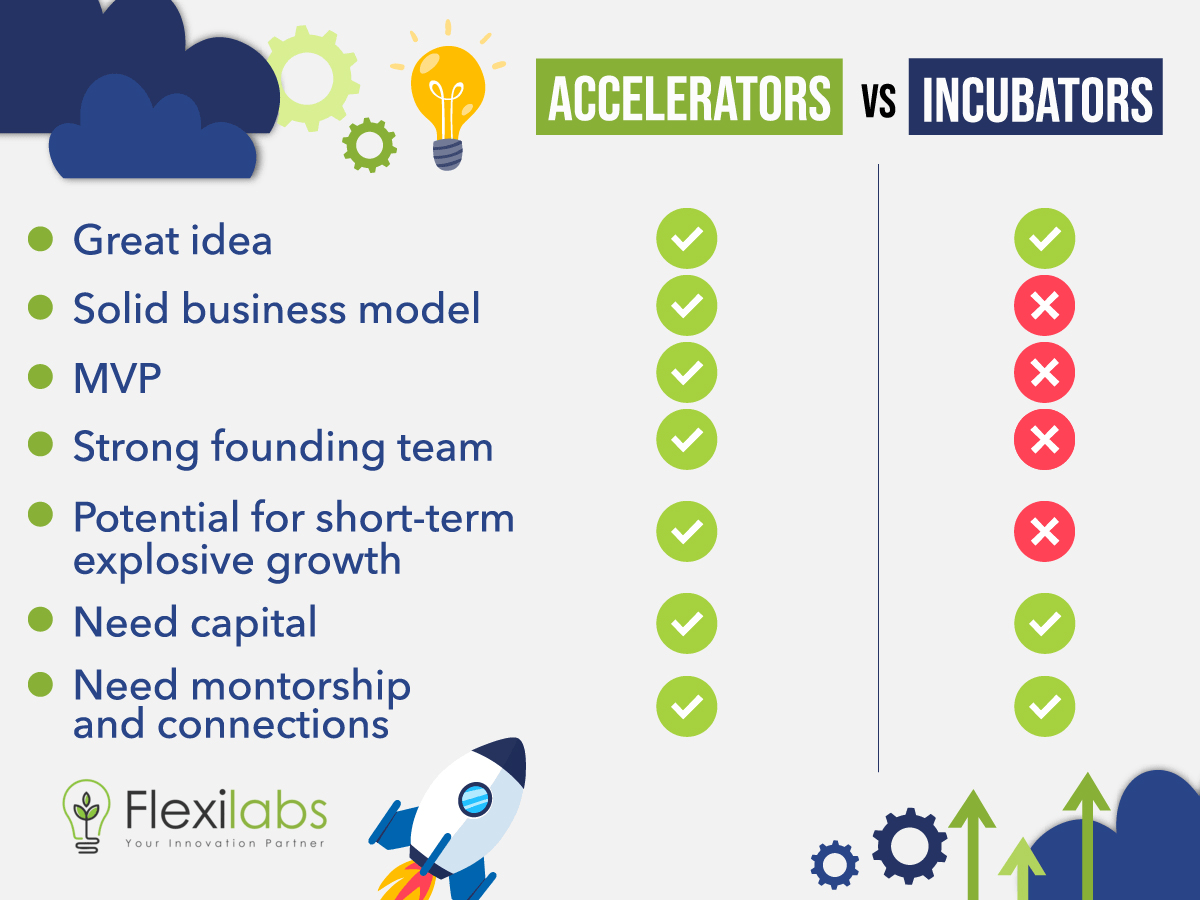 Both incubators and accelerators offer good opportunities to help founders grow their business. They both provide an excellent environment for collaboration and mentorship. They also both share workspaces with their candidates.
Still, your choice depends on two main things:
 

What are you looking for?

 

What stage is your start-up in?
As such, if you are a proven start-up that needs to scale your business or needs cash injection to fuel your growth, the accelerator is better than an incubator. Accelerator "accelerates" an already growing company. It plays the gatherer's part where it puts things together to make the idea or business more effective. It also provides support to start-ups to grow at an accelerated pace.
On the other hand, if you are an early-stage company with an unvalidated idea, try an incubator. Incubators "incubate" and transform a disorderly idea to build out a business model and company. It also provides start-ups with ad-hoc help, legal advice, and turns your idea into something that would fit a market.
If you want to learn more about the difference between incubator vs accelerator, contact Flexilabs now! Flexilabs offers a free consultation for start-ups and corporates that are looking to validate their idea. Join us now.