While startups pop up left and right, some stand out more than others, many try to lead the world by developing life science and healthcare technologies. At the same time, others focus on helping the people in need.
However, numerous eco-friendly startups were also formed with the recent rise of worldly issues and problems. These green startups have built businesses in the startup industry to lead in achieving a more significant and greener world.
Likewise, this article is dedicated to featuring the top seven (7) innovative and eco-friendly startups in Australia that are helping save the future.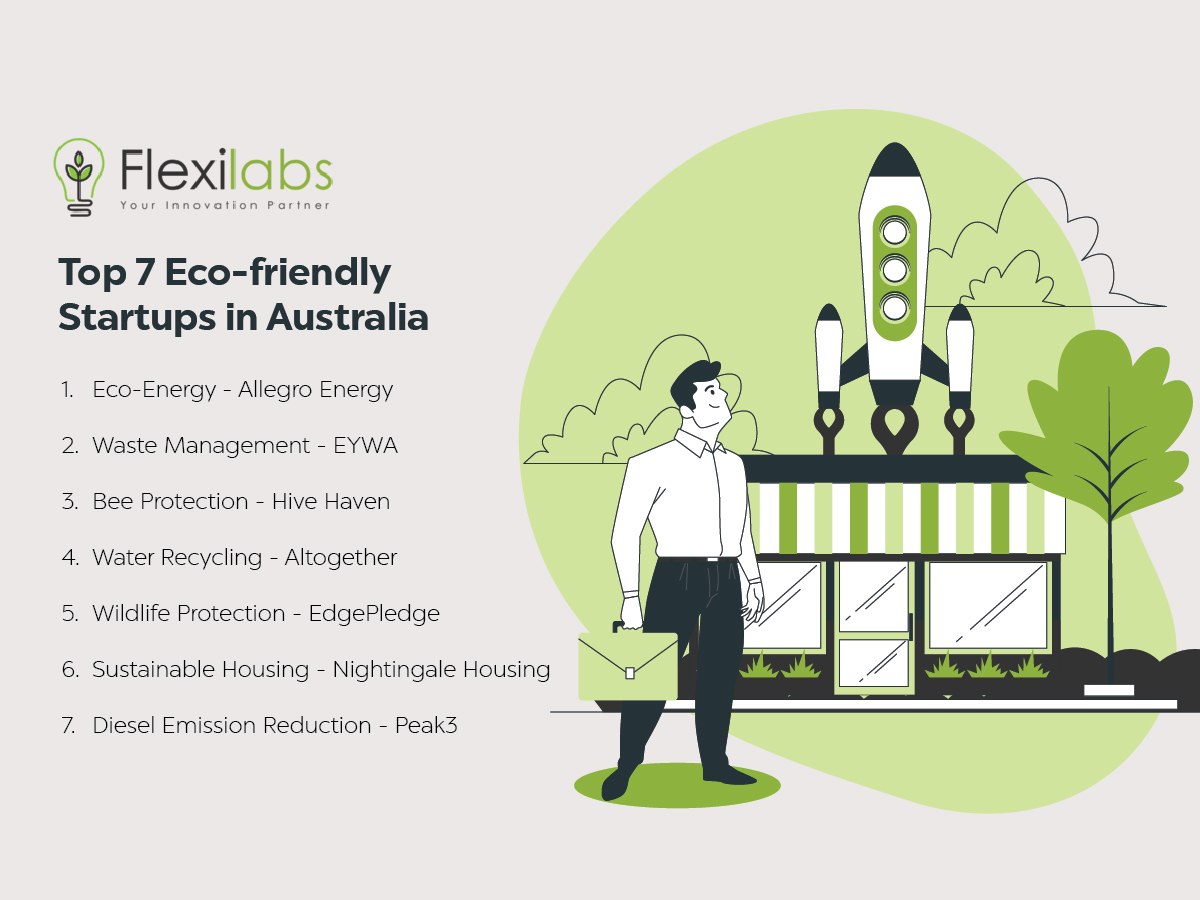 1. Eco-Energy – Allegro Energy
Founders: Thomas Nann, Fraser Hughson, & Rohan Boran
Year Founded: 2021
Location: Newcastle, NSW, Australia
Allegro energy is one of Australia's top eco-friendly startups that focuses on building eco-energy technology. This startup was co-founded by scientists from Victoria University of Wellington and the University of Newcastle. Moreover, it focuses on creating sustainable, safe, and high-performing electrical energy storage for a low cost.
In addition, the company wanted to provide a solution for society to safely store clean, green, and renewable energy for a better economy. Their gadget was patented on a water-based electrolyte system, making their battery a type that will not compromise its performance and can be used again.
2. Waste Management – EYWA – Waste to Energy
Founder: Bodhi Kawulia, Riley Lankshear, & Wesley Fab
Year Founded: 2021
Location: Sydney, NSW, Australia
EYWA is another of the tremendous eco-friendly startups in Australia that aims to provide elite and ideal solutions to waste management.
This startup is working on developing an intelligent home bin that can transform waste into energy. In addition, EYWA's technology can empower a household when their trash is converted to electricity, helping them save time, money, and the environment.
3. Bee Protection – Hive Haven
Founder: Ann Ross
Year Founded: 2014
Location: QLD, Australia
Let's face it; bees are vulnerable. They have an uncertain future, and due to several factors such as parasites, pesticides, and poor nutrition, the bee population is slowly declining. However, bees are so critical to human survival. They are this planet's pollinators. They help not only nature but also agricultural crops.
Luckily, one of Australia's top eco-friendly startups focuses on helping them survive. Hive Haven aims to support sustainable bee farming methods to enhance the survival of Australian bee species. Moreover, this startup builds sustainable beehives for Australian native bees. Their plastic beehives will not rot, crack, attract termites, mildew, etc.
4. Water Recycling – Altogether Group
Founder: Terry Leckie
Year Founded: 2006
Location: North Sydney, NSW, Australia
Altogether is another top environmental startup in Sydney. They are a sustainable startup focused on creating better days of producing power and water. Furthermore, this Sydney-based startup creates a solution for energy networks, hot water systems, wastewater, recycled water, and drinking water issues in NSW and Queensland.
In addition, a total of 400 communities have benefited from their advocacy and are considered one of the global leading recycled water systems in Sydney.
5. Wildlife Protection – EdgePledge
Founder: Sam Marwood
Year Founded: 2015
Location: NSW, Australia
Edge Pledge is a startup that aims to raise funds for challenge-based issues regarding wildlife. They aim to put people together and raise money for wildlife on the brink of extinction.
Likewise, funds raised on their projects are given as support for environmental partners delivering initiatives to save wildlife.  
6. Sustainable Housing – Nightingale Housing
Founder: Jeremy McLeod & Tamara Veltre
Year Founded: 2014
Location: Melbourne, NSW, Australia
Nightingale Housing is a not-for-profit organization that provides eco-friendly apartments in Australia. This Melbourne-based startup aims to create alternative housing solutions for people in Melbourne that is socially, environmentally, and financially sustainable.
In addition, their advocacy helps create housing solutions that respond to diversity, affordability, and pace of sustainable development toward a low carbon future.
7. Diesel Emission Reduction – Peak3
Founder: Colin Chandler
Date Founded: 2021
Location: QLD, Australia
Peak3 is another eco-friendly startup in Australia that specializes in creating clean technology. Their primary technology aims to reduce diesel emissions in large diesel systems and services for the Australian mining sector.
Furthermore, this startup works on developing the world's leading particulate reduction technology, combined with ultrasonics, inertial separation, and collinear processing.
The Bottom Line
In summary, ideas are endless. Many entrepreneurs and innovators will always come up with new ideas for the world. These seven eco-friendly startups in Australia are just a few among those trying to support the world's preservation. There are still tons of companies who are conscious consumers and strive to protect the environment.
Likewise, everyone can contribute to this advocacy, from large multination companies to grassroots startups. And if you have one, do not hesitate to found your company.
If you are planning to build a startup, then, Flexilabs can help you. Talk to us about your project soon!