As a startup, every mistake is critical to your company. It can affect your company and its product, reputation, and overall success of your company.   And besides, you probably do not want to end up with the 90% of startup companies that fail, right?
Likewise, as an entrepreneur, you need to dodge startup mistakes considering your limited time, resources, and employee. But since you also have minimal experience in the industry, you cannot avoid these mistakes. Worry not, as we will teach you how to prevent the top 5 startup mistakes that many faces today.
Why do startups make mistakes?
Mistakes are unavoidable to any errors. As long as the company is running, mistakes will happen, whether human or computer errors. Likewise, there are a lot of factors that can contribute to startup failure. But the most common one is because they are not experienced enough and have not yet learned from their mistakes. And it is because they have too much on their plate and too many things to handle.
Likewise, here are some of the common mistakes that startups make include:
Not having a clear vision or goal
Not knowing what customers want
Focusing on the wrong metrics
And not listening to feedback
Top 5 Startup Mistakes New Entrepreneurs Make
Even with the proper enthusiasm and resources, most successful entrepreneur still makes mistakes and failures. The road ahead in businesses is always filled with bumps and potholes – from production to legal disputes. To help you steer clear your path, here are 5 of the biggest startup mistakes made by the entrepreneur: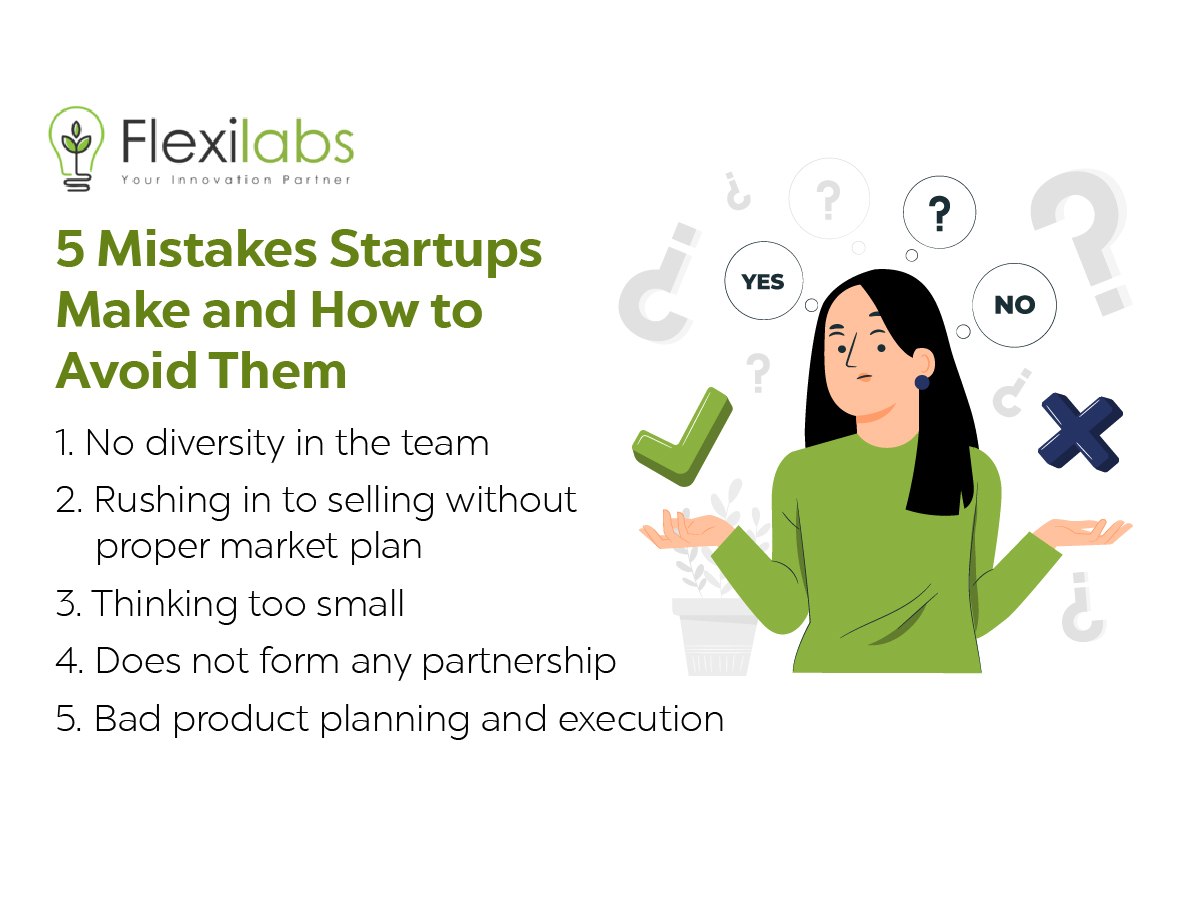 Mistake No. 1 – No Diversity in the Team
As a starting entrepreneur, your network is probably more minor than others. And with little money, recruiting is probably nearly impossible. You tried to rely on your close friends to work with you or refer one they know. Then, you finally did it. You hired a few groups of talented and motivated people. You feel confident and excited to tell everyone about the team. But if you think that's the last of it, you are wrong. You just made one of the top startup mistakes.
First of all, people's network is very homogeneous. And despite the belief that referral hires are of quality, they can limit your company's exposure to a different point of view, ideas, and goals.
The paper "Birds of a Feather: Homophily in Social Networks" by sociologist Miller McPherson discusses the notion of homophily or people's affinity to gravitate to others like themselves. He mentioned in the paper that "Homophily limits people's social worlds in a way that has powerful implications for the information they receive, the attitudes they form, and the interactions they experience."
In a startup, interacting with the same people as you can cause inaccurate assessments or beliefs or create stereotypes in your company.
How to Avoid This?
What your startup needs to avoid this in the future is creating a real and tangible hiring strategy that covers diversity and inclusion. Building an effective hiring strategy will ensure variety in your team and see if the people are aligned with your goals and organization. It can also help you hire the best and avoid people with personalities that don't fit your core values.
To start your strategy, start by creating a description of the job. Ensure to eloquent at least six skills required for the job, what the job entails, and your company benefits. Next, post the job vacancy on various platforms such as social media, job boards, newspapers, etc. By doing this, you will get more diverse applicants. Finally, interview the candidate by evaluating their skills rather than their profile.
We are not saying that you can ignore referrals from your friends or employees. Instead, make sure they undertake the same hiring process as other candidates.
Mistake No. 2 – Rushing into selling without a proper market plan
Another startup mistake that new companies face is selling their products and services without an appropriate market method. Income and sales are essential. It is where you get your resources and reputation. But that does not mean every startup should start selling without properly creating a market or sales plan.
A sales plan is a document that summarizes the sales team's goals, objectives, and strategies. It is a document that outlines what needs to be done to achieve its goals. A successful selling plan will have several components, including Objectives and Goals, Marketing Strategies, Sales Strategies, Sales Processes, and Key Performance Indicators (KPIs).
And without a sales plan, you might not be able to identify risk and issues before it comes. Clients will see your errors, and eventually, the customer experience will fail. Your company's growth will slow down eventually, and progress could even stall.
How to Avoid This?
Put some time to create a sales plan with someone well experienced in the industry. Find a mentor that could help you identify trenches or potholes in your product, customer services, marketing strategy, and venture process.
It will help you avoid errors and benefit from creating a solid partnership that will benefit your company in the future.
Check out some great startup incubators or mentors in your area!
Mistake No. 3 – Thinking too small
One of the most common slipups a startup makes is thinking too small. As a starting entrepreneur, it's essential to keep your limits on money and capability. It can sometimes result in generating archaic or sterile ideas for your company. You might think it's safer to target a smaller crowd, so the competition is negligible. Still, you are killing opportunities and growth.
How to Avoid This?
Always remember to "Think outside the box." You need to stop thinking and acting like a small business and limit your choices. Try to invest in quality people, equipment, and tools. It can help you upscale your customer service and experience.
It would help if you also tried to upgrade your network and spend time with people who will push your boundaries and do more. Abandon your comfort zone, and do not be afraid of criticism.
Not all company is ready to leap investing, but if you can, take a few steps but leave a few spaces for fallback.
Mistake No. 4 – Does not form any partnership
Many startup founders neglect to form any kind of partnership due to the fear of liability or losing control of their business and income. They believe that collaboration is only necessary for investments and capital. And without the need for resources, you do not need to form one.
However, the partnership is not just all about capital. A strategic alliance can help you refine your business models, open your product to a new market, and reach new customers with their endorsements. Partners can also be a great asset if you need loans on better terms rather than relying on banks.
How to Avoid This?
New founders must partner with more prominent and established companies to avoid these startup mistakes. These organizations can help provide you with the right resources, mentorship, and experience that can help you develop your company further.
You can also try partnering up with smaller but high-growth companies. While large corporations can help you develop your goals, most of them require equity in any partnership. However, smaller companies can help both companies grow with minimal investment.
Likewise, you can try joining an incubation or accelerator program for startups. These programs will expose you to a wide range of experts in your industry and introduce you quickly to extensive networks.
Mistake No. 5 – Bad product planning and execution
Another common mistakes startup owners make unresearched product and implementation. This mistake can cost you your company. Releasing a product that does not meet the market's needs and expectations can affect your company's brand, reputation, and income.
In addition, most product plans include measurable goals, dates, objectives, deadlines. Without these elements, your business will have a hard time measuring the success of your business.
How to Avoid This?
Final products don't usually meet market goals. Likewise, before launching your first product, try to conduct A/B testing with a few network or potential clients. This will allow you to make a few revisions to your product and fit it with the market.
But make sure that your product will not go way off from your initial goal. If this happens, remember to look back to your business plan. Going through planning forces you to address many vital areas such as cash flow, management, employee tasks, inventories, vendors, etc. It forces you to address these areas and think objectively of your business.
Want to Avoid These Startup Mistakes?
As mentioned earlier, mistakes are unavoidable as a startup. However, it would help if you tried at least to maintain it at a minimal number. The key is always being aware of them and how you can be consistent in being well-informed with your decisions.
Likewise, you can also find incubator programs to guide you to your success.