Australia is a bustling economy with small businesses playing an important role in driving its resurgence. Small business trends for 2023 suggest the country's economic recovery is expected to continue with increased competition and a stronger focus on customer experience, and a reconceived look at work.
2023 is an exciting and profitable year for small businesses in Australia. With that said, we put together this article to help you leverage the latest small business trends to your advantage.
Small Business Trends  Outlook In Australia For 2023
The large island nation has faced an array of challenges in the past couple of years. The shutdowns caused by the COVID-19 global pandemic, the resulting economic activity slowdown, and the unemployment rate spike allude to the fact that Australia is unofficially in a recession.
Fortunately, the emerging trends in business show signs of economic resurgence. According to the Australian Bureau of Statistics, the country's GDP growth is projected to rise by 1.7% in 2023. It means robust consumer spending and an opportunity for small businesses to grow. 
Moreover, the Australian government has announced a range of support measures to aid small to medium businesses (SMBs). These include tax breaks, grants, and credits, to help SMBs stay afloat in a highly competitive market. 
In short, Australia's business outlook for 2023 is best described as "cautiously optimistic." It will remain strong even though it is currently performing below-trend compared to what was initially projected. 
11 Top Small Business Trends For 2023
Small businesses are considered the lifeblood of the Australian economy. Collectively, they have a significant contribution, accounting for around 33% of the country's overall economic output and employing around 40% of the working population.
With that in mind, we compiled the top small business trends for 2023 that will shape Australia's business world in the following months.
Rising Energy Prices And Inflation
Energy prices in Australia have been steadily rising in recent years, contributing to an overall trend of increasing inflation. The key drivers are the increased costs and demand for energy generation, distribution, and retail. Moreover, population growth and climate change have amplified this further.
Consequently, the Reserve Bank of Australia (RBA) responded by raising the interest rate to bring inflation back within the 2-3% target band.
Cybersecurity And Personal Data Privacy Issues
Data privacy and cybersecurity are ongoing issues for businesses around the world. In the case of Australia's small business news, attacks on digital systems and personal data theft pose a pressing threat as it increasingly becomes commonplace. 
In response, the Australian government has implemented laws and regulations to protect personal data, require users' consent to data collection and sale, and introduce cyber security laws.
Furthermore, the Office of the Australian Information Commissioner enforced the Notifiable Data Breaches scheme that requires companies and organisations to notify their customers of a data breach as soon as possible.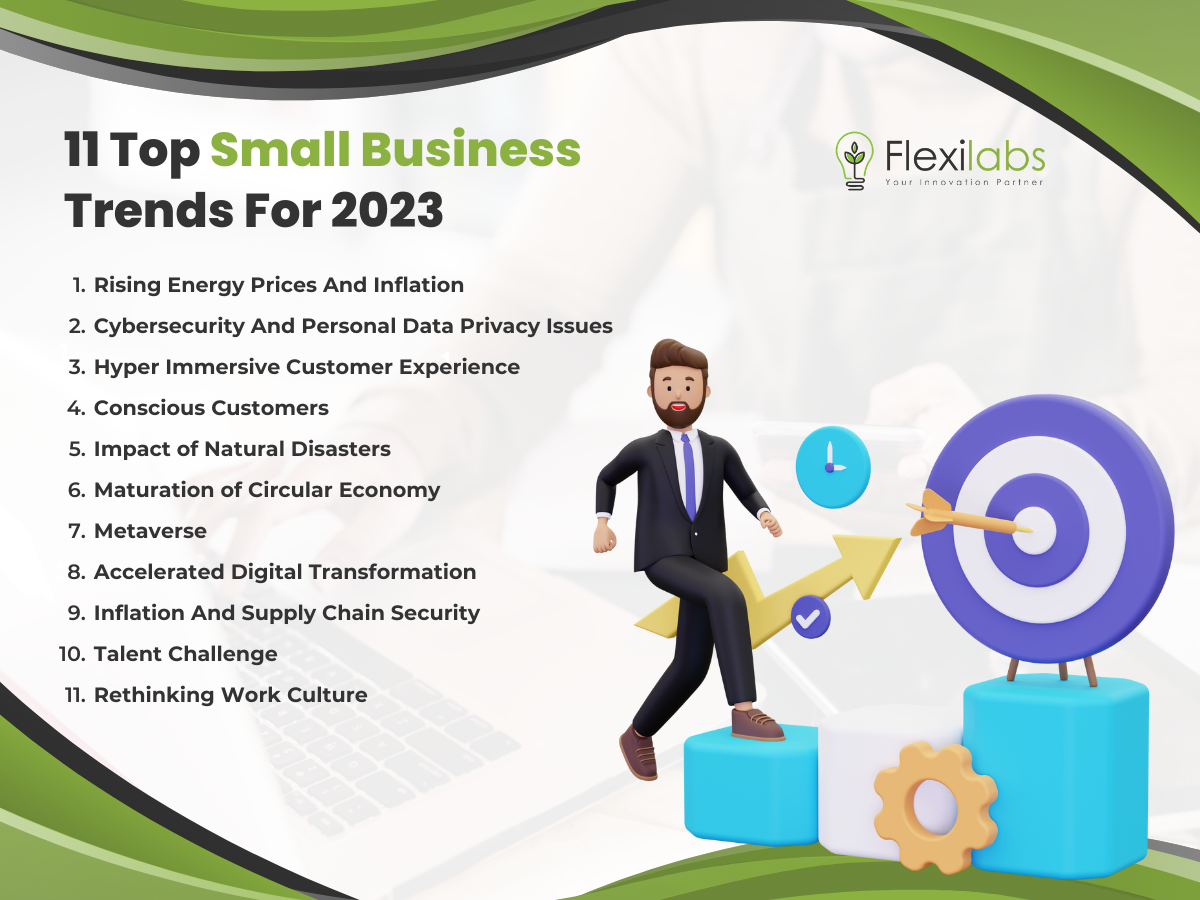 Hyper Immersive Customer Experience
Customers place importance on the quality of the experience provided by businesses. That is not to say that price point and product or service quality are unimportant. In fact, these two factors are also key deciding points.
The rise of digital innovations, such as virtual reality (VR), augmented reality (AR), and soon with metaverse, and improvements to websites, mobile apps, and social media platforms present small businesses an opportunity to further improve customer experience. Furthermore, customer experience also extends to conveniences, such as payment technologies and online shopping platforms.
Conscious Customers
People are becoming more environmentally conscious. Consequently, they are more mindful of what they buy and subscribe to. It means Australians proactively choose environmentally friendly brands. 
This is one of the small business trends that underlines the importance of sustainability. For businesses, this means rethinking certain aspects of their products and services and opting for sustainable alternatives. 
Moreover, consumers are also more critical of a business's socio-economic impact. This includes job generation as well as how companies can help improve the community. 
Impact of Natural Disasters
The flooding in the 2021-2022 fiscal year inflicted a loss of more than $5 billion on the economy and affected nearly 70% of the population, according to the Australian Treasury. 
In addition, natural calamities were identified as a primary contributor to the unparalleled rise in the country's inflation rate, which is currently at its highest level in 32 years.
Natural disasters, such as floods, droughts, heatwaves, and bushfires, cause extensive damage across the country. Moreover, this is one of the pressing small and medium business trends as this causes disruption to supply chains, leading to shortages of goods and services, and exacerbating the effects of the high inflation rate. 
Maturation of Circular Economy
In recent years, Australia has seen a maturation of the circular economy. As such, more and more businesses are starting to recognise this sustainable innovative model as one of the current small business trends that provide plenty of potential benefits.
This is a positive turn considering the rapid economic development and population growth. In the past couple of years, this has placed unprecedented pressure on the country's infrastructure, services, and resources. 
Metaverse
The metaverse is a rapidly evolving digital world that has the potential to revolutionise the way we interact, shop, and even work. In the case of small businesses in Australia, this new world presents new growth opportunities.
This new digital world gives small businesses access to a bigger customer base. Moreover, websites and a business's social media profile will no longer be just the only virtual storefront. The metaverse will enable businesses to create actual virtual stores and a more immersive customer experience.
Accelerated Digital Transformation
The fast-paced digital transformation we have witnessed in recent years made a major impact on Australia's small businesses. This is especially true for those companies in the retail, hospitality, and service industry. 
This new wave of digital innovations has enabled small businesses to grow faster. These include access to better customer insights, increased customer base and reach, improved quality of customer service and satisfaction quality, reduced costs, and, ultimately, increased sales. Moreover, innovations like artificial intelligence (AI), machine learning, automation, and cloud-based tools enable small businesses to streamline business processes. 
Inflation And Supply Chain Security
The recent inflation and supply chain security issues in Australia have been closely linked to the pandemic. The global economy has been severely impacted as the pandemic progressed, causing supply chain disruptions and increased inflation in Australia. 
Moreover, tensions between China and Australia; and the ongoing trade war between China and the US contributed to the inflation. All these placed significant strain on the nation's supply chains.  Which led to shortages of goods and services, and further drove up the cost of goods and services.
Talent Challenge
Over the past couple of years, three trends have risen among the working population. These three, the Great Resignation, quiet quitting, and the rising unemployment rates, are manifestations caused by the pressures caused by the COVID-19 virus. 
To some degree, experts anticipated these given the impact of the economic slowdown, and people's mental health was gravely affected by multiple stressors at the height of the pandemic. For Australian small businesses, this manifested in higher turnover and decreased overall employee performance and productivity. 
Moreover, given the high inflation rate and other economic markers of a recession, recruitment, and training of new staff can place a large strain on the overall financial state of a business.
Rethinking Work Culture
Opposite to the talent challenge, a lot of small businesses in Australia have reevaluated their existing work structure and doubled down on the importance of employee satisfaction. 
Remote and hybrid work setups already existed prior to the pandemic. However, in an effort to curb the spread of the COVID-19 virus, many businesses were forced to immediately adopt a remote setup in the face of the new normal.
The unprecedented event helped people reassess the country's work culture. Enterprises have invested in and implemented policies that are geared towards employee satisfaction and talent satisfaction. 
Moreover, while the country's national government has not passed any legislation yet, the Australian Capital Territory (ACT) have expressed their interest in introducing a four-day workweek for territory public servants. 
Stay up-to-trend to sustainably grow your business
We are witnessing rapid changes in the socio-economic landscape in Australia and a new wave of technological innovations. With so much going on, it is crucial for business owners to stay up-to-date with the latest small business trends and industry developments. 
Moreover, these trends give you a pulse of the nation. These can help you make informed decisions to sustainably grow your business, possibly even minimise the impact of the economic downturn, and help your business prosper down the road.
Stay updated with these small business trends with us and sign up for Flexilab's startup programs. Let us help you validate if these trends can help your business.