If you are a startup business owner or an aspiring entrepreneur with a great business idea, then this article is for you! Joining one of Australia's business incubator programs might just be the help you need to help you and your business grow into the vision you want to achieve. 
In this article, we shared a list of incubators in Australia to help you decide which one fits you best
First, let us understand what a business incubator is and how Australian businesses and entrepreneurs benefit from these programs.
A business incubator is a time-bound program initiated by private business entities, government agencies, non-profit organisations, and universities that can run for a few weeks up to a few months. It is set up with the purpose of helping fledgling startups, small businesses, and novice entrepreneurs. 
Business incubator programs offer an array of support depending on the company, such as: 
Idea validation

Share sustainable business practices

Develop products and services

Connect with other businesses
These programs also differ in niche and specialisation. This means basically every budding business from any sector in Australia is given the opportunity to join a business incubator that suits them.
In fact, there are so many business incubator programs available that you can categorise them into four types: 
University business incubators. These are initiated and run by universities that are open to both students and entrepreneurs, depending on the specifics of each program.

Social business incubators

. These are initiatives of government agencies, community-based organisations, or non-profit agencies. Their focus is to help fledgling businesses that will help improve communities.

Corporate business incubators. These are initiatives by private business entities to help validate potential business ideas and further develop products and services. 

Virtual business incubators. As the name suggests, these are programs that can be accessed virtually. Given its remote nature, this can be available to any international community and is best suited for digitally-operated businesses or eCommerce. 
Moreover, business incubator programs for startups also provide plenty of benefits for budding businesses. Here are a couple of them: 
Mentorship and coaching opportunities with industry leaders and experts. 

Operate in a workspace and save costs. 

Building relationships and networking opportunities with fellow entrepreneurs. 

Innovate and collaborate with peers and substantially impact business growth. 
12 Top Australian Business Incubator Programs To Check Out
There are just too many programs available. So, to make it easier, we made a shortlist of the top Australian incubators that you can check out right now. 
Startmate is a startup accelerator in Melbourne that is available to businesses in Australia and New Zealand. They are a mentor-driven community backed by well-known angel investors, venture funds, and tech startups. 
This program is best suited for entrepreneurs with a business idea that needs a co-founder or a team. It is open to a broad range of businesses from different sectors and runs for around three (3) months. 
Moreover, Startmate has more than a decade of experience assisting startups and entrepreneurs with their business incubator programs. In fact, they have helped over 190 companies with a collective value of 2 billion USD. 
Runway HQ Incubator is a Victoria-based non-profit organisation best described as a "regional startup ecosystem" focused on helping entrepreneurs throughout their startup journey.
This is open to all businesses across sectors in Geelong and Ballarat and runs for six (6) months. Within the Runway HQ Incubator's program, they offer lessons on startup methodology, a co-working space, and an ecosystem of supportive partners, mentors, and coaches.
Flexilab Startup Program is available for solo entrepreneurs and small startups at the idea stage or pre-series stage based in Australia. 
This accelerator program is open to all startups from any sector and runs for seven (7) weeks. The Flexilab Startup Program provides a feasibility assessment, proof of concept (POC) validation, and prototype development. Aside from that, they also provide members of the program with a trusted network of mentors, developers, and designers to fast-track the businesses' development.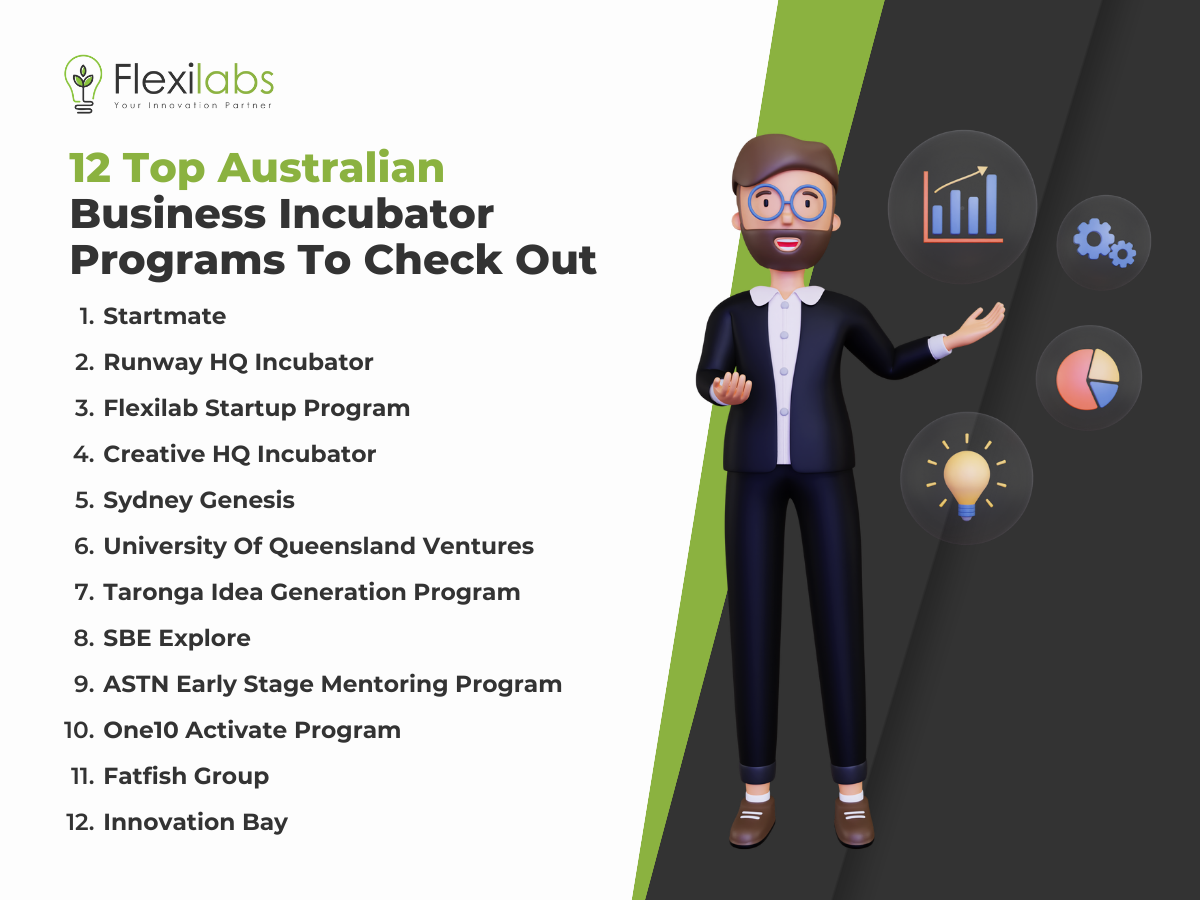 Creative HQ Incubator is a program open to idea-stage to pre-seed startups from any sector in Australia and New Zealand. 
This hybrid business incubator program runs for six (6) months. Entrepreneurs can join remotely or opt to take advantage of Create HQ's co-working space in Wellington. They also provide $5,000 equity-free funding to members of the program. 
Sydney Genesis is an initiative organised by the University of Sydney Business School. Similar to the business incubator programs we have mentioned thus far, it is a program that fits any business sector. However, it is open to their university community, which includes alumni, students, and staff. 
With that said, their Genesis program provides startups with one-on-one training with industry mentors, access to a database of entrepreneurial resources, networking events, and media exposure. 
The Ventures program is also a university-led initiative by one of Australia's higher education institutions, the University of Queensland. 
There is an array of Ventures programs for startups at various stages of development in any business sector:
 Curiosity

iLab Accelerator

Industry Challenge

LeadHers

Startup AdVentures

Validate
This is one of the business incubator programs that is geared towards environmentalism. It is a program run by the Taronga Conservation Society Australia in New South Wales (NSW). 
It is a six (6) week accelerator program that helps ecopreneurs explore conversation challenges and generate solution-based business ideas. In the program, members are provided mentoring, weekly online workshops, and access to Taronga's network of experts, to name a few. 
If you are a woman with a business idea or a woman-led startup business, then SBE Explore is for you. 
This is one of the business incubator programs designed by women for women. The program runs for two (2) months and teaches members how to establish their company, create a prototype product or service, protect intellectual property, launch a venture, acquire customers, and overcome obstacles with solid frameworks and tools.
Early-Stage Mentoring is an accelerator program by the Australia Sports Technologies Network (ASTN). It is a national collaborative network that is open to startups and entrepreneurs in the SportTech sector. 
The program runs for ten (10) weeks and helps members develop their business ideas with industry experts and access to an extensive network to help propel startups. 
One10 Active Program is a business incubator that is geared towards social innovation, which encompasses the following sectors: 
Mental Health     

Health Care     

Aged Care     

Energy     

Disability     

Medicinal Cannabis     

Environment     

Property     

FinTech     

Charity     

OHS&E     

Youth Services     

Giving     

Ethical Fashion     

Technology     

Manufacturing     

AI     

Childcare     

Impact Investment
This program is not time-bound, similar to the university-led incubators mentioned here. Moreover, the One10 Activate Program helps purpose-driven businesses to validate business ideas,  develop prototype products and services, conduct market research, and get a concrete idea of a business's social impact from experts.
Fatfish Group started as a venture builder firm and partnered with the Singaporean government. Now, they have evolved into a business incubator that is available to businesses in Australia, Southeast Asia, and Europe. 
In the program, the Fatfish Group helps members build up their tech startups and provides access to extensive network resources, industry knowledge, and tech expertise. Moreover, they also provide: 
Buy-Now-Pay-Later and Online Lending

Online Insurance

Video games and esports

E-commerce and digital entertainment

Enterprise cloud and software
Innovation Bay is a networking group for founders and investors in the tech sector. They provide a comprehensive ecosystem for startups and provide connections with well-known angels and trusted mentors and coaches. 
Moreover, Innovation Bay also offers workshops, resources from industry experts,  and funding opportunities for budding tech entrepreneurs. 
Final Thoughts
Business incubator programs provide entrepreneurs and startups an opportunity to bypass the trial and error phase and start on the right foot with the help of industry experts and leaders. Moreover, some even provide seed funding, resources, and a support network to help propel their business. 
So, what are you waiting for? Take the first step and turn your idea into a thriving business.  Apply to Flexilab's Startup Incubator Program today.