If you are an entrepreneur with a startup company, chances are you have been contemplating whether or not you should join a startup incubator program to help boost your business. 
It is a decision that can yield plenty of benefits and growth opportunities. However, it takes commitment, just like for any new business venture you will undertake later on. Moreover, there are so many types of business incubators to choose from. 
But, let us start with the basics first. In this article we are focusing on the importance of business incubators and why you should join. As a bonus, we also added one of the best startup incubators Australian entrepreneurs can join right now. 
What is the difference between a startup incubator and a startup accelerator?
First things first, let us clear up the difference between startup incubators and accelerators. 
In general, these two programs are designed to help solo entrepreneurs and startup companies by providing them with opportunities that are not easily available. However, as their respective names suggest, the methods of how these programs help businesses are different. 
It is a collaborative program wherein business owners, novice entrepreneurs, and industry experts get together to help solve the common pain points most startups and small businesses experience. This can include training, seminars, workspaces, and mentoring from experts and experienced business owners within the same business sectors. 
With that said, startup business incubators are usually initiated by the national and local government, non-profit organisations, and other public and private business entities as well. 
In addition, a business incubator can be held practically anywhere. But, usually, these are affiliated with universities or business schools. While others have a dedicated business incubation center. 
What is the main purpose of business incubators?
A startup incubator's main goal is to validate and flesh out a business idea. Moreover, people in this program aid entrepreneurs to develop a proof of concept, determining the best target market for the products and services, and other vital aspects.
How effective are business incubators?
In relation to its main goal, startup incubators have a positive effect on participating startups and small businesses compared to those that decided not to join any incubator program.
How is the incubator helpful?
Startup incubators provide a range of services to aid startups. Here is a list that is commonly available for incubators: 
Comprehensive business training programs

Access to mentors

Networking opportunities

Marketing assistance

Financial management assistance

Assistance for bank loans, business loans, and other financing programs

Presentation skills training

Access to higher education resources about business and a specific industry

Connections with strategic partners, angel investors, and venture capitalists

Access to advisory boards

Business etiquette training

Technology commercialisation assistance

Assistance with regulatory compliance

Access to intellectual property management

Legal counsel
How does an incubator help the community?
Incubators help communities in two ways: One, to address a common issue that most members of the community experience and develop a product or service that specifically solves this problem. Two, provide job opportunities and help the community's local economy.
Benefits of a startup incubator
Unique mentorship and coaching.
There is a diverse range of entrepreneurs that join startup business incubators. Not only as participants but also the experts, industry leaders, and experienced business owners. All these provide a unique opportunity to learn from each other. 
Available shared workspace. 
Typically, business incubators have a dedicated space. For startups that have been operating from their homes, these can help save money instead of buying or renting an office space.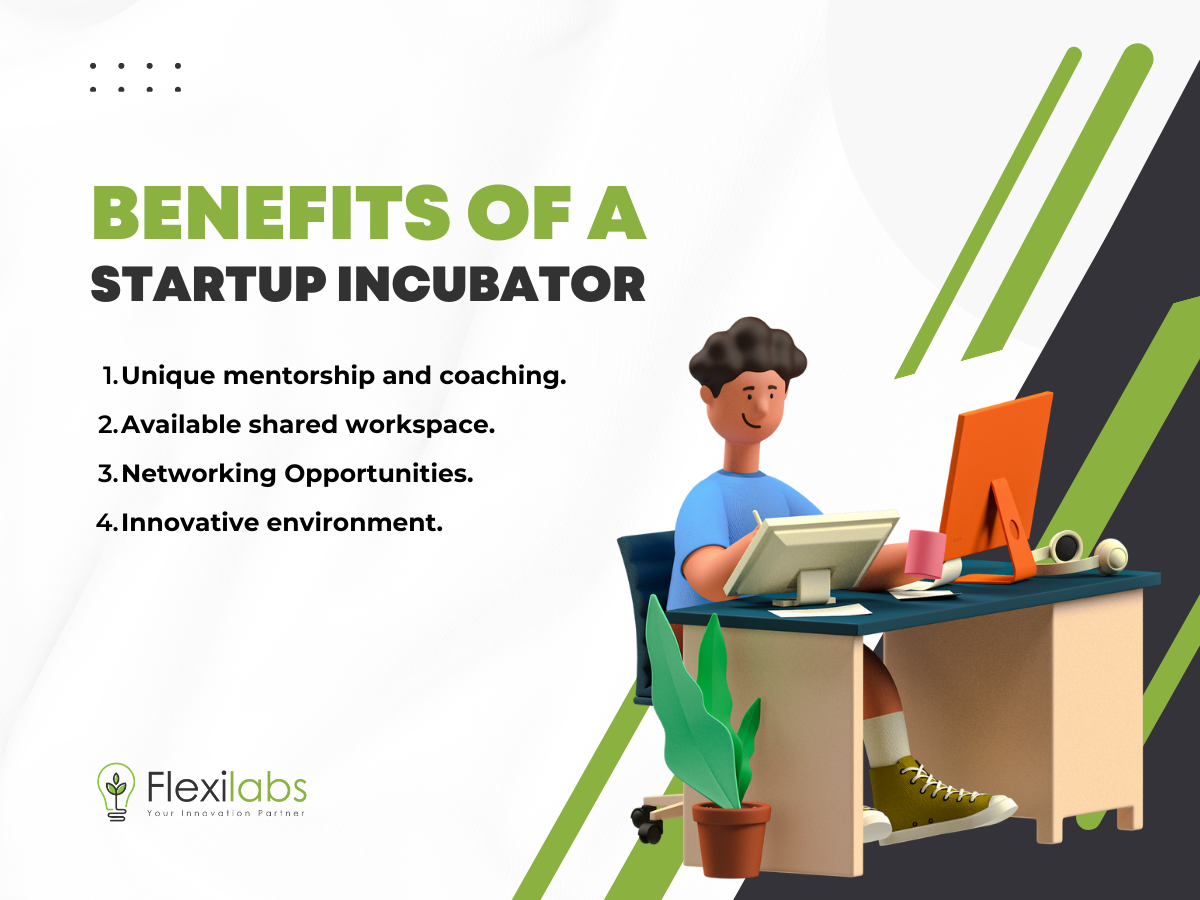 Networking Opportunities.
In addition, there are a lot of entrepreneurs that take part in the program. Naturally, this presents an opportunity to build a network of business peers and mentors that can potentially help a business further grow down the line. 
Moreover, having a diverse range of people that come from different backgrounds, belief systems, and experiences also provides an opportunity to find innovative ways to improve certain processes or aid in improving a startup's products and services to add more value to customers. 
What is a startup accelerator?
On the other hand, a startup accelerator is only available to small businesses and startups that already have a proven track record, a minimum viable product (MVP), and the potential for more growth. 
Essentially, this is a more growth-driven program that provides aid through seed funding, networking, and mentorship to ensure the success of proven business ideas. 
The key defining feature of an accelerator is that startups are only allowed to join the program and receive seed funding in exchange for a share of the equity.  While incubators do not require this or offer capital. 
Benefits of a startup accelerator
Unrivalled vast networking prospects.
Entrepreneurs and mentors in this program present a learning opportunity for startup businesses. Moreover, they actively help invite investors and potential big-ticket clients. They also connect you to their own network of established and reputable companies. 
Mentorship and coaching from successful founders and owners.
Most of the mentors in a startup accelerator program are founders, CEOs, experts and esteemed academes that are well-known in their respective industries. 
 Collaboration opportunities with other intelligent start-ups. 
Moreover, the network established with other startups also provides an opportunity to collaborate and learn from each other such as how to troubleshoot certain challenges and their respective best practices. 
Capital or Financial Opportunities.
Lastly, startups in the accelerator program also get investments, seed money, and financial assistance to help further grow the business.
How can Flexilabs' Startup Program help?
Most Australian entrepreneurs and startup business owners might have already thought to themselves, "Is there a small business incubator near me?"
Yes, there is! We offer you the Flexilabs Startup Program. It is a seven-week program that is available for any business owner and entrepreneur that resides in Australia. 
We provide the following services designed to assist your startup business: 
Feasibility assessment

Proof of concept (POC) validation

Prototype creation

Access to a network of mentors, developers, and designers
In the program, we help flesh out your business idea into tangible products and services to kick off your first week. Then in the next six (6) weeks, we help you develop these further and help you establish your goals and how to achieve them. 
Ready to develop your business idea into an actual business? Join Flexilabs' Startup Offering Program! Just contact us to get started.