Everybody dreams of becoming the master of their own time: Work when you want, play when you want. There are many ways to achieve this, like starting your own business—the sky's the limit!
If you are gearing up to go beyond a good work-life balance with your 9-5 job. And, you are ready to become your own boss. Then this is for you.
Here, we will share a couple of starter-friendly small business ideas for new entrepreneurs like you. These suggestions can range from online, low investment businesses to starting out as freelance gigs that match your skill set. 
Read on to find out which small business idea fits you!
Checklist For New Entrepreneurs
Before you jump heads first to your new entrepreneurial venture, let us lay out what are the things you need to start a business. 
We have an easy-to-follow checklist for new entrepreneurs to make sure you cover every base, especially legal and data aspects, that way everything is smooth sailing once you get started:
1. Validate Your Business Idea
This is an important first step that can save you time, effort, and money in the long run. Validating your small business idea lets you know if your venture has a shot to be a profitable business or a complete flop. You can do a couple of these things:
Measure your potential customer reactions (Interviews, surveys, and focus groups)

Evaluate the market size and your share

Check the search volume of all related terms

Test your product or service
2. Create A Business Plan
A business plan is your road map. It's a document that details how you're going to run your business and what is your strategy to achieve your goals. Make sure you have the following, then add other things when necessary: 
Executive Summary

Company Description

Market Analysis

Products or Services Description

Marketing Strategy

Financial Planning and Projections

Budget

Appendix (Supporting data)
Whether you are looking for investors or you plan to do it solo, a business plan will help you stay on track.
3. Register Your Business
It is a must to register your business. Some of you might think it is expensive and only choose to do it only when it is required. We are here to tell you the pros far outweigh the cons. 
Cons: 
Eat a portion of your budget for legal aspects and processing.

Takes time for a business to be registered.
Pros:
Establish trust with customers and investors

Separate legal being with the same rights and privileges as a person

Protect company name and brand from being copied or misused

Get credit and grants from commercial banks and other financial institutions

Separate business and personal transactions with a corporate bank account
4. Get Business Insurance
Business insurance ensures your company is always protected, whether it's your people or property, and minimizes possible risks of financial loss. It's something that will give you peace of mind while you focus on other things.
5. Develop Company Identity and Brand
Your company identity and brand are hand-in-hand with what makes your business unique. These make you stand out more and build trust with your customers and stakeholders.
11 Small Business Ideas For New Entrepreneurs
Now that your checklist is sorted out, we can talk about small business ideas new entrepreneurs like you can explore: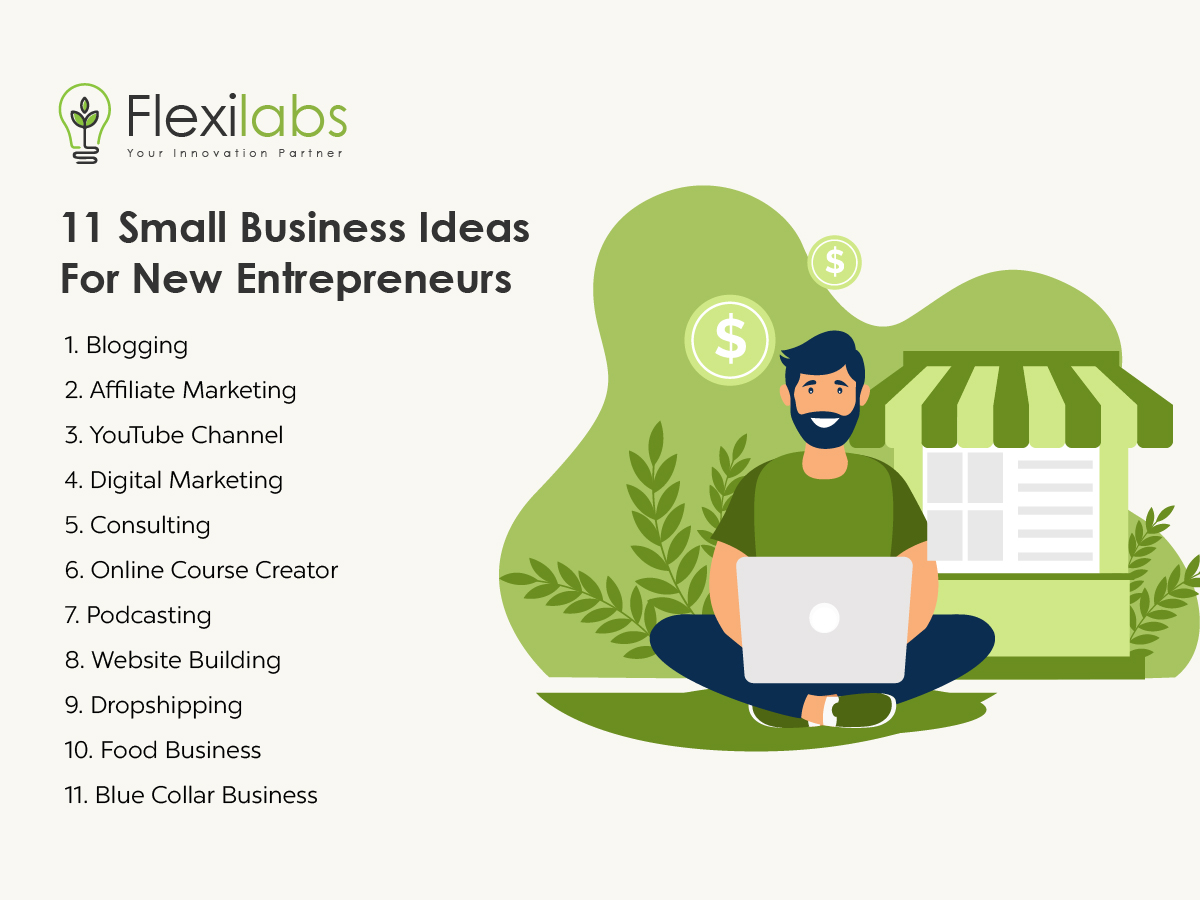 1. Blogging
Blogging is an essential part of any business. People continue to search online and read blogs (just like this one) to learn more about a specific topic. 
But did you know it can be made into a profitable business by itself?
While it will take a while, once you have an audience, you can monetize your blog with ads, sponsorships, e-commerce, and affiliate marketing.
2. Affiliate Marketing
Affiliate Marketing is a tactic where you and the product owner have an agreement wherein you earn a commission for each successful sale. It's easy to get started since you don't need a lot of things—just an audience. You, as the affiliate, need to recommend the product and convince people to buy it.
3. Youtube Channel
YouTube Channel is a good small business idea that can generate passive income for you. With YouTube as the world's second-largest search engine, there will always be people who will watch your videos and subscribe to your channel.
Your videos can be about anything. It can be about a topic you like or even just soothing music with beautiful scenery. All you need are:
Your YouTube channel

Camera

Video Editor

Content

Music

Audience
The bottom line, so long as people watch your videos, you can earn money.
4. Digital Marketing
Digital Marketing addresses a pressing need in this digital era—content. Businesses need digital content to market their products and service to customers. However, not all in-house teams can keep up with the demand or have the expertise to get better results. 
If you have the skill sets or the budget, then this can be a profitable small business for you. You can do it remotely and start out with a small team of: 
Project Manager

Writer

Graphic Designer

Animator

Social Media Manager

Web Developer
5. Consulting
Consulting is a small business idea that lets you leverage your knowledge and professional experience into a profitable business. So long as you have been working in an industry or a specific line of a white-collar profession, then this can be for you. Just note the following things when you start your consulting business:
Invest in networking

Find your niche

Practice concise talking points

Create a templated system

Establish a pricing structure
6. Online Course Creator
Online Course Creator is a good business idea if you have knowledge that you want to share with people. This kind of business can earn you passive income and have more earning potential when you cross-sell with future products. 
Since it is all online, the start-up is relatively low and can work with the stuff you already have:
Laptop

Camera

Earphones with Microphone
There are also plenty of free tools to create your online course, edit your videos, and market them online. You just need to invest the time to build your audience. 
7. Podcasting
Podcasting is another example of starter-friendly business ideas for new entrepreneurs. Much like a YouTube Channel, you can talk about anything under the sun, so long as it follows community guidelines. The only glaring difference: a podcast is all audio, meaning no videos.
Starting a podcast is practically free. You just need something to talk about, a microphone, a laptop, and your preferred podcast hosting platform, like: 
Anchor

Acast

Buzzsprout

Spreaker

Podbean

Castos

Simplecast
8. Website Building
Website Building might sound intimidating, but it is a good business idea for new entrepreneurs. It is easier if you have experience in web design or web development. But that should not limit you. There are plenty of free online courses that teach these skills. So long as you have a desire to learn and a knack for design, you can make it work. 
There are a couple of ways to build websites: 
All-in-one web builder

Content Management System (CMS)

Program from the ground up
It just shows you don't need to be an expert-level coder to start your small business.
9. Dropshipping
Dropshipping is one of the business ideas that you can get started without having to shell out a big investment. It is an e-commerce business where you don't have to personally stock up your inventory. Plus, unlike wholesalers, you do not need to worry about big risks and running costs. 
You can start small and make sure to do the following:
Secure a supplier that offers trending products for quarter of the market price

Establish an e-commerce site and list trending and easy-to-sell products

Promote your online store through social media and other online marketing channels

Place order with supplier once you receive an order

Delivery product to customer's address and make a profit.
10. Food Business
Food Business is one of the tried-and-tested business ideas. So long as you have delicious food to sell, there will always be a paying customer. 
There are many ways to start a food business: 
Catering 

Cafe

Food delivery

Non-perishable food

Food truck

Dessert shop

Delivery with rentable equipment

Restaurant

Bakery

Wholesale cooking & baking ingredients

Handcrafted food & drinks
Before you jump head first, test out your product first. It's necessary to gauge the response of your potential customers and take note of their suggestions. Tweak your recipe until you and your customers are both satisfied.
11. Blue Collar Business
Blue Collar Business is a small business idea that does not require a lot of technical experience and is heavily service-based. It's a venture that requires manual labor and upfront investment for all the necessary gear. Here are a couple of profitable business ideas you can consider: 
Professional Cleaner

Carpet Cleaner

Handyman

Painter

Landscaping Service

Gardener

Pool Maintenance

Air Conditioner Maintenance

Pest Control

Moving Service

Window Washing
Every small business idea can be a profitable business
Regardless of your capital, knowledge, and skill set, there are plenty of business ideas for new entrepreneurs like you out there. The list we shared is just the tip of a colossal entrepreneurial iceberg. Once you have zeroed in on the idea that you want and a product (or service) that sells, you can make any business venture into a profitable business that can go on for many years.
Just remember to validate your small business idea first with Flexilabs. Save time and effort early in the process with our startup program that can help you validate your idea before you start. Get in touch with us today!