The over-reliance on technology has probably made you wonder, what was work like before software was centralized? In case you don't remember, life before technologies can be cumbersome. Tasks like sending information to your partners could take days.
Today, however, technology has made business processes more manageable. Excellent software makes tasks faster and productivity higher. Moreover, the newest technology like cloud-based software or Scalable Software as a Service (SaaS) solutions made it accessible from any computer with a secured internet connection. Business is not easy and smooth.
Likewise, with the rise of the need for technology, much software is being introduced yearly. Choosing the right technology can be perplexing, especially for small businesses or organizations that are only starting.
So, if you are a new entrepreneur that has freshly accepted a startup offering and only setting off your team and infrastructure, check out these 7 excellent tools for startup founders.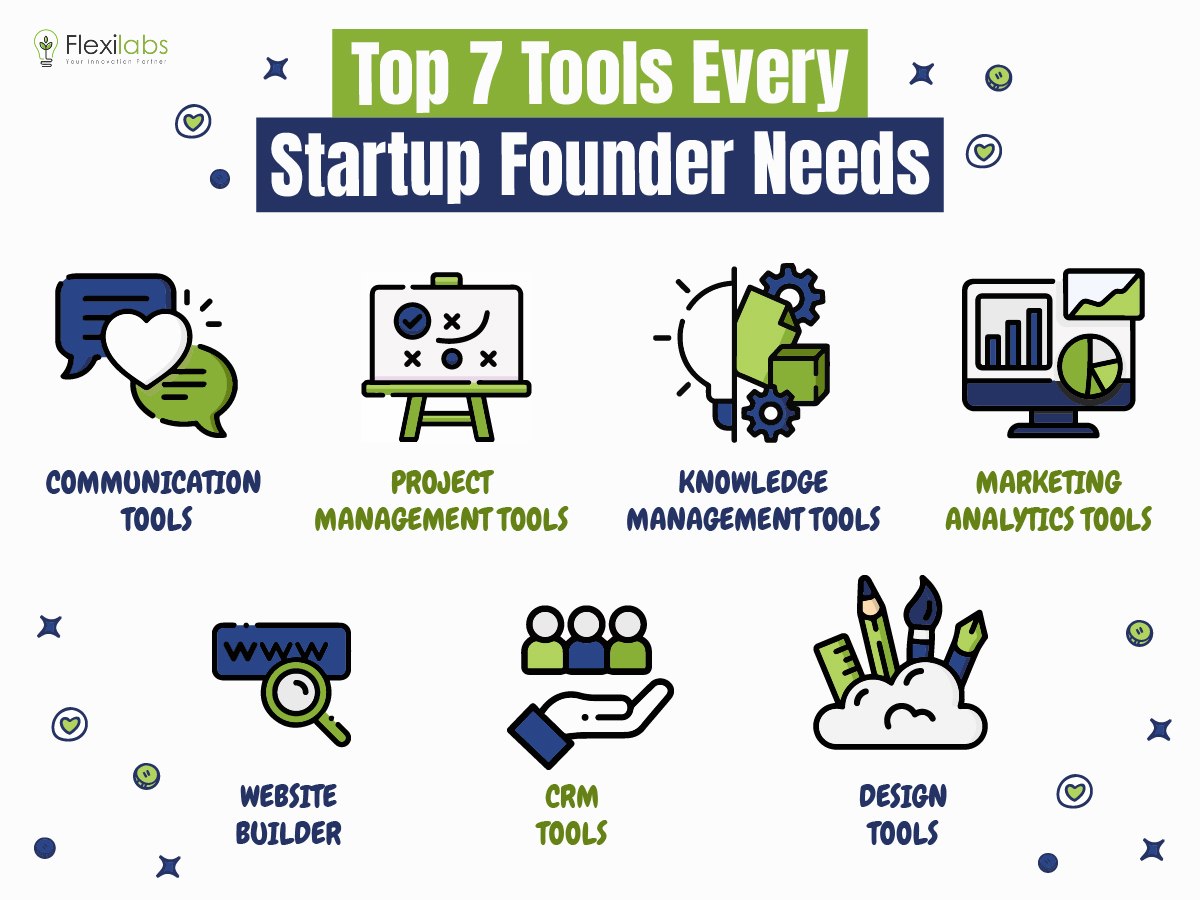 1.
Communication Tool – Slack
One of the top startup tools that most entrepreneur needs are a communication tool. This often includes video conferencing tools and instant-messaging tools. Instant chatting apps are great for quick messaging. Video conferencing tools are a more effective way of discussing and collaborating with your teams and clients.
Slack is considered one of the top tools for startup founders. According to data from Kruze Consulting, nearly 60% of startups pay for Slack's workplace communication software. This app offers various tools to automate most startups' daily workflow. You can add up extra functions to help improve your employee's productivity. In addition, founders can create channels for discussion of different topics.
The free plan includes nearly all startup needs like:
Access to the most recent 10,000 messages

Integration of up to 10 third-party apps

1 on 1 voice and video call between teammates
Price: If the free plan is not enough for your team, their premium plan starts from $6.67 a month per user.
2.
Project Management Tool – Asana
One of the issues that startup founders usually face is their lack of experience in handling a team and managing business processes. Likewise, a lot of startup gets very chaotic, and tasks are muddled and stagnant. 
Another desirable toolkit for startups is project management apps. It helps founders and managers to organize, assign, and track the tasks of employees. It is a beneficial tool that can enhance employees' productivity and unify the process of early-stage businesses. With this tool, founders and employees can prioritize important tasks and arrange their workload.
God to know: Tips to a Perfect Startup Pitch
Asana is the most used project management tool for startup founders. With this program, leaders can organize projects, tasks, and meetings, all in one shared space. Their basic plan comes with features such as:
Different viewing features such as list, Kanban board, and calendar views.

Unlimited tasks, projects, messages, activity log, and file storage

Collaborate with up to 15 team members

Integration with other apps like time tracking apps and more
Price: Asana is considered a freemium app. However, it also offers paid plans with added features starting from $10.99 per user per month.
3.
Knowledge Management Tool – Zendesk
A lot of startups often miss the importance of organizing data and knowledge. As such, much important information and best practices that can help improve the company are often lost in the process.
Businesses need to invest in a knowledge management tool to help them organize helpful knowledge in their FAQ, workflow guidelines, policies, and more. This tool can help companies create a centralized information hub where employees can access tons of essential information as quickly as possible. Likewise, a good knowledge management tool can help the company to:
Enhance team productivity

Speed up recruit onboarding

Increase collaboration

Standardize policies

Regulate workflows and learnings among teams

Create FAQs for speedier customer service
Zendesk is one of the most widespread knowledge management tools for startup founders. It's a flexible and expandable tool that helps startups create a self-service knowledge-based platform. Zendesk is also a content management system. Companies can assemble their information in the database and organize it accordingly.
This app is accessible in more than 30 languages. It supports an AI-powered bot to answer queries from customers by recommending relevant articles in your database. With this feature, your feature helps reduce employees' workload without compromising the quality of service. In addition, it offers the following features.
Interact with clients through chat, social media, phone, and email.

Comes with a ticketing mechanism and community forum

In-build knowledge base searching

Data and file knowledge

App integrations

Easy-to-setup workflows and automation.
Price: Zendesk's premium plan starts at $49 per user per month.
4.
Digital Marketing Analytics – Google Analytics
Another vital tool for startup accelerator and incubator founders is the digital marketing analytics program. The internet is a pivot for finding potential clients, sustaining relationships, and engaging with customers for most companies. And without a tool, it's nearly impossible to know how well your website, ads, and accounts are doing.
Still, you don't need to worry. Thanks to marketing analyzers, it's easier for users to learn the front-end of their website or apps. Marketing analytics is an essential tool for startups. They tell them numerous data like the number of visitors, length of stay, way of access, which page they visit most, and how many are converted to sales or leads.
Google Analytics is one of the popular free marketing tools used by businesses.  It provides the most valuable information sourced from funnels and marketing attributions. With these data, companies can gain valuable insights about user behaviors, or customer needs to apply to their marketing campaigns.
This tool can also help them determine their gaps and advantages against competitors. Likewise, it also offers the following additional features:
Identify actions performed by each unique visitor.

Detect actions taken on each visit

List page visited

Identify links, videos, and images clicked and viewed.
Price: Google Analytics is one of the best freemium digital marketing apps. It already contains most tools needed by companies. Suppose you are looking for an enterprise-scaled version. In that case, Google Analytics has a premium tier called Google Analytics 360 that costs $150,000 each year.
5.
Website Builder – WordPress
A well-developed website opens a lot of opportunities and possibilities for a startup company. It not only draws more customers but also expands your reach. It's one of the utmost effective ways to create an online presence and boost your brand.
There are tons of website tools for startup founders that you can choose from. Website builders are easy to use these days. Most offer a lot of drag-and-drop features, which can help those who are not well-versed with coding.
But no one can compete with WordPress, one of the best tools for startups. This website builder is stable, customizable, and scalable. It also offers the following features:
Free WordPress subdomain

Free customizable themes

Powerful website hosting

Easy integration with other apps like HubSpot, G Suite, and more
If you need to add more functions to your website, you can use tons of page plugins. WordPress also has a drag-and-drop builder, making designing landing pages faster.
Price: WordPress is absolutely free. However, you still need to purchase a separate domain name. Likewise, they offer a monthly plan starting at $5.
6.
CRM
Rapid growth and unique idea are what usually defines a startup. However, these two components will be useless without sales and customers. If a startup can manage its sales properly and sustain clients, then growth will indeed be achieved.
A good Customer relationship management (CRM) app can help starting entrepreneurs achieve their sales targets and enhance operations effectively.  CRM can help the company sustain a relationship with its customers, making them invest and support your brand.
HubSpot is one of the best CRM tools for startup founders that provides features such as perfect inbound marketing. This tool lets users manage their social media presence, online content and streamline sales funnels. In addition, it's easy to integrate with other apps. It also gives out robust data, perfect for blending your marketing and sales campaign.
Price: Hubspot CRM is free and comes with all the essential features necessary for your CRM platform. The premium plan starts at $45 per month and elements for in-depth marketing and sales campaigns.
7.
Design Tools – Canva
Startup founders are great with a lot of things. They are great at coming up with a lot of beautiful ideas and finding investors to support them. However, not all of them are always good with design. Thankfully, there are tons of free business tools for startups that makes designing easy for founders.
Canva is one of these design tools for startup founders. It's free to use and perfect for new beginners. You can create many things needed for businesses like posters, social media cards, presentations, gif, and more. The tool has many free templates that are easy to edit using the app's drag and drop editor.
Price: Canva is free to use. However, its pro version can give you access to more of its template, stock photos, and elements. You can get the pro version for only $12.99 per month.
Conclusion
Every business needs a little boost, whether it's in the form of monetary or automating tasks. Each of the startup resources for entrepreneurs listed in this article can help maximize your employee's potential, automate your business operation, and minimize effort.
There are tons of other tools for startup founders available online. And these few already hold tons of opportunities that can help your company. 
But if you are a founder looking for help that no tools can provide, Flexilabs can help you. Contact us now.
Related reading: