Digital marketing has rapidly changed the selling game of companies worldwide. It helped many businesses develop their brand image, reduce the cost of marketing, and increase through the internet. According to the Content Marketing Institute (2020), 86% of marketers increase brand awareness using one or more digital marketing channels.
Likewise, small businesses and startups should adopt digital marketing in their brand awareness campaign. But as starting entrepreneurs, you need to be careful when starting similar campaigns. You need to make sure that it is perfect for your business to not waste your time, money, and resource.
Likewise, this article will tackle the nine (9) suitable digital marketing strategies for startups. After reading this post, you will have a clearer picture of which digital marketing tactic you should adapt and what tasks to outsource for startups.
Why do Startups need Digital Marketing?
Using digital marketing as an initial step in building your brand comes with many benefits. As mentioned earlier, it costs lower than traditional marketing. Most television and print advertisements can cost thousands of dollars. On the other hand, online advertisement is affordable and easily handles your budget. For a few dollars, you can reach millions of people worldwide. In addition to this, your advertising can highly be targeted based on demographics.
Likewise, below are other benefits of digital marketing: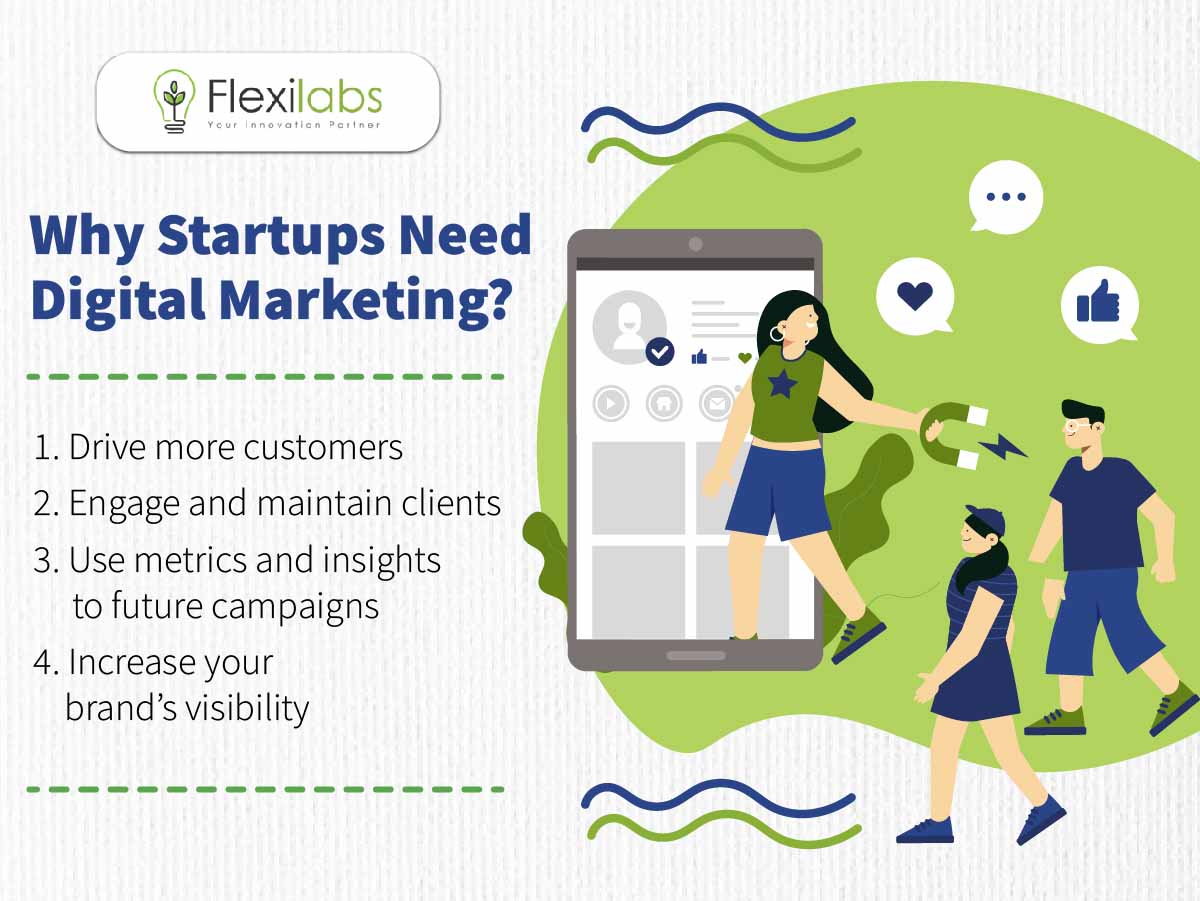 1. Drive more customers with a small amount
While the main point of marketing is basically advertising and generating sales, digital marketing can drive more customers to your business. Digital marketing uses an inbound targeting tactic that is customer-centric and uses pull tactics to attract customers through engaging, stimulating, and helpful content.
Unlike traditional marketing, where your advertising is pushed towards the consumer, whether related or not, Digital Marketing allows you to choose your target based on their demographic, location, and relevance. Through this, your startup will save back millions of dollars from an ineffective form of advertisement.
2. Engage and maintain clients
Online content such as social media posts, Live, Short, or Reels allows marketers to engage with customers. Marketers can post content that personally relates to their consumers through social media. The company can develop a relationship with their current customers and invite potential clients to purchase their product through these posts. According to Evergage, in 2019, 85% of digital marketers believed that customers expect a personalized experience.
3. Use metrics and insights to future campaigns
Most digital marketing tools and services come with insights and analytics that can be used in your marketing campaign or strategy. It provides inputs on customer buying behavior, identifies new opportunities, which advertisement works well, and demographics of people who clicked your advertisement.
4. Increase your brand's visibility
Establishing a brand and reputation is a vital step for any startup. Today, where society spends almost everything on the internet, building a sound and trustable reputation is easy in digital marketing. You may not immediately get revenue from your campaigns, but indeed, it will introduce your company to people. It's your opportunity to shine and tell them about your services.
Top 9 Digital Marketing Strategies for Startups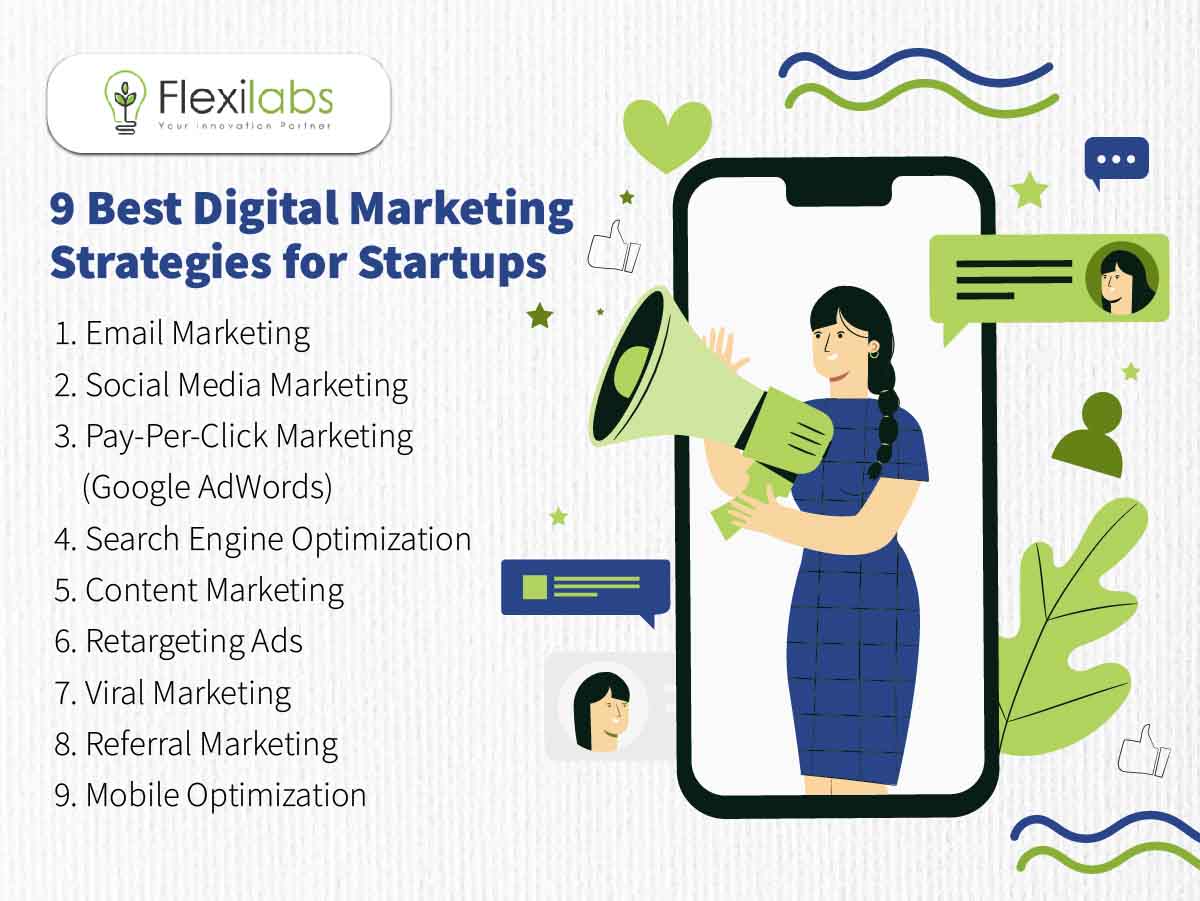 Before starting your digital marketing campaign and hiring your first startup roles, it's essential to learn the different marketing tactics to know which one works for you and your business. Here are 9 digital marketing strategies, perfect for startups and small businesses.
1. Email Marketing
Email marketing is one of the perfect digital marketing strategies for startups who want to reach their customers personally. This digital marketing approach allows businesses to connect with customers and prospect through email, sending them newsletters, order updates, and product deals.
You can even use an Email Marketing strategy to communicate with customers with a customized or personalized message. Personalized email marketing for startups is an excellent choice for building and maintaining relationships with customers and building a community of subscribers.
According to Amazon Web Services, 29% of marketers rated email marketing as one of the most effective marketing channels.
2. Social Media Marketing
Everybody uses social media. It has become one of the most potent information dissemination and digital marketing strategies for startups. "According to Buffer, 73% of marketers think that their social media marketing efforts have been somewhat or very effective to their business."
As such, startups can leverage social media platforms to grow their brand, build a community, connect with people, and drive traffic to their websites. In addition to this, here are a few other benefits of social media marketing:
Gateway to an excellent customer service brand
Increase exposure and customers
Increase sales
Establish loyal customers.
To start your social media marketing campaign as a startup, you first need to choose the right social media channel, then develop a strategy around it. Then, you need to focus on the following practices:
Consistent posting of high-quality content that connects with a target audience
Interact with customers on comment section or private message
Share a relevant post from other companies
Invest in paid advertisement to reach a more comprehensive and targeted audience
Although many businesses are adopting and getting great results on social media marketing, not all are the same. You might not get a good result at first, but you need to be persistent and analyse your campaign through various tools such as Facebook Page Insights.
3. Pay-Per-Click Marketing (Google AdWords)
Pay-per-click (PPC) is one of the best startup marketing campaigns used to invite people and drive traffic to your website your social media accounts. It is a powerful digital marketing strategy for the startup that can help generate sales-ready traffic through advertisement.
It's also affordable and budget-friendly. Promoters are only charged when a user clicks their ads. In addition to this, most PPC Ads allow you to set up a daily or monthly budget. Likewise, it offers several practical advantages for startups, such as:
High ROI as you only must pay when an interested person clicks the add
Fast result – you can set up ads and reach customers within a day
Offers data, insights, and analytics to help you sharpen strategies
However, most PPC campaigns exhaust the budget fast. Ensure that you are consulting an expert or targeting the right keyword to generate more conversion than clicks.
4. Search Engine Optimization
Let's face it. Not every company has money to burn in advertising. If that's the case, Search Engine Optimization (SEO) is your startup's marketing strategy. SEO can help you increase visibility on the search engine result page (SERP) and invite more traffic to your website. According to Hubspot, 61% of B2B Marketers believe that SEO generates more leads than other marketing strategies.
Although it goes a long way to rank and drive traffic, it's the easiest and cheapest way to convert your website visitors. So how do you start SEO as your digital marketing strategy for startups?
First, you need to identify a target keyword through keyword research. Find terms that you think customers will search when looking for your product. For startups, it's better to target at least three long-tail keywords in their SEO strategy. The long-tail keyword is excellent for a startup as it has a plain meaning and low competition score.
Next, suppose you run a business that is catering to local customers. In that case, you also need to optimize your business for local search. Make sure that your business details are uploaded to local web listing and google maps.
5. Content Marketing
Content marketing is a great digital marketing strategy for startups and small businesses. It enables companies to create and share valuable data, information, and content that can attract target audiences to visit their website and generate profits. Through content marketing, users will be more familiar with your brand and what you cater and stand for, based on the content you are sharing.
Content Marketing is a great digital marketing strategy for startups, to begin with, as according to SEMrush, 79% of marketers are generating more quality leads due to content marketing.
Adopting content marketing creates valuable content that your audiences will love to read, mainly if it solves their problems or questions. It builds trust by proving how much you are an expert on the services or products you are catering to. In addition to this, since content marketing is done in video, podcasts, blogs, and more, this provides added content for your SEO and SMO efforts.
6. Retargeting Ads
News about your business reached your target audience after content marketing and PPC ads. However, you are not getting any conversion as expected. Potential patrons might not be persuaded when they first see your website or product, and you need a few more pushes to get them to buy your products.
Likewise, retargeting ads are the perfect digital marketing strategy for your startup. Basically, retargeting shows relevant ads to those who have previously visited your website or searched for your product. Both Google Ads and Facebook Ads offer a retargeting option worth testing. They will surely get the leads you've been wanting.
7. Viral Marketing
It might seem hard to invite people to your website, accounts, and application as a startup. However, you can have overnight success with viral marketing.
If you can create content that can go viral on the internet, this will give your brand a strong buzz and reputation. Beware, however, that going viral is not that easy. Still, you can use several tactics such as being witty, weird, or incredibly funny to get noticed by people.
And if you successfully launch this tactic, it's sure to bring a significant surge of traffic to your social media accounts or website in a short period.
8. Referral Marketing
Another great digital marketing strategy for a startup is referral marketing. Don't you usually search for reviews first when you purchase a product? Or perhaps ask a friend about any suggestions? This applies to your products as well. One of the best ways to lead customers to your brand is by letting your customers refer.
You can try this marketing strategy by launching a referral program. You share a referral code with each customer and earn a discount or points.
9. Mobile Optimization
The importance of mobile optimization is rising. According to MoEngage, 77% of smartphone shoppers are more likely to buy products from a company whose mobile site allows them to purchase easily and quickly. This data clearly defines the business need, especially startups, to optimize their website and current digital marketing campaigns to accommodate more people.
Conclusion
And that's it! Digital marketing offers a wide variety of advantages for startups. These 9 digital marketing practices will surely help your company operate and reach customers. Just make sure to implement it right, and you are consulting an expert before starting.
Flexilabs offer the best digital marketing services for startups in Australia and New Zealand. Contact us to learn more!