A startup just does not grow overnight. It takes a few years, multiple steps, and money to lead your startup to success. In essence, a startup is business experimentation, and without proper planning, any startup can be prone to failure. According to Failory, about 10% of startups fail within the first year.
Still, this should not hinder entrepreneurs from taking a risk and building a new company. With hard work and planning, it's a sure thing that your idea will strive for. Thus, this article aims to help you identify the crucial factors for a startup to strive. We have compiled 10 things that a startup needs to keep a company running.
What is a Startup?
Before jumping right into it, we first must understand what a startup is. Basically, the startup is a company in the first stage of operation. It was founded by tycoons who wanted to develop their idea into a viable product or service.
These companies mostly start with limited resources. Thus, most of them join a startup incubator or accelerator program to help them upscale their business and build a network with potential investors.
Many big companies such as Uber, LinkedIn, and Airbnb started as startups before their success.
10 Important Items Every Startup Needs
Entrepreneurs sure need many things like a business plan, resources, people, and an idea when starting a business. However, your business will succeed not just because you had these elements. As such, here are 10 things every startup business needs: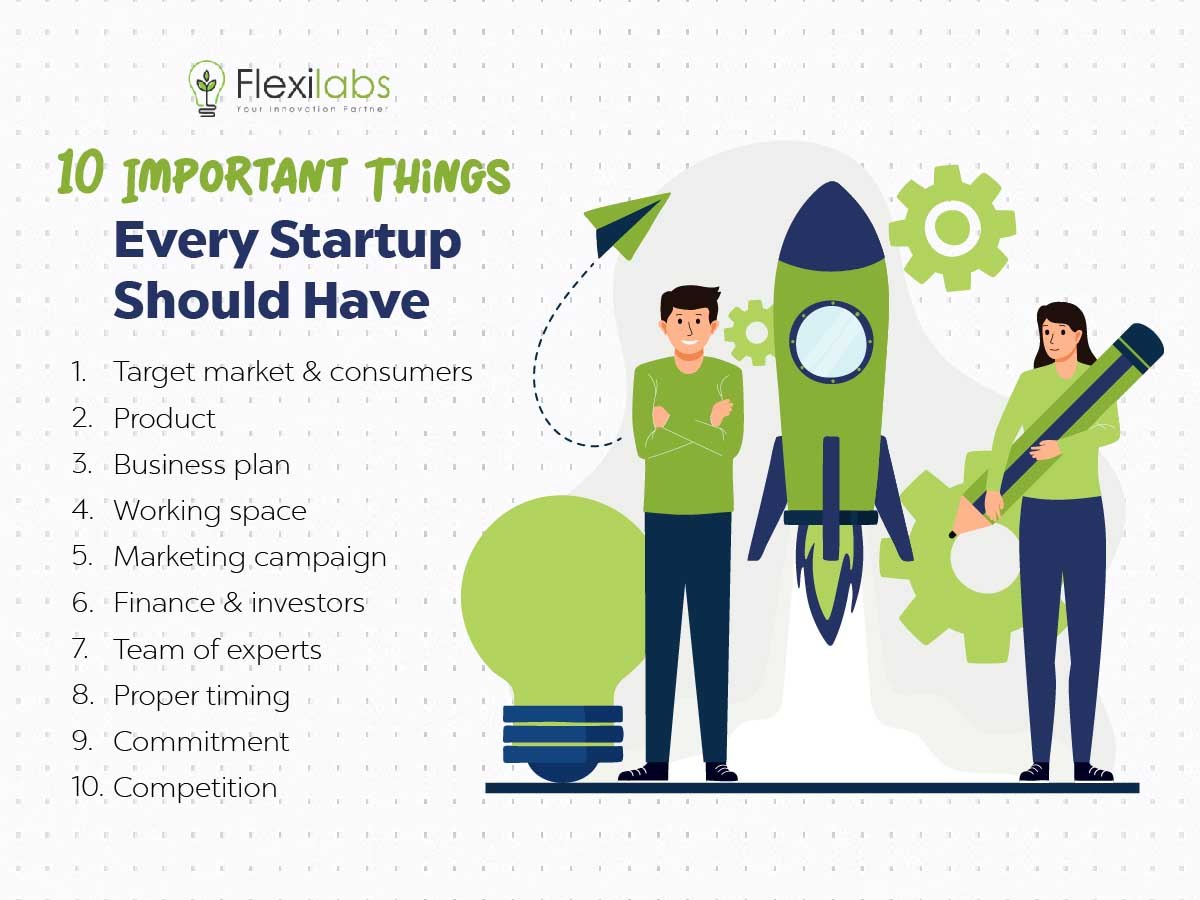 1. Target Market and Customers
Before building a business, you first need to ensure that the product you are selling has a potential customer. The target market is one of the principal elements a startup needs. These people will be the basis of the product you will be building and up to what scale your capital can go to. Identifying the right customer will also help you stay within your budget and have an idea of a problem that needs to be addressed.
Moreover, startups need partners. Most investors seek viable business ideas that have traction in a well-defined market, something with a strong base. They are looking for a business with high repeat purchases and loyal customers. Investors need to see that your product has a potentially large market. Remember that investors are more likely to take a considerable risk investing in your startup if it promises a high return of more than 10x their investment.
2. Validated Idea or Product
A startup needs a unique validated idea or product. And if your product screams cliche, most large companies would less likely not invest in your startup. The product you are selling should answer an unmet needs of a customer.
When developing your idea, identify an unfulfilled market need and stay focused on solving that problem. Try not to dilute your main product with unnecessary features or messaging that will confuse consumers about the primary goal of your product.
3. Business Plan
Every startup needs a well-defined business plan. It defines the objective, goals, and roadmap for the next few years. It's a great way to guide your company into attaining its primary purpose. A business plan can also be a great tool in articulating your vision when inviting investors to your company.
A great business plan should include what you want to develop as a product or service, projections for the following year, marketing strategy, and financial sources.
A startup needs to have an overview of the product in its business plan. Identify pain points in the market and emphasize how your product will solve them. Include your target market or groups and expand on what you're marketing and selling plans are.
It is also a great idea to add competitors and your plans to beat them. Also include your team members, their roles, and expertise.
Lastly, try to include the financial forecast on your business plan to show the projected income to the investors and why they should invest in your company.
4. Working Space
Although not all startup needs a working space, a proper place to run your business smoothly is a great thing to have. You can choose to run your business from home or rent an office as a working space for your team. A functional area is vital for a startup to store important records, documents, and other essential things for your business.
Similarly, a good working area is a great way to boost your teammate's productivity and morale. The working environment can affect the physical and mental well-being of your employee. It's always good to have a functional space where people can concentrate on their work and provide a good ambiance that promotes productivity.
5. Marketing Campaign
A well-thought marketing campaign is one of the essential startup needs. A good marketing campaign can expand your startup's potential customers, network, and the way to target these people. It will also help showcase your products and service at the front of every customer's search and social media. Marketing also enables you to create your brand, create an excellent reputation, and make you the first business consumers go to when they think of a specific product.
A startup can start its marketing campaign with a website and social media platforms. Social media profiles are essential to maintain an online presence and reach potential customers. Nowadays, most businesses rely on social media, such as Instagram and Facebook to connect with their customers. According to Statista, in 2022, 92.1% of large companies in the U.S. will use Social Media Marketing on their campaigns.
Likewise, the website also opens several new opportunities for a startup campaign. Like social media, it also helps your company draw out potential customers, establish an online presence, and boost your brand exposure. It is also a great way to inform users of your product and services and identify their needs. Just make sure that you are executing other digital marketing strategies such as Google Ads and Search Engine Optimization (SEO).
Suppose you have no idea how to start your digital marketing campaign. In that case, you can always hire digital marketing services from several outsourcing experts for startups.
6. Finance
Every startup needs capital to start its business. Every business or startup requires funding or cash flow to get started. Some starting entrepreneurs usually fund or support themselves at the start of their business. For some, however, they required the help of investors for a financial boost. If this does not apply to your case, you can always ask a bank for a loan.
However, startups need to minimize the risk and cost as much as possible and weigh it against potential returns. The purpose of a startup is to maximize profit with minimum possible inputs.
7. Team of Experts
A strong team of experts with a great leader is another startup you might want to consider. It is an essential factor in leading investors to your business and success. Investors do not just invest in your product. They also support the overall industry, including the people who run it.
According to CBInsights, about 23% of startups fail due to a weak founding team. Likewise, here are some roles every startup needs:
 A technical team of experts who can create a working website and develop the product
Marketing Team with experience in digital marketing
Finance and accounting team
Sales team
Office Admin and HR Team
8. Proper Timing
Every opportunity has a limited window of time before it expires. You need to make sure that you start your development and business at the perfect moment. It may seem easy to enter the competition at the beginning. However, the race will intensify as time passes, and issues will arise.
So if you are new in handling a business, try not to establish your startup in a problematic stage like a financial crisis or the start of a pandemic. Ensure that the industry of the company you are entering has a good flow and healthy competition.
Moreover, you can also try joining a market with unproven market leads. Solve unsolved issues and be the first business to establish an innovation.
9. Commitment
Out of all the things listed in this article, commitment is the principal element of every startup's needs. There is nothing more important than commitment.
Not everything will always fall into place in a startup. There will be times when everything may seem to fall apart.
But commitment will help you to keep going and make it work. Take every mistake as an experience and put it to proper use. Start working on these mistakes and evolve from them.
10. Competition
Competition may seem a bad thing at first. But if you want your startup to grow, you need to enter a market with competition. Competition makes an excellent element to mature the market and motivate companies for new features and opportunities.
Still, make sure that you thoroughly research your competitor's service and product and develop new opportunities.
Conclusion
With these principles in mind, you can build your startup without being afraid of failure. These elements will not only help you identify blind spots but will also help you detect areas of opportunities to maximize your business.
If you need further help in launching your startup, Flexilabs can support you in turning your ideas into a product. We provide the best startup offering in Australia. Contact us now!